Was Eknath Shinde drunk while talking to the media? Read, Fact-Check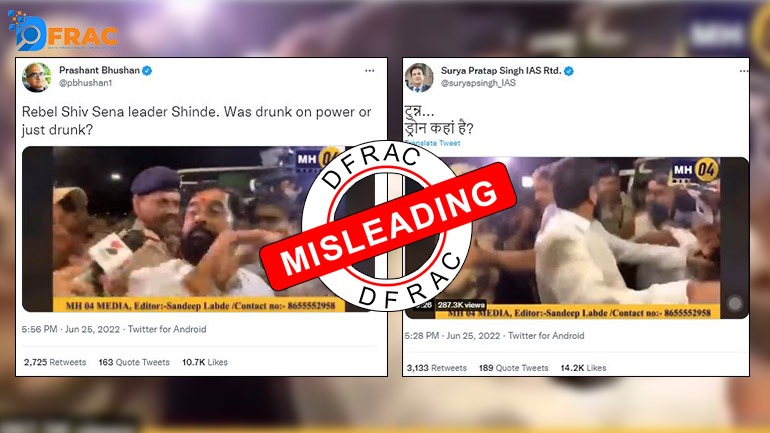 A video is going viral on social media. Users are claiming through this video that Eknath Shinde, who is the leader of the rebel MLAs of Shiv Sena, was drunk while interacting with the media.
Surya Pratap Singh IAS Rtd. captioned the viral video, "टुन्न…ड्रोन कहां है?" (Tunn…Where's the drone). 
https://twitter.com/suryapsingh_IAS/status/1540665635075633157
Similarly, eminent lawyer Prashant Bhushan also shared the video and captioned, "Rebel Shiv Sena leader Shinde. Was drunk on power or just drunk?" 
Rebel Shiv Sena leader Shinde. Was drunk on power or just drunk? pic.twitter.com/AY1NDBpCjm

— Prashant Bhushan (@pbhushan1) June 25, 2022
Beef Janata Party has posted the viral video with the same caption.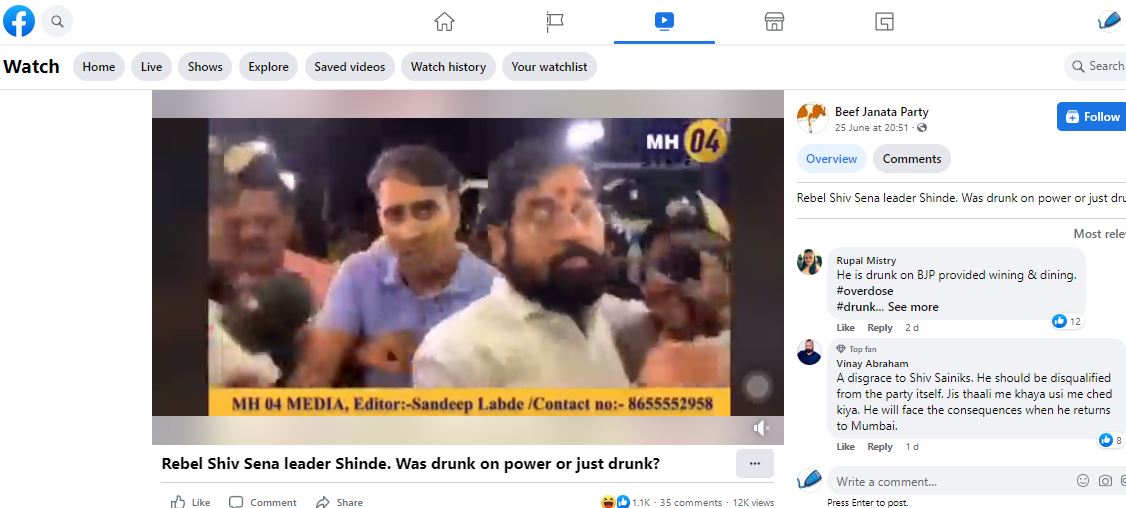 Several other users have also shared Shinde's video with the same claim.
Fact Check:
After Searching on the internet about this video and Shinde, we found the same video on  NDTV India. This 6 minutes 39 seconds long video is of Surat International Airport. It can be seen that there is a huge media crowd and the police security is also tight. During this, Shinde is also seen avoiding the questions of the media.
A user named Shivanand Kabade has tweeted in Marathi, "the video of Eknath Shinde drinking alcohol is going viral on social media at the moment, there is no truth in it. Take this, the original full video."
एकनाथ शिंदे दारू पिऊन आहेत असा विडिओ सध्या सामाज माध्यमांवर व्हायरल होतोय, त्यात काहीही तथ्य नाही तो सुरत येथील विडिओ अर्धवट एडिट करून मुद्दामून व्हायरल केला जातोय .

हा घ्या तो खरा पुर्ण विडिओ.👇 pic.twitter.com/qpWpVa9dZ9

— शिवानंद कबाडे (@sgkabade) June 25, 2022
The same can be seen in the tweet of news agency ANI.
#WATCH | Gujarat: Shiv Sena leader Eknath Shinde, with 34 party MLAs & 7 independent MLAs, who were staying at Le Meridien hotel in Surat reach Surat International Airport to leave for Guwahati, Assam. pic.twitter.com/YtWVJEo88n

— ANI (@ANI) June 21, 2022
Conclusion:
DFRAC's fact check clears that the claim of "PK" through the video about Eknath Shinde is misleading because the video is doctored, hence users are sharing this video in a misleading manner.
Claim Review: Rebel Shiv Sena leader Shinde was drunk while  talking to the media?
Claimed by: Surya Pratap Singh IAS Rtd., Prashant Bhushan and other social media users
Fact Check: Misleading
(Follow #DFRAC on Twitter, Facebook, and YouTube.)
About Author