Fact Check: The picture of Bal Thackeray applying 'Tilak' to Anand Dighe went viral as Eknath Shinde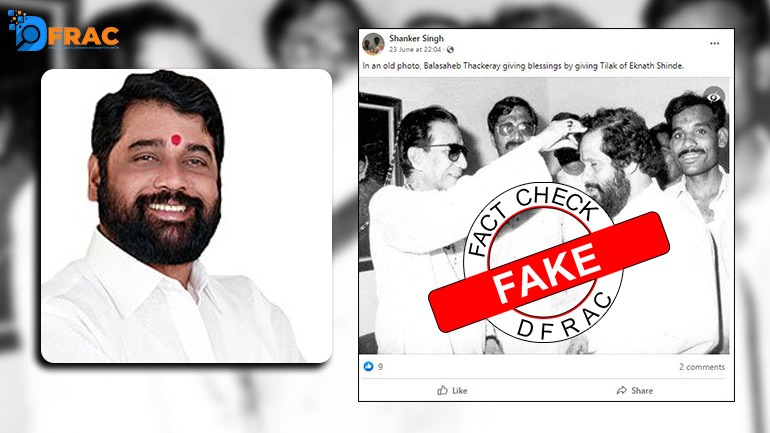 There is political turmoil in Maharashtra. Under the leadership of Shiv Sena leader Eknath Shinde, many MLAs and leaders have revolted against the party. Their rebellion is threatening the Maharashtra government. At the same time, a picture is becoming fiercely viral on social media. It can be seen in this picture that Shiv Sena founder Bal Thackeray is applying Tilak to a person. Social media users are claiming that Bal Thackeray has applied this Tilak on Eknath Shinde.
A user named Shanker Singh posted a photo on Facebook, and captioned it, "In an old photo, Balasaheb Thackeray giving blessings by giving Tilak of Eknath Shinde.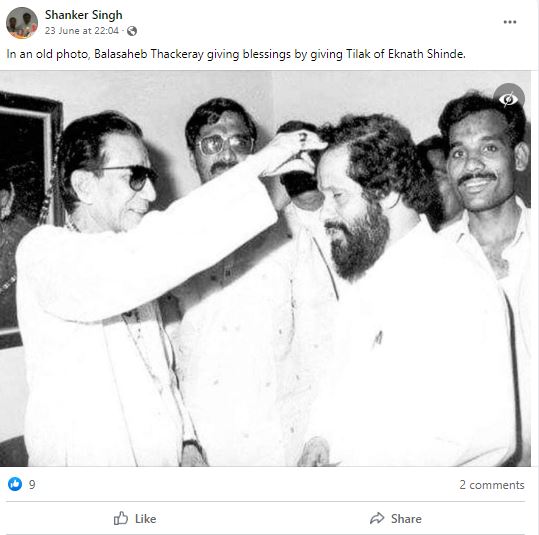 Similarly, many other users have also tweeted the same picture with the same caption.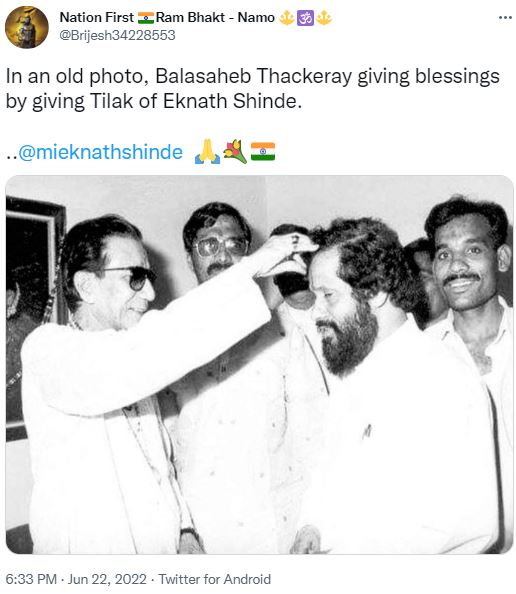 Fact Check:
After reverse image search, we found that Lokmat has used the same image in a report publisthe hed in Marathi language on 15 May 2022. According to this report, the leader seen in the picture is not Eknath Shinde but Anand Dighe.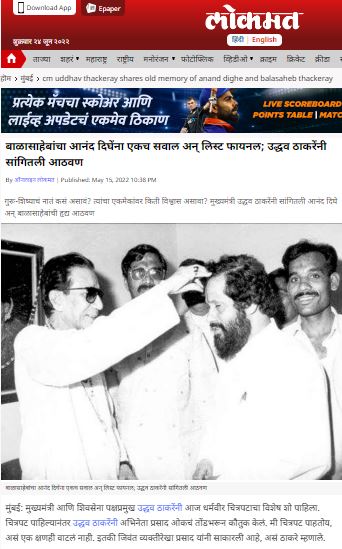 At the same time, we got a report published in Nav Bharat Time on 22 June 2022 about Anand Dighe. It has been said in the report that people used to call Anandi Dighe 'Thackeray of Thane'. After Bal Thackeray, he was the most powerful and domineering leader of Shiv Sena. He died in a car accident in 2001.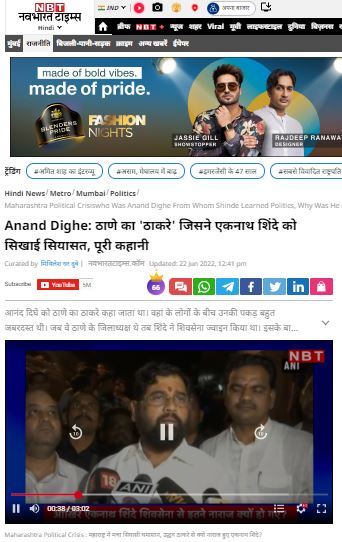 Eknath Shinde is a disciple of Anand Dighe in politics. Shinde tries to look like him.
Seeing Dighe's actions and the public's love for him, Shiv Sena named him Dharamveer, on which a film has also been made.
Conclusion:
It's clear from this fact check of DFRAC that Bal Thackeray is not blessing Eknath Shinde but Anand Dighe by applying Tilak, hence users are sharing it with a fake claim.
Claim Review: Bal Thackeray blessed Eknath Shinde by applying Tilak
Claimed by: Social Media Users
Fact Check: Fake
(Follow #DFRAC on Twitter, Facebook, and YouTube.)
About Author