14 November: #ठरकी_दिवस or #बाल_दिवस
Since 1964, every year on November 14, the birth anniversary of India's first Prime Minister Jawaharlal Nehru, is celebrated as Children's Day all over the country. This year it was not celebrated as Children's Day on social media especially on Twitter, but some mischievous accounts dubbed it as #ठरकी_दिवस. They used this hashtag along with some pictures of Pandit Jawaharlal Nehru standing with some women.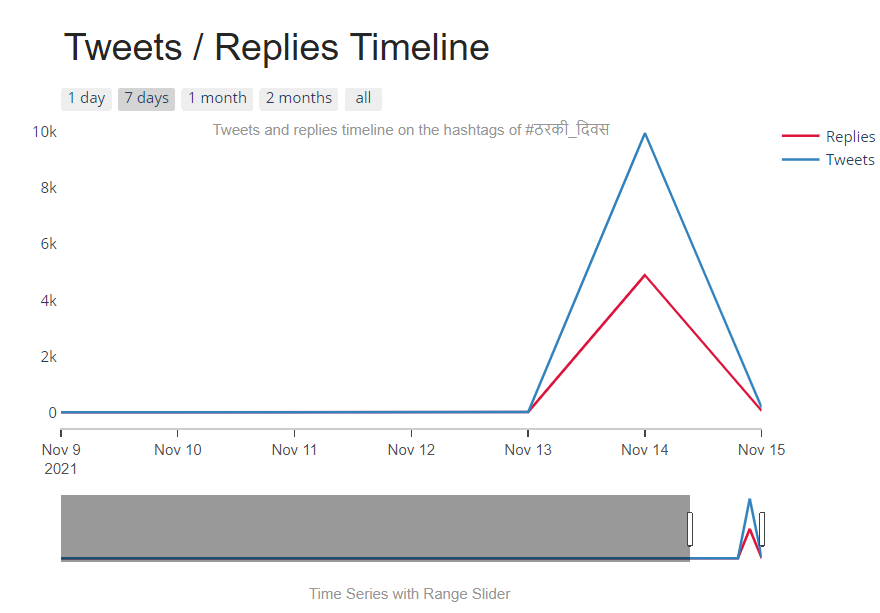 Rumors and various pictures of India's first Prime Minister being Playboy are going viral on social media. Our team has listed some fake images to show you the reality behind them:
First of all, a collage of 9 pictures of Pandit Nehru is going viral. Not only this year, but it has been circling since 2012 and this can be validated through the examples shown in Table 1 showing data from 2017.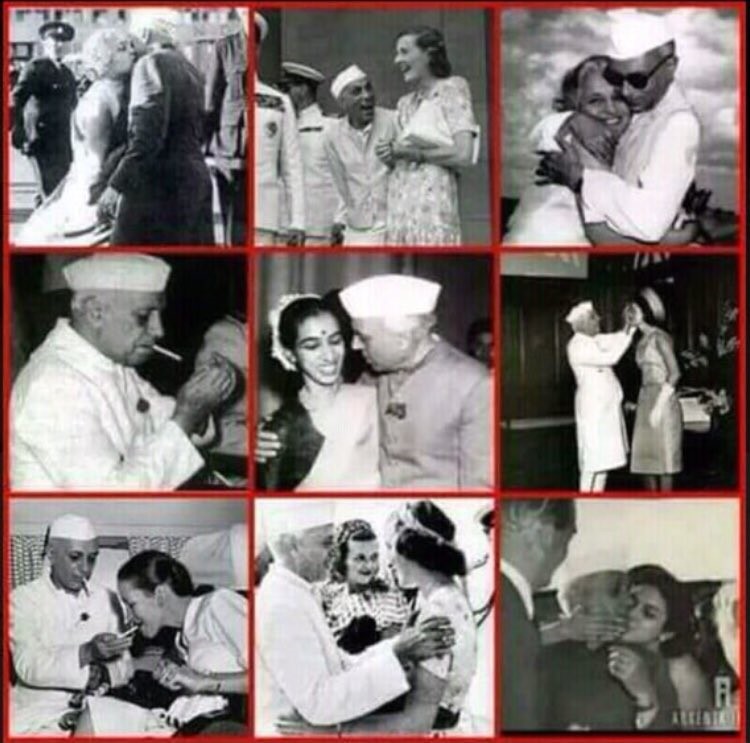 Table 1: Table showing misleading collage of Pandit Jawahar Lal Nehru viral on social media since 2017
Fact- Checking all the images shown in the collage.
Table 2: Fact-checking all the misleading pictures shown in the viral collage
Image from the Collage
The reality behind this picture:

Proof
Image 1:

Woman in the picture is Nehru's sister Vijaylakshmi Pandit and the photograph was taken in 1949 while Nehru, the then prime minister, was on his US visit.

Article on Outlook

Image 2:

Pandit Nehru was sharing a lighter moment with Edwina Mountbatten in public. Nehru and Edwina are said to had a really good relationship with each other. They had a deep love and respect for each other but they didn't share any carnal relationship, Edwina's daughter Pamela wrote in her book.

India Today's Article

Image 3:

Woman in this picture too is Nehru's sister Vijayalaxmi Pandit
Indian Express Article

Image 5:

The woman in this image is renowned Indian classical dancer Mrinalini Sarabhai.

Nehru is said to have a close relationship with Mrinalini Sarabhai's husband Vikram Sarabhai and mother Ammu. This particular image was taken in Delhi. Nehru is seen congratulating Mrinalini for her performance.

Indian Express Article

Image 6:

The image shows Nehru applying tilak on Jacqueline Kennedy Onassis' forhead. She was the first Lady of the United States
Indian Express Article

Image 7:

India's first woman press photographer Homai Vyarawalla shot this photograph on board the first BOAC jet plane, on a 45-minute flight to Nanda Devi. Pt. Nehru is seen with a lighted cigarette on his lips while lighting another cigarette on the lips of the then British Deputy High Commissioner's wife Ms. Simon
The Hindu Article

Image 8:

Pandit Jawahar Lal Nehru bidding goodbye to Mountbatten's youngest daughter, Pamela Mountbatten and her parents at New Delhi.

Article

Image 9:

The woman in the photograph is Nehru's niece Nayantara Sehgal who greeted him on his arrival at the London airport in 1955.

 

Youtube Video
Along with this collage, another picture was going viral on social media. Several users used that picture for India's first Prime Minister Jawaharlal Nehru with the hashtag #ठरकी_दिवस.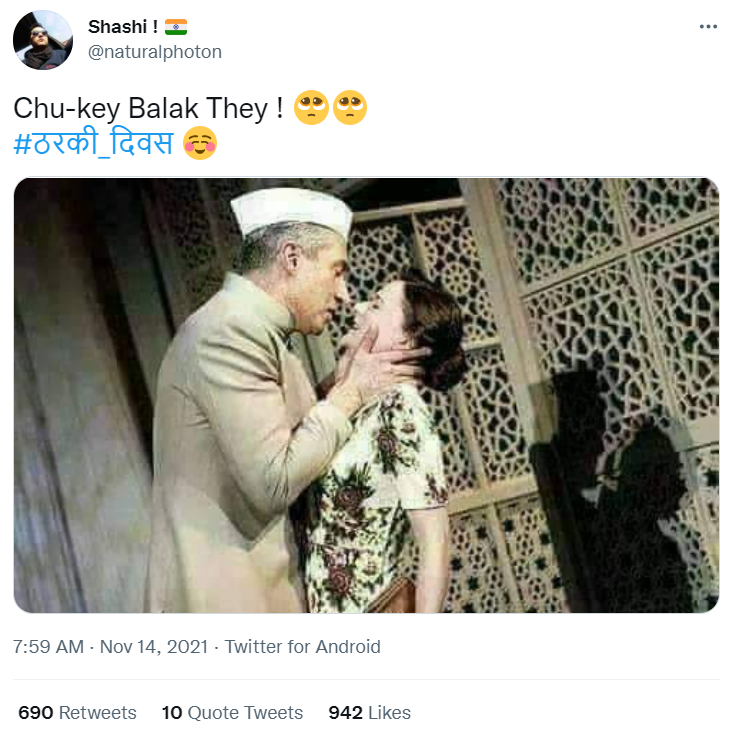 The reality behind this picture:
On performing simple image search, we found an article of a website called 'Theartsdesk.com' which had the same photograph and had mentioned that it was a part of the aforementioned play which was shown at London's Hampstead Theatre.
Hence, the viral image is from a play titled 'Drawing the Line' by Howard Brenton which revolves around Cyril Radcliffe and the part that he played in India's partition in 1947. According to the theatre's official website, actors Silsa Carson and Lucy Black played the roles of Nehru and Edwina Mountbatten respectively.
Hashtag #ठरकी_दिवस : Analysis
A) Hashtag used along with #ठरकी_दिवस
Not only was the #ठरकी_दिवस hashtag trending on November 14, 2021, but many more hashtags were used along with it including #रंगीला_चिचा_ठरकी_दिवस and #रंगीला_चचा_ठरकी_दिवस. The graph below shows these hashtags.
B) Accounts that tweeted/ replied mostly on the hashtag of #ठरकी_दिवस
Accounts which tweeted/ replied using the hashtag #ठरकी_दिवस are mentioned in the graph below:
Analyzing the top 10 accounts which used this hashtag maximum number of times. Some important points were noticed.
On analyzing the common followers of the above 10 accounts, it was found most of the accounts were created in October, 2021.
Table 3: Depicting how account amplify a particular hashtag through replies
Replies and retweets percentage of these accounts is more than tweets as depicted in Table 4.
Table 4: Depicting the details of the 10 top accounts active in using #ठरकी_दिवस hashtag
S. No.
Account

Name

Created On
Follower
Retweet

& reply (in %age)

Profile picture
Description
1
Amit41118053
3 July, 2020
192
Tweets (2.0%)

Retweets (32.5%)

Replies (65.5%)

General
Jai shree Ram
2
suni_kamboj
7 June, 2021
1638
Tweets (3.0%)

Retweets (96.0%)

Replies (1.0%)

Applied
From? #दानवीर_

कर्ण_

नगरी_

करनाल

_हरियाणा

3.
pankaj1105A4384
2 Oct, 2021
18
Tweets (49.7%)

Retweets (24.4%)

Replies (25.9%)

No Profile Picture
–
4
GuptaMayank40
7 Dec, 2012
470
Tweets (1.0%)

Retweets (90.2%)

Replies (8.8%)

Applied
ISTQB Certified Software test engineer. ॐ नमो भगवते नमः ।??? ॐ नमो नारायणे नमः।??? ???सनातनियों को 100% Follow Back
5
DeepArtsYouTub1
28 May, 2021
3853
Tweets (16.8%)

Retweets (13.3%)

Replies (69.9%)

General
Post Graduate | Youtuber | Contact: 7505403403 (Truecaller Name is Bjp)
6
Neerajsharms
24 April, 2012
3783
Tweets (2.0%)

Retweets (23.8%)

Replies (74.3%)

Applied
Industrial Robotics And Manufacturing professional, Freelancer of Robotics, GMAW Process. ?? My Nation My Pride, धर्मो रक्षति रक्षितः
7
HINDUAVINASH11
26 Aug, 2021
505
Tweets (0.8%)

Retweets (33.3%)

Replies (66.0%)

Applied
ग़ुलामी की ज़ंजीर तोड़ नहीं सकता तो पैर काट लूँगा लेकिन आज़ादी से लँगड़ा कर चलूँगा किसी का नौकर बनने से अच्छा खुद का छोटा मालिक बन जाऊँगा जय बिहार ??????
8
Hinduunity_
27 Jan, 2021
125
Tweets (6.5%)

Retweets (56.4%)

Replies (37.1%)

General
?? वन्दे मातरम। भारत माता कि जय। सनातन धर्म कि जय हो। जय श्री राम?। गर्व से कहो हम हिन्दू हैं?️। Join JSRS (Jai Shri Ram Sena)
9
saffron_ar
10 Nov, 2021
149
Tweets (12.3%)

Retweets (15.8%)

Replies (71.9%)

General
–
10
Satyave58751262
11 July, 2021
429
Tweets (67.2%)

Retweets (18.0%)

Replies (14.8%)

General
मर्यादा पुरुषोत्तम भगवान श्री राम ने अयोध्या छोड़ी राजपाट छोड़ा माता-पिता भी छोड़े, परंतु अपने धनुष बाण नहीं छोड़े क्योंकि… ।। धर्मो रक्षति रक्षित?: ।।
C) Accounts which were tagged mostly using the hashtag #ठरकी_दिवस
The verified account of Rahul Gandhi (@rahulgandhi) and Congress (@INCIndia) were at the top accounts that were tagged mostly with the hashtag of #ठरकी_दिवस.
Such amplifier accounts are commonly available on social media these days which are made only to increase hashtags. "Reply and Retweet" is the main way these accounts are used to promote hashtags. The percentage of tweets from these accounts is less than the percentage of retweets and replies. When you come across accounts created for the purpose of promoting such type of hashtags that tarnish the reputation of our country and our country's honorable person, you should report it and not fall prey to misleading content posted by such accounts.
About Author