On February 14 and 25, 2021, an advertisement about PM Modi's Awas Scheme was featured in newspapers such as Prabhat Khabar and Sanmarg. The ad took up half of the page of the newspapers prominently featuring PM Modi and a woman. The text in Bengali roughly translates to how the woman along with 24,00,000 families have benefited from the Awas Scheme which provided them with permanent housing.
Along with this statement the words "atmanirbhar Bharat, atmanirbhar Bengal" have also been written.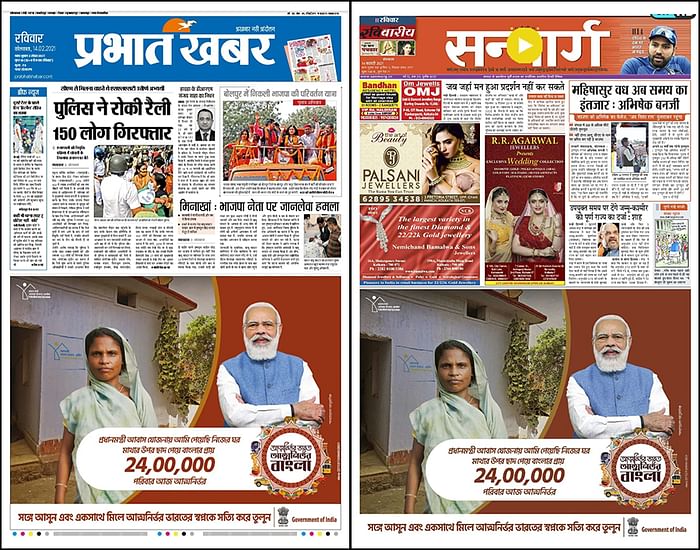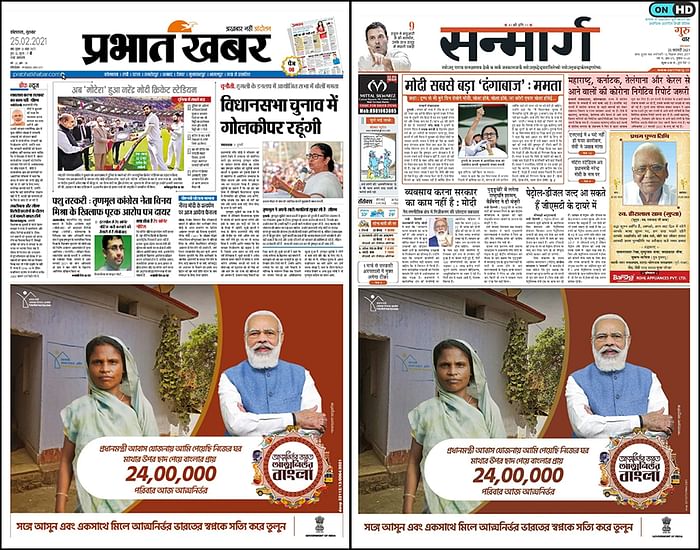 The ad ran twice in both the newspapers
While no information about the woman was given in the ad, Newslaundry actually found out where the woman lives and visited her to confirm whether the claim insinuated by the ad is even true.
The woman featured in the ad is 48 year old Lakshmi Devi who had no idea that her picture would be used in the ad. She only came to know about the ad after it was published. According to her, she even visited the newspapers' offices to get them answer how they used her image without her permission but was told by them that the ad was published by the Government of India. She was unaware as to who even took her pictures.
She then proceeds to show where she lives and reveals that she did not receive any house from the scheme and lives in a rented one room place with 5 members of her family. She even pays Rs 500 as rent for her place.
In the interview, Lakshmi breaks down and talks about her hardship and that the government has failed to meet even her basic needs such as having proper sanitation and cooking gas at home. She struggles to find employment since the death of her husband and her children too suffer from the same concerns.
She continues to reiterate that the picture was taken without her knowledge and this saddened her even more.
Bringing such information to light is extremely important when assessing the impact of a scheme on citizens. PM Modi has recently claimed that 80% of the houses under the scheme are owned by women. It is important to keep in mind incidents like Lakshmi Devi's when such serious and huge claims are made.
You can watch News Laundry's interview with Lakshmi Devi here:
About Author