Fact Check: Has Shahi Imam of Jama Masjid Syed Ahmed Bukhari Joined the BJP?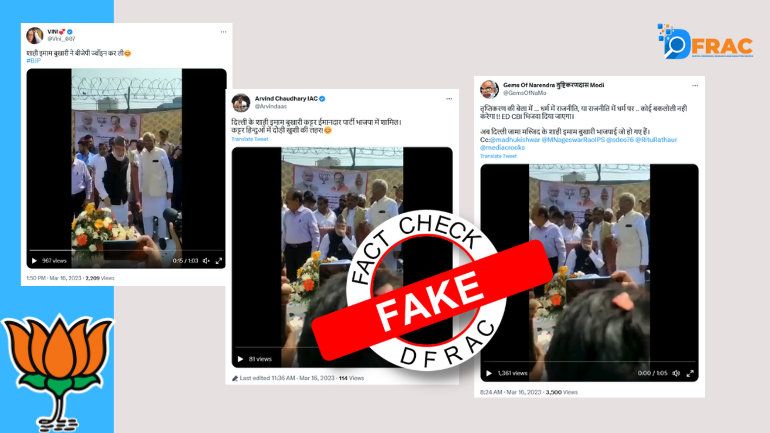 A video is becoming increasingly viral on social media. The video features Syed Ahmed Bukhari, the Shahi Imam of Delhi's Jama Masjid, attending a program alongside various political figures, including BJP MP and former Union Health Minister Dr. Harsh Vardhan.
Sharing this video, social media users are claiming that Syed Ahmed Bukhari has joined BJP. Sharing this video, a Twitter account with the username of @GemsOfNamo wrote – "In the time of satisfaction.. politics in religion, or politics in religion.. no one will do Bakloli!! ED CBI will be sent. Now Shahi Imam Bukhari of Delhi Jama Masjid has become BJP."
A Twitter blue subscribed user named Vini wrote – "Shahi Imam Bukhari has joined BJP"
Moreover, many other accounts have also made similar claims by sharing this video.
Fact Check
To verify the authenticity of the viral video, the DFRAC team conducted a search on Google and came across a report published by Millat Times. According to the report, the news of Shahi Imam Maulana Syed Ahmed Bukhari joining the BJP is false. The video in question shows the Imam attending a toilet construction program in front of the Jama Masjid, alongside BJP MP Harsh Vardhan. Moreover, Harsh Vardhan, the MP of the area, has constructed a Gusul Khana and toilets at the Jama Masjid using his own funds.
At the same time, Bukhari's statement has also been given in the coverage of 'ABP News', in which Bukhari's explanation has been given which states that he did not join BJP.
Conclusion
Based on the fact check conducted by the DFRAC team, it is evident that the claim made by social media users that Syed Ahmed Bukhari has joined the BJP is false. The team's research found no evidence to support this claim, and Bukhari himself has given clarification on the matter.
About Author