Fact Check: Was the Sri Lankan Information Minister beaten up by the protesters, know the truth about the viral video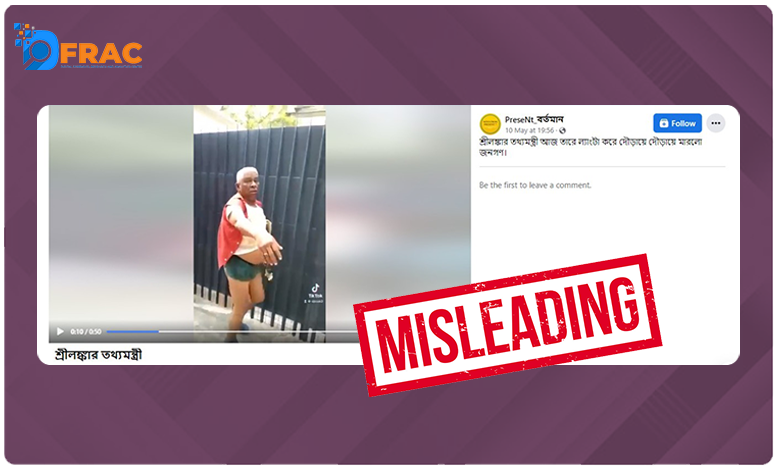 Violence in Sri Lanka, which is facing an economic crisis, is not taking its name to stop. The protesters are also targeting the ruling leaders.
Meanwhile, a video of a man beating up on social media is going viral. It was claimed that the Sri Lankan information minister was beaten to death by the protesters.
In the viral video, a man can be seen walking on the road in torn clothes. Sharing the video, a user wrote – "Sri Lanka's information minister was beaten to death by people today."
Fact Check:
To check the viral video, first converted the video into keyframes. We found a similar video on YouTube when we reverse imaged the keyframe. This video was uploaded on May 11, 2022, on a YouTube channel named Atakatu.
Giving information about the video, it was told that the person seen in the video is MahindaKahandagama, President of Sri Lanka People's Front (SLPP), a union of Colombo Municipal Councilors and Employees. He had participated in a protest rally in front of Temple Trees Gate in support of President MahindaRajapaksa. During this there was violence with them.
Giving information about this, MahindaKahandagama told News Wire that "I attended the Temple Trees program and came to the city council, when I came out of the council. Only then was I assaulted."
MahindaKahandagama alleged that he was also treated at the hospital, where someone even pasted the number 69 on his hand.
Conclusion
Hence the claim of Sri Lanka's Information Minister being beaten up by the protesters along with the viral video is fake.
Claim Review: Sri Lanka's Information Minister thrashed by protesters
Claimed by: Social media user
Fact Check: Fake
About Author