Fact-Check: Did Nizam Mir Osman Ali really donate 5,000 kgs of gold to fund the war against China?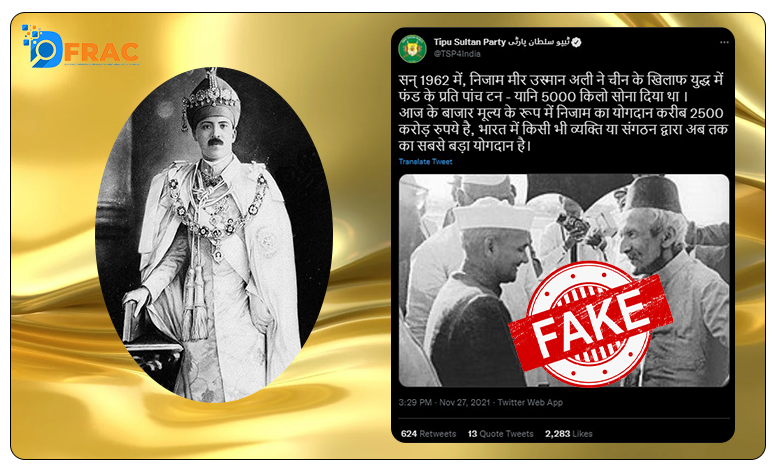 A very popular lore has always been around that Mir Osman Ali Khan, the last Nizam of Hyderabad had donated over 5000 kilos of gold to fund the war against China to the Indian government. 
The popular conception is that this is still the largest amount ever donated by a person or an organisation. 
Recently, the Tipu Sultan Party posted the same claim on their Twitter account which has over 2,000 likes.
सन् 1962 में, निजाम मीर उस्मान अली ने चीन के खिलाफ युद्ध में फंड के प्रति पांच टन – यानि 5000 किलो सोना दिया था ।
आज के बाजार मूल्य के रूप में निजाम का योगदान करीब 2500 करोड़ रुपये है, भारत में किसी भी व्यक्ति या संगठन द्वारा अब तक का सबसे बड़ा योगदान है। pic.twitter.com/c46PQ71rDa

— Tipu Sultan Party ٹیپو سلطان پارٹی (@TSP4India) November 27, 2021
Fact-Check: 
However, after performing keyword searches on the matter, we found an article by The Hindu posted in 2018 that addressed this question. 
According to the article an RTI was filed to the Prime Minister's office to confirm whether such a donation was made by the Nizam but the office replied that they had no record of such donation being made.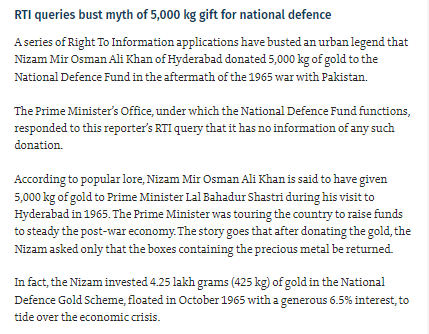 The Nizam however, invested 425,000 grams (425 kg) of gold in the National Defence Gold Scheme, floated in October 1965 with a 6.5% interest rate, to tide India over during the economic crisis.
Since there are no records of such a donation being made, this claim is fake..
About Author