Fact-Check: National Award Recipient and Former Indian Navy Official Posts Falsified and Communalized Video of a Juice Seller
On July 21, 2021, Harinder S Sikka, retired Navy official and author of the book 'Calling Sehmat' inspired the Bollywood movie 'Raazi' posted a video claiming that a juice vendor in Mumbai named 'Abdul' was caught selling juice laced with infertility pills and urine. Sikka called upon the 'Muslim community' to condemn this act and criticised the 'secularist lobby'. The video has been retweeted over 250 times and has over 3,500 views.
The video shows a man surrounded by an angry mob who seem to be pulling out a coloured liquid from the man's juice cart. The man's name is censored so are other details and profanities.
Video Analysis:
The video posted by Sikka has a watermark of a Facebook page named 'Awareness Now'. Upon searching for the video on Awareness Now's page, we discovered that the video was posted on February 14,2020. The video here is almost 5 minutes long as opposed to the 2 minutes 20 seconds long video posted by Sikka which cleverly cuts out important details regarding the suspicious liquid.
As per the original video, the name of the vendor is unknown and most importantly, the liquid he was using turns out to be a colourant to make the juice look more vibrant. There is no mention of either infertility pills or urine in the video.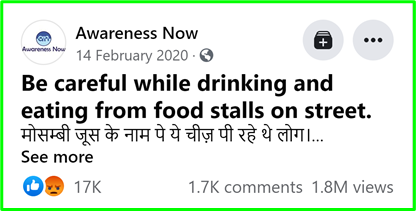 The video on Awareness Now's page has 1.8 million views. The claim made by Sikka is therefore not only FALSE but also tries to manipulate his audience by communalising the issue.
About Author