DFRAC Exclusive: Info-war of Pakistani media & think tanks in the name of FATF
Pakistani media, academicians, intellectuals, and social media users have become highly active amid the news of the Financial Action Task Force (FATF)'s upcoming visit to India. According to Pakistani media reports, India could soon be placed on the FATF's blacklist and face serious consequences as a result of the agency's visit. In this report, we are going to analyze the sponsored campaign associated with FATF and India present in Pakistani media and social media.
In this report, we will examine the following points:
What is the FATF list?
FATF-related events and anti-India narrative at Quaid-e-Azam University Islamabad
Misleading news and copy-paste pattern of Pakistani media in the name of FATF
Twitter storm over Pakistani think tank's narrative
Propaganda and influence of Pakistani users on social media
What is the FATF list?
FATF has maintained a grey list and a black list. The grey list refers to placing a country under surveillance by FATF to examine its progress in combating money laundering and terrorist financing. On the contrary, FATF Blacklist identifies countries with serious strategic deficiencies in combating money laundering, terrorism financing, and proliferation. FATF urges all countries categorized as high risk and encourages them to take necessary Precautions. Additionally, the nations that are on the FATF's grey and black lists suffer a range of losses. Countries on this list are not eligible for financial assistance from global organizations such as the Asian Development Bank, World Bank, and IMF.
FATF-related events and anti-India narrative at Quaid-e-Azam University Islamabad
A seminar on "Unveiling the Future-FATF Impact on South Asia 2023" was organized at Quaid-e-Azam University, Islamabad on November 1, 2023. Pakistan Prime Minister's Economic Advisor Dr. Waqar Masood and Prime Minister's Political Advisor Dr. Baqir Malik participated as speakers in this seminar. Apart from these, the seminar was also attended by National Youth President of the Pakistani political party PML-Q Kamran Saeed Usmani, former Chief Forensic Officer of Pakistan's Federal Investigation Agency Dr. Fatih ud Din Mahmood, and Professor Zafar Jaspal of Quaid-e-Azam University.
In this seminar, India was accused of the murder of Khalistani terrorist Hardeep Singh Nijjar in Canada. Waqar Masood alleged that India is engaged in large-scale financial irregularities, criminal activities, and sponsoring cross-border terrorism. In addition to that, he also accused India of carrying out suspicious financial activities, drug trade, and proliferation of illegal weapons. Moreover, Kamran Usmani demanded FATF to impose sanctions on India.
Amidst all this, the question arises about FATF's upcoming visit to India. Upon investigating further, something else came to our light.
FATF's upcoming visit to India
As per the information given on the FATF's website, India has remained a member of FATF since 2010. India's assessment was postponed to November 2023 due to the COVID-19 pandemic. According to the information given on the website – "India has not been evaluated yet in the fourth round of mutual evaluation. "Due to the COVID-19 pandemic and the disruption in FATF's assessment process, India's mutual assessment has been postponed to 2023." A full potential discussion following this assessment will take place in June 2024.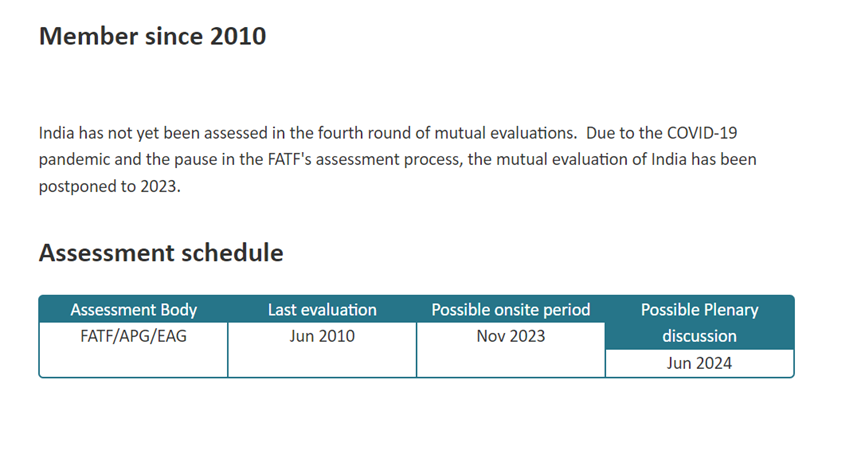 Misleading news and copy-paste pattern of Pakistani media in the name of FATF
In the name of FATF, Pakistani media and social media users have run tremendous propaganda against India. Several news articles were published stating that FATF is considering imposing sanctions on India. However, it is not yet clear what kind of investigation the FATF officials are going to do or are doing in India and what is the status of their investigation. Furthermore, Pakistani media organizations: 'Sama TV', 'Hum News.PK' and 'Pakistan Today' reported that FATF has received information about funding of terrorism and involvement in terrorist activities in India, after which India could be included in the blacklist by FATF.
Twitter storm over Pakistani think tank's narrative
Numerous Pakistani think tanks have tried to devise narrative on FATF. They have highly exaggerated the FATF assessment of India. There is a Pakistani think tank named "The Centre for Aerospace and Security Studies" which claims to provide views and analysis on aerospace and security issues, according to its bio. Its founding director is Dr. Usman W. Cohan (@EconomistChohan), who has discussed FATF and India with Dr. Salman Anil, associated with another organization "Islamabad Policy Research Institute".
On a related note, massive tweets have been done from the X handles of "Center for Aerospace and Security Studies" demanding a strict probe by the FATF on India's AML/CFT. These are not isolated issues but symptoms of rogue behaviour that threaten regional and global security.
Besides this, the video of discussion between Usman and Salman has gone viral on social media carrying the hashtag #FATFBias. A large number of tweets have been done on this hashtag. Here, an interesting fact is that users have posted graphical content with the similar caption to tweet along with this hashtag. Moreover, some users are fervently sharing the 1-minute video of the interview. After examining them, it seems that a network is working here and its job is to widely disseminate FATF propaganda videos along with graphical content on social media under the hashtag #FATFBias.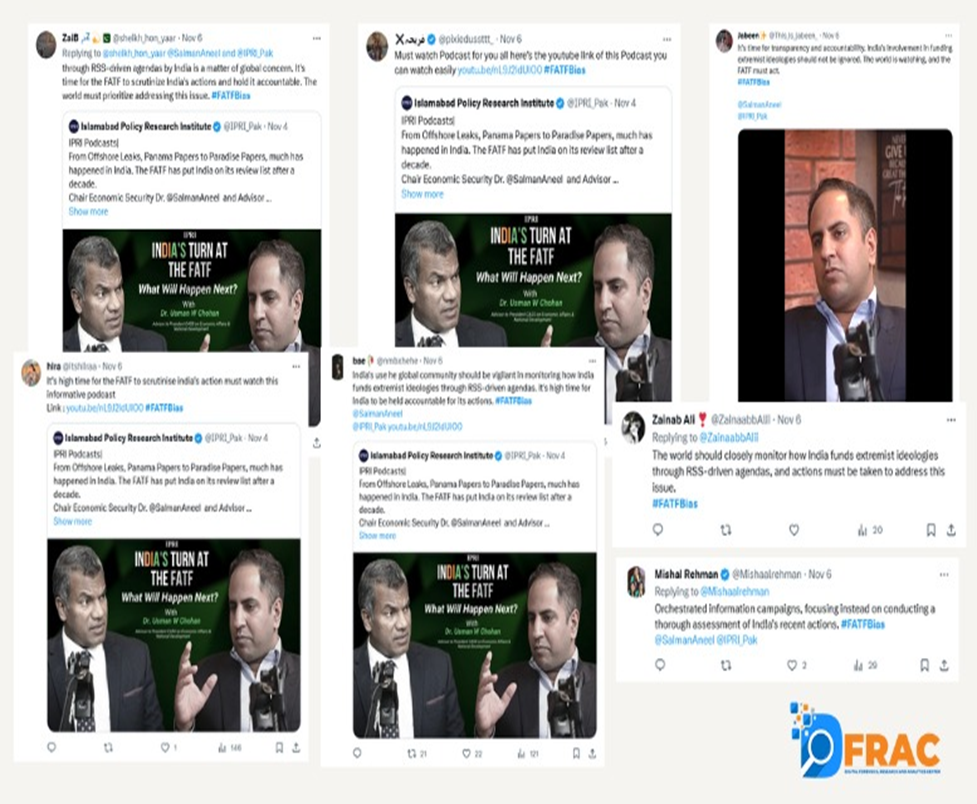 The graphic provided below showcases the accounts who have extensively tweeted about the #FATFBias hashtag. Some of the accounts involved in this, include @Slay_With_Kiran, @tahirbaloch110, @Aimilicious, and @ArbishSidiqui, who have tweeted on the hashtag multiple times.
In our probe, we found that the first tweet with the hashtag #FATFBias was from an account named Maria Khan (@Mawriakhan). After this, many users posted extensively with this hashtag. When we inspected Maria Khan's account, we discovered that the user ID and username of Maria Khan's account have been changed. Earlier, the name of this account was Abia Fatima and the user ID was @Apki_zojaa, which can be seen in the graphic given below.
Propaganda by Pakistani Users on Social Media
Besides that, 8 Pakistani social media users were sharing posts on a large scale. Many of them are journalists who have substantial followers on X(Twitter). These users include Ahmed Khan Orakzai, Mustansar, Nahida Rajput, Fizza Uruj, Asim Khan, Naina, Gumnaam, and Baki Bakodi.
These 8 Pakistani users fiercely shared posts on FATF's visit to India on social media. All these posts had the same graphical content and the content of the post was also copy-pasted which can be seen in the collage provided below.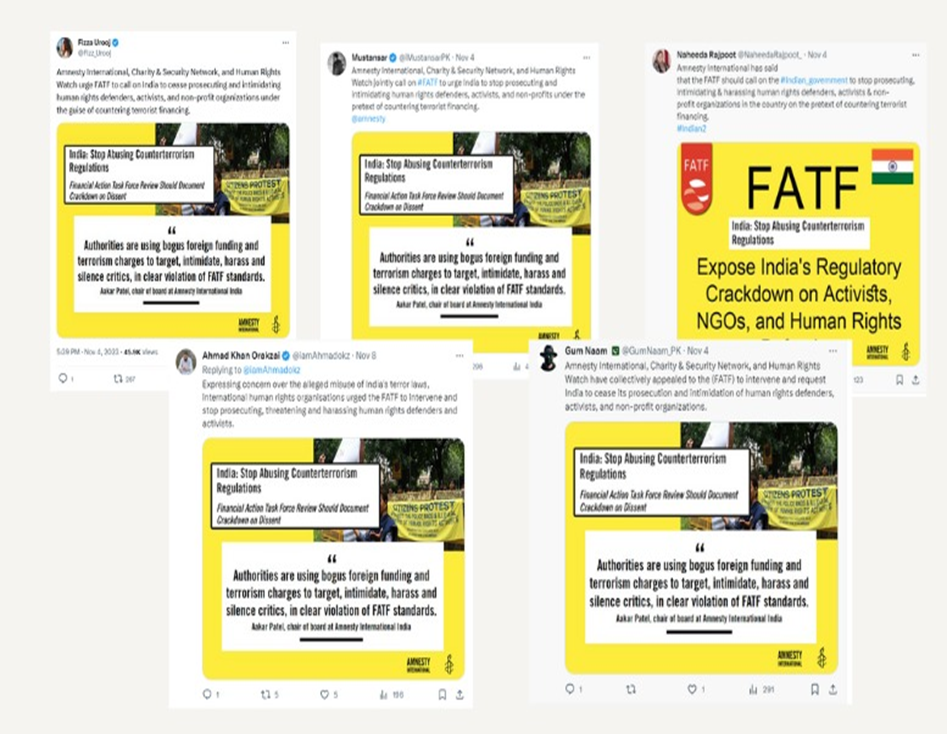 Additionally, our investigation has also revealed a copy-paste pattern of a thread by these users. Similar graphics, posters, and content have been shared in this post of 5 threads. After examining this, it seems that these threads were provided to just copy-paste. You can see the thread in the collage provided below.
The graphic given below highlights the number of followers and views of tweets on FATF and India for these 8 Twitter handles. If we add the number of followers of these users, it reaches 1 lakh and the number of views is 3.65 lakh.
Upon conducting a thorough investigation, our team discovered that these 8 accounts frequently tweeted on anti-India campaigns and in support of Pakistan. Earlier, they had shared news on the China-Pakistan Economic Corridor. Furthermore, a copy-paste pattern was also observed in this post.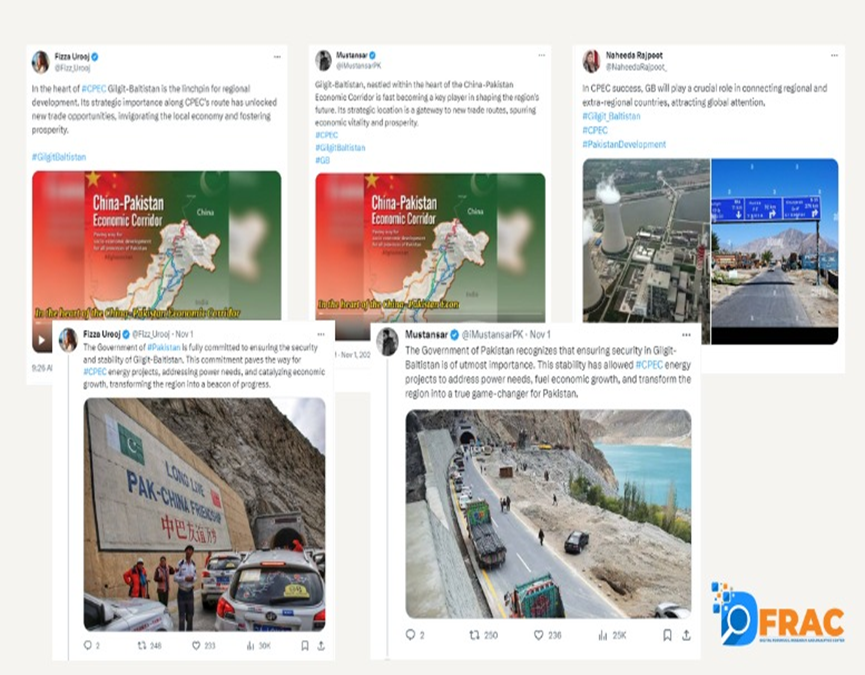 Other than these 8 users, several users have disseminated false information about India in relation to the FATF. It is noteworthy in these posts that their tweets were also in a copy-paste pattern indicating that these tweets were provided to them. A collage of their tweets provided below.
FATF India's search on Google:
A subsequent investigation of the trend of searching the keyword FATF India on Google reveals that the majority of searches were done from Pakistan, followed by India, UAE, Saudi Arabia, and Canada.
Subsequently, another video was also shared. This video was first shared on Twitter by Ghulam Abbas Shah, a journalist associated with @BOLNetwork, @TV9Bharatvarsh formerly @aaj_urdu @ExpressNewsPK @indiatvnews, @newsonepk.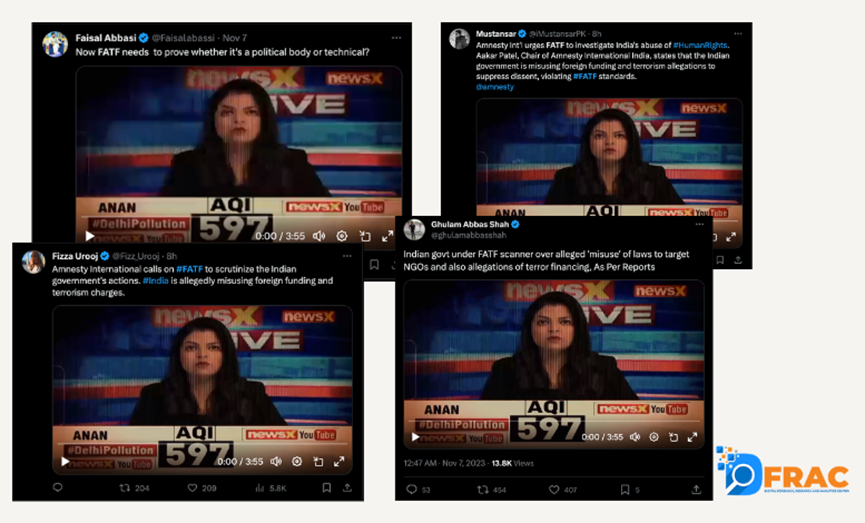 We evaluated the number of viewers on the videos posted by these handles and observed that the total number of viewers was more than one lakh.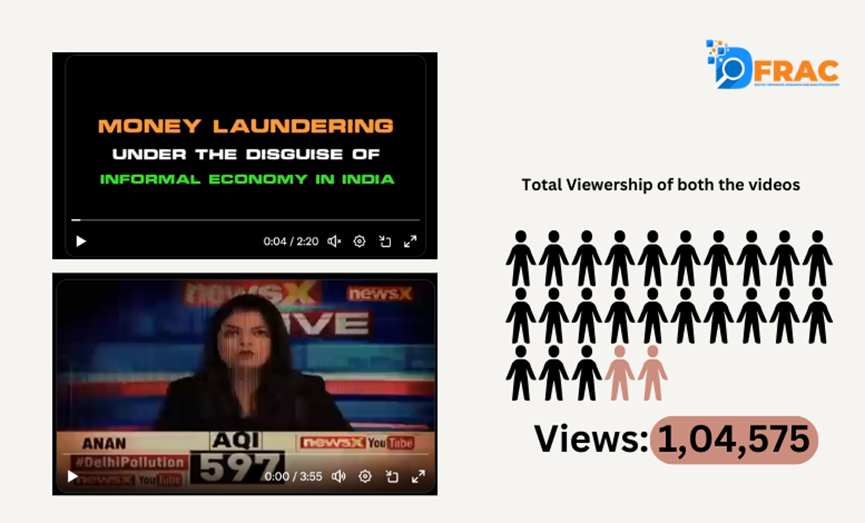 The word cloud provided below displays the words that were extensively used on the hashtag #FATFBias.
Conclusion
Nothing is clear yet regarding FATF's assessment of India. According to the Information available on the FATF website, India's assessment was delayed to November 2023 as a result of COVID-19, and a comprehensive discussion would be possible after this assessment in June 2024 but, the propaganda is being actively run on Pakistani media and social media. Our investigation has observed a copy-paste pattern in almost all the posts and various media reports regarding FATF and India.
On one hand, the headlines and news content were similar, while on the other hand, apart from photos and videos on social media, graphics and posters shared in the thread, were also copied and pasted. Upon closer inspection, it is apparent that the news published in the media and the social media campaign was sponsored.
About Author