Decoding the Tangled Threads of Animosity: Analysis of #IndianMuslims amidst the Israel-Palestine Conundrum
Free Speech encourages hate but Hate Speech incites violence…
In the vast landscape of the internet, ideas and opinions hold the power to resonate far and wide. However, this amplification comes with a dark side, as hate speech finds a fertile and breeding ground on certain websites and social media platforms. Indeed, it is important to recognize that online content is never solely online; it is intricately intertwined with real-world violence and discrimination in a harmful cycle and feedback loop. Such is the case with the recent Israel-Palestine conflict, where the buzz in India has sometimes taken on a distinctly communal and polarizing angle.
Why this Hashtag?
After Hamas attacked Israel this month, the Indian social media space was abuzz with the debate of Indian Muslims supporting Palestine! This discourse was marked by the emergence of the hashtag #IndianMuslims. On investigation, we found that the hashtag gained traction on October 10, 2023, and reached its peak on October 11, with a total of 156 tweets dedicated to promoting it. Subsequently, the trend, gradually, subsided over time.

Our investigation also provided insight into the frequently used words that are associated with the hashtag — gaddaar, snakes, jihadi, barbarism.
As we examine the dynamics of the hashtag, our analysis delves into the proliferation of hate and false information that surrounds it; we also reveal how hate speech is being shared by different groups within certain India's communities to vitiate the atmosphere.
Hate Speech under the #IndianMuslims Hashtag
In the context of hate speech, a disturbing trend has emerged where individuals seized the opportunity to share videos and images depicting the Israel and Palestine conflict, amplifying tension and animosity. This divisive content found prominence on social media platforms, with the hashtag #IndianMuslims becoming an all too familiar sight.
The hashtag #IndianMuslims was employed on Twitter as a deliberate attempt to target Indian Muslims while circumventing Twitter's hate speech policies. Instead of using the term directly, individuals resorted to coded language such as "Buzlims" in order to dodge content moderation.
The tweets in question raised doubts about the loyalty of Indian Muslims to their own country, making false claims that insinuated that the community's primary support is for Pakistan or organizations like the Hamas.
What is particularly alarming is the consistent use of derogatory terms like "gaddaar", (traitor) "ummah" and "jihadi" alongside the hashtag. This pattern reveals a disturbing trend of labeling an entire community under a toxic umbrella of negative terms, thereby fueling social conflict and harmful stereotypes.
Not only the Hindu Right-wing, but Muslim and Arabic accounts were also found attacking Hindus as the war raged on with Gaza under severe bombing and airstrikes. It appears that a blame game has been unfolding without anyone pausing to grasp the intricacies of the conflict and basic questions of humanity across both sides.
These Arabic accounts recently called for a boycott of individuals of Indian origin residing in Arab countries. These accounts have urged for their deportation as a means to demonstrate solidarity with their religious beliefs. The focus of their criticism is specifically on those Indians who have expressed support for Israel.
Stereotyping and Polarizing Battle on Internet
We discovered numerous tweets employing the hashtag #IndianMuslims, associating the community with derogatory terms like 'snakes' due to their support for Palestine.
However, it was not only one community which was targeted. Hindus were also targeted with derogatory terms like 'cow-worshippers', 'urine-drinkers' etc. It has therefore become evident that these tweets were not the result of mere happenstance, but, rather, a calculated attempt, meticulously designed to single out and target Indian Muslims and Hindus.
Satirical Commentary on Indian Muslim Community
Moreover, there seemed to be a deplorable dissemination of caricatures that aimed to mock and denounce Indian Muslims. These visual portrayals added fuel to the fire, making it even more challenging to bridge the gap.
Among the top 100 most-shared posts under the hashtag, approximately 15 per cent featured minimal or no textual content, relying instead on memes, images, or caricatures to convey the messages. These visual elements frequently carried provocative messages that would not be discernible through text alone.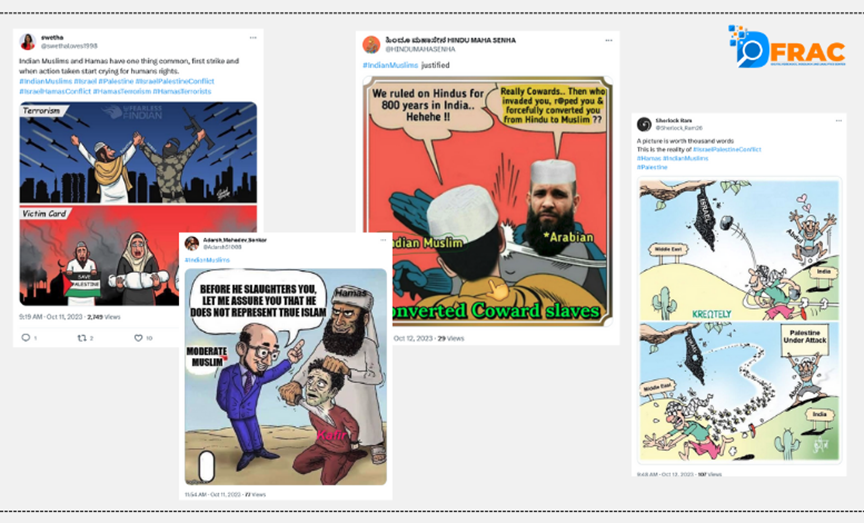 Within the context of this hashtag, numerous videos went viral, with certain handles asserting that these were related to the Israel-Palestine conflict. However, while investigating, we found that these videos were deceptive and counterfeit. They had been falsely represented, creating a misleading narrative.
Fake News 1
A video was shared claiming it depicted Israeli warplanes bombing Palestinian homes in Gaza. Upon fact-checking, we found the video was the footage of a Syrian Air Force jet bombing the town of Yabroud, uploaded 10 years ago.
A photo was circulated alleging that the Indian flag was placed below the Pakistani flag at the Lulu Mall in Kerala. However, the image was misleading as it was taken from a specific angle. Other mall photos showed the Indian flag at the same height as those of other cricketing nations participating in the ongoing cricket World Cup in India. The Lulu Mall management confirmed the flags were equally positioned, dispelling the claim.
A viral video alleged that the Emir of Qatar had said, "Indian Muslims should stop interfering in Arab issues. We don't need certificates from converted Muslims."
Consequent fact-checking revealed that the video was six years old. It was picked up from the 17th Doha Forum, where the Emir discussed development, stability, and refugee issues.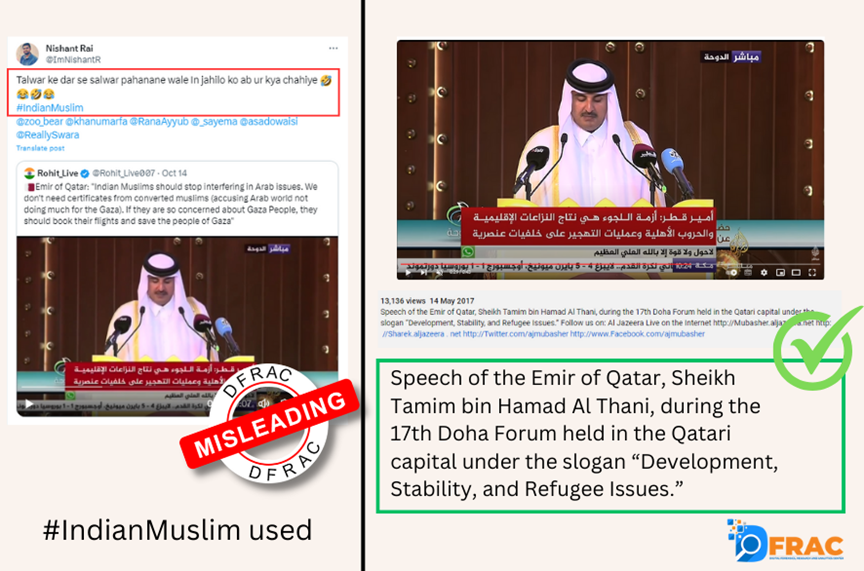 Hostility from the Hindu Right-Wing Community
Upon scrutinizing this segment on Twitter, we have observed the presence of individuals who have a well-documented track-record of spreading hate speech in public spaces. Despite the absence of a specific hashtag, these individuals have consistently chosen to espouse hateful rhetoric with their tweets. Due to their significant number of followers on social media, these 'influencers' possess a considerable amount of societal sway, thereby perpetuating hate speech that further intensifies divisions among communities during periods of conflict.
Prominent religious figure, Yati Narsinghanand Saraswati, known for his controversial speeches and advocacy for violence, once again attracted attention recently. Against the backdrop of the ongoing conflict between Israel and Hamas in the Gaza Strip, the 58-year-old leader of the Dasna Devi temple in Ghaziabad, Uttar Pradesh, expressed his intention to involve himself in the Middle-East turmoil. He has released a video statement where he is trying to reach out to Israel's religious and political leaders, while expressing his desire that he and his followers want to relocate to Israel.
During the video message, Narsinghanand, accompanied by a small group of disciples, asserted that Israel and India share a common adversary. He acknowledged that the followers of Sanatana Dharma may currently lack the means to confront this shared enemy. Consequently, he extended his and his followers' support to Israel, on the condition that they are permitted to practice their religion freely in that country.
He emphasized that during times of peace, they would continue their regular activities; but, during times of conflict or crisis, they would stand in solidarity with Israel, even willing to make sacrifices for the cause. He announced his intention on October 16, to formally request the Israeli Embassy in New Delhi, so as to settle in that country.
Narsinghanand's past is marked by inflammatory remarks against religious minorities in India. He had reportedly played an important role in organizing the Dharma Sansad in Haridwar in December 2021 where there were calls for violence against Muslims. Videos from this event received widespread condemnation, with some likening the rhetoric to the extremist ideologies of Nazi Germany in the 1930s. Additionally, he has expressed skepticism towards the Indian Constitution, the Supreme Court, and the army, making provocative statements about those who place their trust in these institutions.
Yati Narsinghanad hate speeches: We have it for you here in our report
A close associate of Sadhvi Prachi, who is well-known for promoting hate speech, has also engaged in divisive activities. He has posted tweets related to the Israel-Palestine conflict with the apparent intent of targeting the Muslim community in India. In one of his tweets, he has urged people to show support for Israel by waving flags at an India-Pakistan cricket match, a move seemingly aimed at singling out cricketer Rizwaan and the Muslim community in India, labeling them as "Desh ke Gaddaar" (traitors to the nation).
In another video he was found using the word 'jihad', while expressing strong support for Israel.
His user name: @modifiedshekhar should be noted. Indeed, he modified his user name. He claims himself to be a "Kattar Hindu" and has a profile picture with the prime minister. He was earlier running his account by the name of film actress Kangna Ranaut.
As illustrated in the graphic below, it's quite evident that @ModifiedShekhar has gone to great lengths to erase their previous tweets, which were originally posted during their impersonation of Kangna Ranaut.
What's particularly interesting is that both the former and current usernames of this user share the same user ID. This individual, previously operating under the name @iKanganaTeam, shamelessly resorted to desperate tactics, like the follow-for-follow strategy, to artificially boost his followers' count.
It is important to highlight that @ModifiedShekhar consistently engages in divisive and communal commentary, resorting to impersonation, simply to get more followers.
Known for stoking controversies and hate speech, Sadhvi Prachi also had something to say about the Hamas while targeting Indian Muslims in a video interview with an account called 'Sanatani Voice', which identifies itself as the 'Voice of Every Sanatani'.
In her statement, she implies that those who express solidarity with Palestine, are automatically aligned with the Hamas. She suggests that their support for the Palestinian cause is equivalent to endorsing Hamas. Besides, she makes a comparison between these supporters and iconic freedom fighter Bhagat Singh, insinuating that they cannot be seen in the same light as the martyr.
There are reasons why Shekhar Chahal is considered a close associate of Parchi Saadhvi; they share the inclination to propagate hate speech by reposting each other's tweets. This affiliation stems from their mutual commitment to endorsing and magnifying content that fuels a polarizing and incendiary dialogue in public spaces.
Antagonism from Muslim and Arabic Accounts
Indeed, hate speech has not been confined to the Hindu Right-wing factions during the ongoing Israel-Palestine conflict. In addition to this group, there have been instances of hate speech from Muslim and Arabic social media accounts. Surprisingly, some Arabic accounts were actually calling for a boycott of Indian labourers in Arab countries, all in the name of showing support for Palestine.This entire scenario goes to show that divisive rhetoric knows no bounds, spreading like wildfire among different ethnic and religious groups.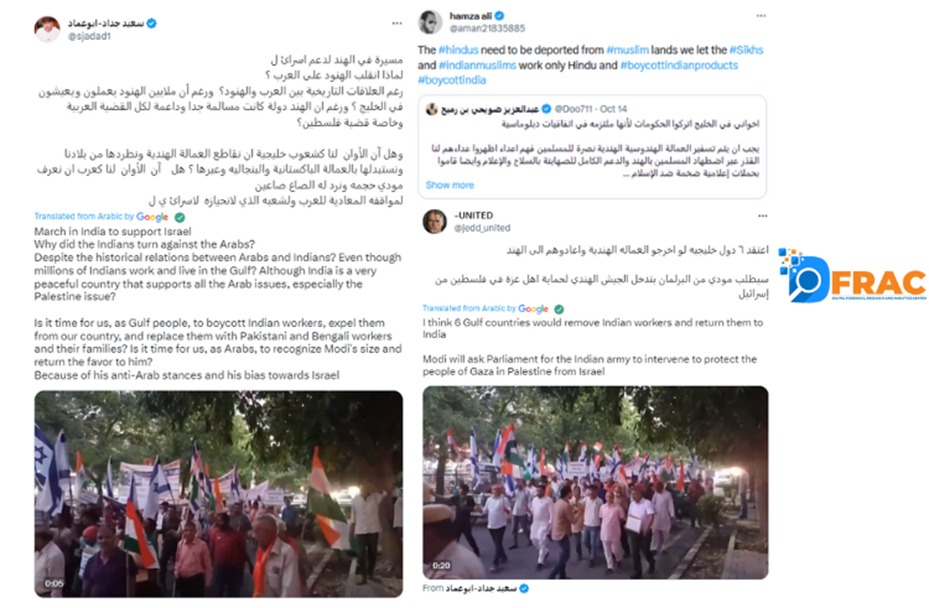 Another tweet was found where a protest video by Delhi University students was shared. The user wrote, while attacking the Sikh community, "Sikh Indians are the dirtiest people. At the beginning of the crisis, they supported Israel and were happy with the death of Palestinian children, but when there was a crisis and problem between them and Canada, they turned with Palestine."

While Ali Sohrab purports to be an advocate against Islamophobia, the content of his tweets appear to have the potential to inflame Islamophobia. In one of his tweets, he shared a divisive comparison, characterizing Hindus as oppressors and Muslims as the oppressed. This kind of rhetoric, which simplifies complex social issues into binary oppositions, can contribute to intensifying the misunderstanding between communities.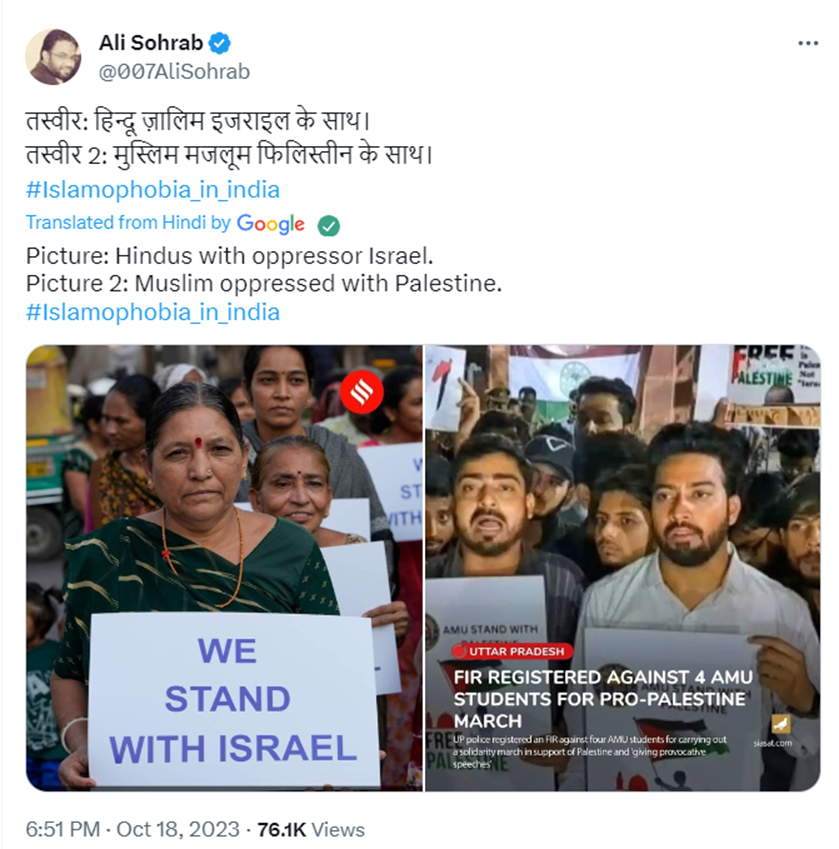 We have brought attention earlier as well, to the repeated instances when he has been promoting hate and Islamophobia. Read in detail here
In his tweets, there is a frequently used term called, 'Hunood', which refers to Hindus. In a recent tweet, he called out — "all the Hunoods, whether Sanghi or Liberal, including Indian liberal journalists, who are thriving on donations and subscriptions etc., from Muslims, are in one voice writing Palestinian freedom fighters as terrorists and spreading lies after lies, propaganda after propaganda against Islam and Muslims and are spreading propaganda against Islam and Muslims. They are showing their frustrated and distorted mentality…"
Conclusion
While considering the broader scope of discussions surrounding Israel and Palestine, the #IndianMuslim network can be perceived as a calculated attempt to scatter the seeds of confusion, discord and disharmony in society. Its purpose? To spread divisive storylines and narratives that has the power to penetrate and vitiate the secular and pluralist fabric of our society.
About Author