Ashok Gehlot failed to compensate Kanhaiya Lal's family for his murder? Find the reality here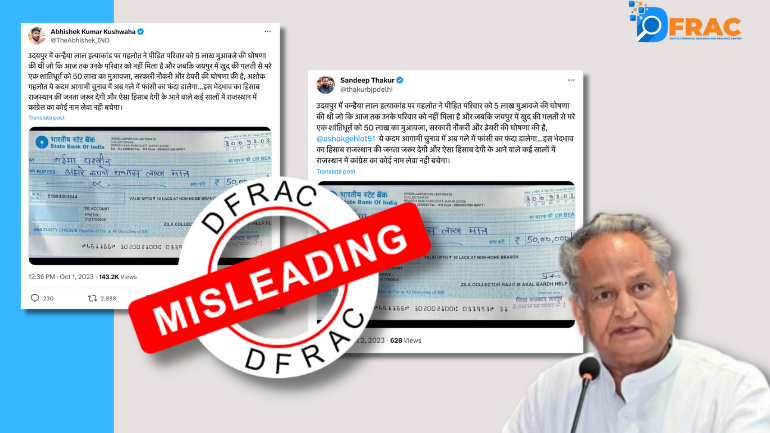 Kanhaiya Lal was a tailor in Udaipur, Rajasthan who was murdered on June 28, 2022. He was killed for allegedly sharing a social media post in support of Nupur Sharma, a former spokesperson for the Bharatiya Janata Party (BJP). Sharma's comments led to the 2022 Muhammad remarks controversy. The assailants entered Lal's store posing as customers before killing him.
What Claim is going Viral?
A twitter account named Abhishek Kumar Kushwaha posted a tweet claiming, "On the Kanhaiya Lal murder case in Udaipur, Ashok Gehlot had announced a compensation of Rs 5 lakh to the victim's family, which till date his family has not received."
उदयपुर में कन्हैया लाल हत्याकांड पर गहलोत ने पीड़ित परिवार को 5 लाख मुआवजे की घोषणा की थी जो कि आज तक उनके परिवार को नहीं मिला है और जबकि जयपुर में खुद की गलती से मरे एक शांतिधूर्त्त को 50 लाख का मुआवजा, सरकारी नौकरी और डेयरी की घोषणा की है, अशोक गहलोत ये कदम आगामी चुनाव में अब… pic.twitter.com/g0eoCEeJZL

— Abhishek Kumar Kushwaha (@TheAbhishek_IND) October 1, 2023
Social Media users who shared the similar claim:
We found other users on twitter who also shared the same claim.
उदयपुर में कन्हैया लाल हत्याकांड पर गहलोत ने पीड़ित परिवार को 5 लाख मुआवजे की घोषणा की थी जो कि आज तक उनके परिवार को नहीं मिला है और जबकि जयपुर में खुद की गलती से मरे एक शांतिधूर्त्त को 50 लाख का मुआवजा, सरकारी नौकरी और डेयरी की घोषणा की है, @ashokgehlot51 ये कदम आगामी चुनाव में… pic.twitter.com/AAtTtmcSnO

— Sandeep Thakur (@thakurbjpdelhi) October 2, 2023
उदयपुर में कन्हैया लाल हत्याकांड पर गहलोत ने पीड़ित परिवार को 5 लाख मुआवजे की घोषणा की थी जो कि आज तक उनके परिवार को नहीं मिला है और जबकि जयपुर में खुद की गलती से मरे एक शांतिधूर्त्त को 50 लाख का मुआवजा, सरकारी नौकरी और डेयरी की घोषणा की है, अशोक गहलोत के इस भेदभाव का हिसाब ? pic.twitter.com/6Bn6jMrpvl

— Satendra 🇮🇳 ⛳ (@satendrakumart) October 1, 2023
उदयपुर में कन्हैया लाल हत्याकांड पर गहलोत ने पीड़ित परिवार को 5 लाख मुआवजे की घोषणा की थी जो कि आज तक उनके परिवार को नहीं मिला है और जबकि जयपुर में खुद की गलती से मरे एक शांतिधूर्त्त को 50 लाख का मुआवजा, सरकारी नौकरी और डेयरी की घोषणा की है@ashokgehlot51 @ArvindKejriwal @AAPDelhi pic.twitter.com/8GAykxQ3hM

— हिन्दू – एक ब्रांड 🏹 #प्रशासक समिति 🚩 (@HINDU_Ek_BRAND) October 1, 2023
Fact Check
Dfrac team investigated the viral claim by searching related keywords to the claim on google. We found multiple media reports that clarified the reality of the viral claim.
Media Reports that covered the news
We found TV9 Hindi article, dated 12 July,2022. The caption of the article read,"Udaipur Murder Update: CM Gehlot kept his promise to Kanhaiyalal's family, gave government jobs to both his sons in this department"
Furthermore, report mentioned that the victim's family was handed over a check of Rs 51 lakh. Moreover, in the cabinet meeting, the government had passed the proposal of giving govt jobs to both the sons of Kanhaiya Lal. Moreover, deceased Kanhaiyalal's younger son was appointed as junior assistant in Udaipur city treasury office and elder son was appointed as junior assistant in Udaipur rural treasury office.
Additionally other media house News18 also reported," the rules for appointment have been relaxed. This appointment will be provided under Rule 6C of Rajasthan Subordinate Office Clerical Service (Amendment) Rules, 2008 and 2009."
Conclusion
From the fact check, it is evident that the viral claim is misleading. Kanhaiyalal's family was given timely compensation by Ashok Gehlot's government.
About Author