A photo of Rahul Gandhi is going viral. Social media users are making fun of Rahul Gandhi by sharing this photo.
In this photo, it is seen that Rahul Gandhi is sitting on the road and getting his ear cleaned by a man. Sharing this photo, a user named Pankaj Sharma (@PankajS80107110) on Twitter wrote – "Hey brother, where is the ear cleaning, the worm is somewhere else."(translates Hindi)
अरे भाई कान काहे साफ कर रहा है, कीड़ा कही और है 😂 pic.twitter.com/CmiyInI1E7

— Pankaj Sharma 🚩🛕 (@PankajS80107110) May 13, 2022
Apart from this, many other users have also shared this photo with the same. Looking at these posts, it seems that users have copy-pasted the caption and photo.
अरे भाई कान काहे साफ कर रहा है, कीड़ा कही और है 😂 pic.twitter.com/xAQ124uWwE

— Rahul Anand (@Rahul_saffron) May 11, 2022
https://twitter.com/singhk_sanjeet/status/1524745430076395520?s=20&t=V713eN2GxLShutRYMF1B2Q
https://twitter.com/Rajnesh_3840/status/1524310070065913856?s=20&t=V713eN2GxLShutRYMF1B2Q
अरे भाई कान काहे साफ कर रहा है,
कीड़ा कही और है 👇🙊🙈🤣🤣🤣🤣 pic.twitter.com/Xd13WbmTSi

— 🇮🇳मनीराम विश्वकर्मा हिंदू🇮🇳 (@Maniram83296236) May 9, 2022
Fact Check:
To check this viral claim, we did a reverse search on Google. We found this photo in a report published on the website of so.city. But this photo is not of Rahul Gandhi but of a foreign national. Caption of this photo- "Talk about desi jugaad! Check out these 'ear cleaners' sitting around town".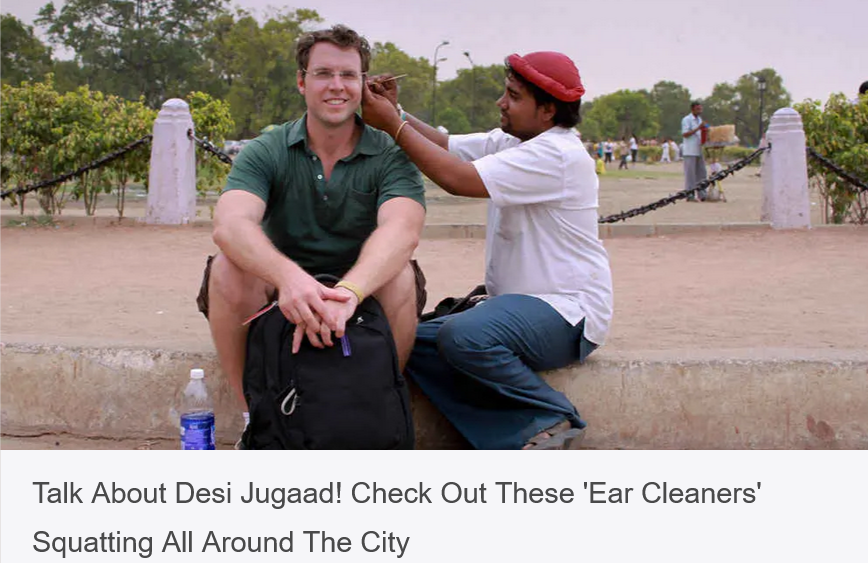 Conclusion:
After investigation of the photo, it emerged that the photo of Rahul Gandhi being shared by social media users is fake and photoshopped. The photo that social media users are sharing is actually a photo of a foreign national. This photo of a foreign national is being photoshopped and viral by putting a picture of Rahul Gandhi.
Claim Review- Rahul Gandhi got his ears cleaned while sitting on the road
Claimed by- Social media users
Fact Check – Fake and Photoshopped