Fact Check: Muslim shopkeeper was attacked because of 'The Kashmir Files'?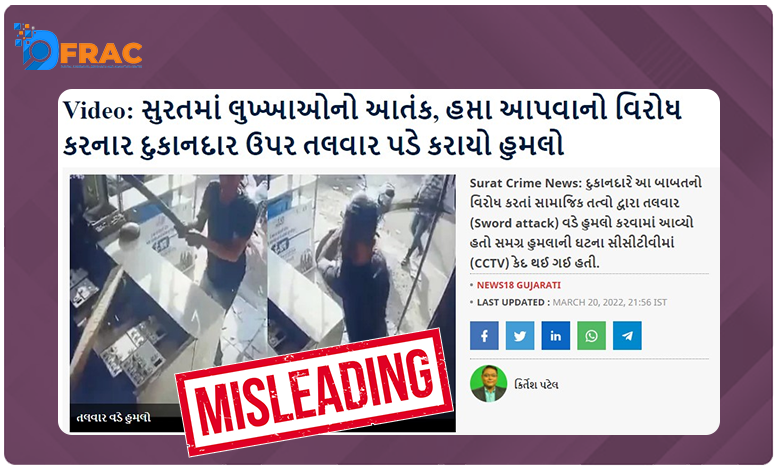 Vivek Agnihotri's controversial film 'The Kashmir Files' on the exodus of Kashmiri Hindus has sparked a political uproar. On the other hand, this film has also increased abuses against Muslims.
Meanwhile, a video is going viral on social media. In which it was claimed that Muslims are being attacked due to this film and they should be ready for their safety.
Sharing the video, a user tweeted, "It's all a scene after watching #kashmirifiles movie! #Muslims always be ready for your safety because terrorists will now openly terrorize! #MuslimLivesMatter #Muslim.
ये सब #kashmirifiles फिल्म देखने के बाद का सीन है!
#मुसलमानों को अपनी सुरक्षा के लिए हमेशा तैयार रहें क्योंकि आतंकी अब खुलेआम आतंक करेंगे! #MuslimLivesMatter #Muslim pic.twitter.com/nUK5HMn33z

— Zulekha Khan (@Factindianewss) March 21, 2022
Fact Check:
To investigate the above claim, we converted the video into individual keyframes with the help of the InVid tool and Google reverse image search of each keyframe, in this regard, we found the viral video's screenshot in the news report published in the Gujarati language of TV18 on 20th March.
સુરતમાં લુખ્ખાઓનો આતંક, દુકાનદાર ઉપર કર્યો તલવાર વડે હુમલો, ઘટના સીસીટીવીમાં કેદ #surat #Gujarat pic.twitter.com/uo5CH5DLEe

— News18Gujarati (@News18Guj) March 20, 2022
It was told in the report that two shopkeepers were attacked with swords by anti-social elements near Umiya Mata temple in Bhathe area of ​​Surat. They were demanding ransom for a long time. This entire incident was captured on CCTV.
On the other hand, a police inspector of Salabatpura police station has denied any communal angle in the incident. He said that the victim and the accused related to the incident belong to the same community.
Hence the viral video is misleading.
Claim Review- Attack on Muslim shopkeeper due to 'The Kashmir Files'
Claimed by- Twitter User
Fact Check- Misleading
About Author