Fact Check: Did Subramanian Swamy shared fake image about ISKCON Temple on his official account ?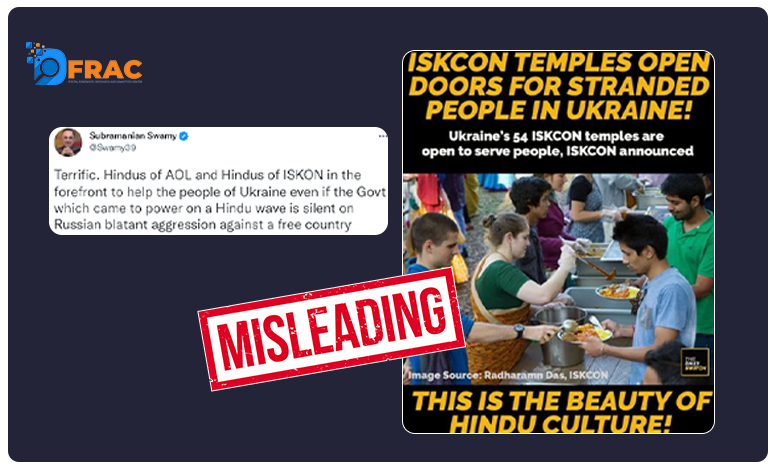 The tensions between Russia and Ukraine are increasing each passing day. Joe bidden has now come forward in the state of the union address and said he will make sure that Putin will pay the price. Russian forces have escalated their attacks in the crowded urban areas of Ukraine.
Meanwhile many fake news is paving its way into this whole issue. Yet again, a picture is going viral on social media claiming that ISKCON Temple has opened the door for the standard people of Ukraine.
Further, it was said that Ukraine's 54 ISKCON Temples are ready to serve the people.
This image was shared by Rajya Sabha MP Subramanian Swamy on his official Twitter account.
Terrific. Hindus of AOL and Hindus of ISKON in the forefront to help the people of Ukraine even if the Govt which came to power on a Hindu wave is silent on Russian blatant aggression against a free country pic.twitter.com/A7Kx5aeVeN

— Subramanian Swamy (@Swamy39) March 1, 2022
Also, big media houses like News18 and ZEE Media (DNA) have shared this picture.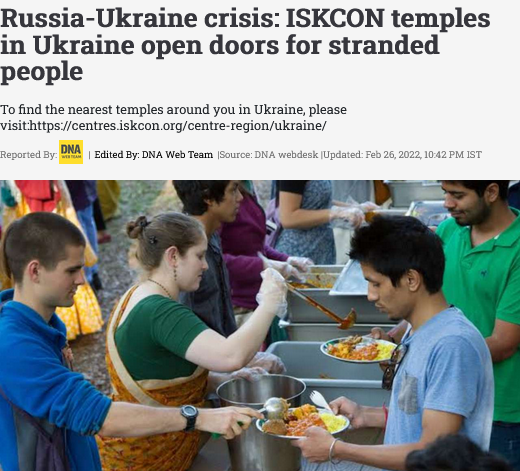 Fact Check:
Through reverse image search, we found that the pictures getting viral is from 2015 which was shared on the website and the image was used in the article.
Another image that is getting viral on social media is of the Relief work done at Chechnya, Chechnya is a constituent republic of Russia situated in the North Caucasus in Eastern Europe, close to the Caspian Sea is also shared on the official website of ISKCON.
We also cross-checked the media this viral news where it is claimed that ISKCON Temples are providing humanitarian aid. Through research, we found a piece of information in Decan Herald in which it is said that although, the ISKCON Temple is open for humanitarian aid, but the picture used in this is not of the current event.
Conclusion:
Therefore, it is clear that ISKCON Temples are ope for the people of Ukraine, but the image getting viral with this news is misleading.
Claim review: ISKCON temple opens the door for Ukrainian people
Claimed by: ZEE News, News18
Fact check: misleading.
About Author