Pakistani outburst on social media on the occasion of 50 years of Bangladesh's independence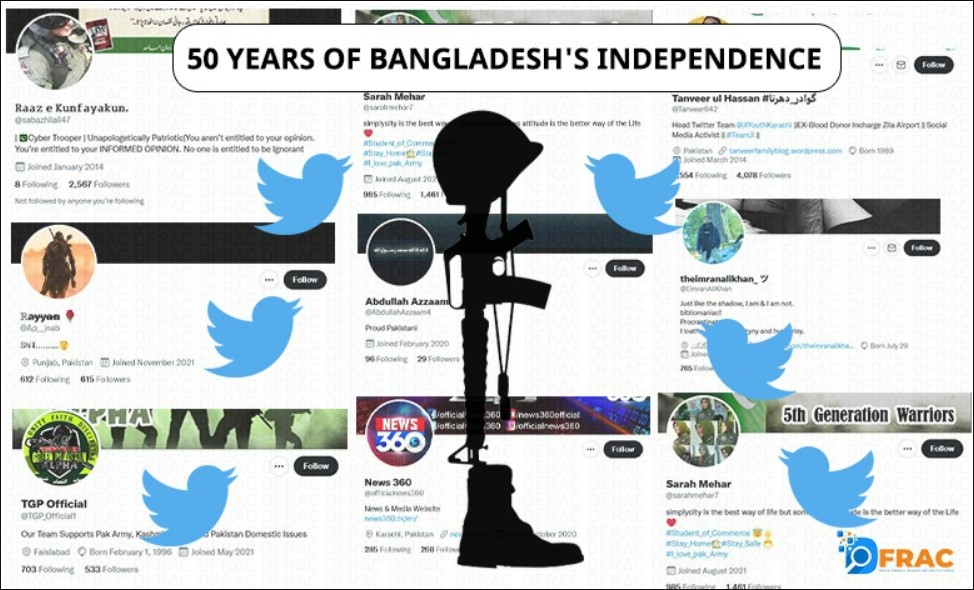 On December 16, 1971, exactly 50 years ago, around 93,000 Pakistani forces had surrendered before the joint forces of the Indian Army and Mukti Bahini, leading the way for the formation of Bangladesh and in the liberation of East Pakistan. Since then only, 'Vijay Diwas' is celebrated on 16th Dec every year to commemorate the culmination of a brutal fight that left millions dead.
The war of 1971 was a military conflict between Indian and Pakistan. It started with airstrikes on 11 Indian Air Force stations by Pakistani Air Force on 3rd Dec, 1971. Therefore, as a result, the Indian Army agreed to help Bengali nationalist groups in the Bangladesh independence struggle in East Pakistan.
Mukti Bahini also came forward and joined hands with the Indian Armed Forces for the Independence of Bangladesh. The Mukti Bahini also known as Bangladesh Forces, was the guerrilla resistance movement consisting of the Bangladesh military, paramilitary and civilians during the War of Liberation that helped transforming East Pakistan into Bangladesh in 1971.
On the occasion of 50 years of Bangladesh's independence, Pakistani fiercely vented against India on social media platforms such as Twitter. Most of these tweets were soft on Bangladesh's Liberation Army but posted a lot of objectionable content to India. The tweets were tweeted in Urdu with hashtags that translates to English as 'Dhaka ke Badli Dehli', 'Dil Pe Naqsh Hai Dhaka', '16th December and Pakistan is broken'. While many hashtags including 'Fall of Dhaka' in English were trended by Pakistani handles.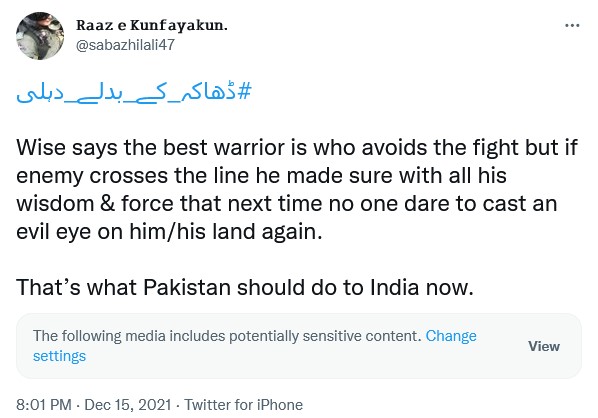 But a special trend was made in these '#APSPeshawar' and '#IndiaBehindAPS' hashtags. The purpose of these tweets was to try to hold India responsible for the terrorist attack on December 16 in Peshawar school. No matter how many lies Pakistanis may lie on Twitter, the truth is that as long as East Pakistan remained, the vicious circle of injustice had become so widespread that it had to be separated from Pakistan itself.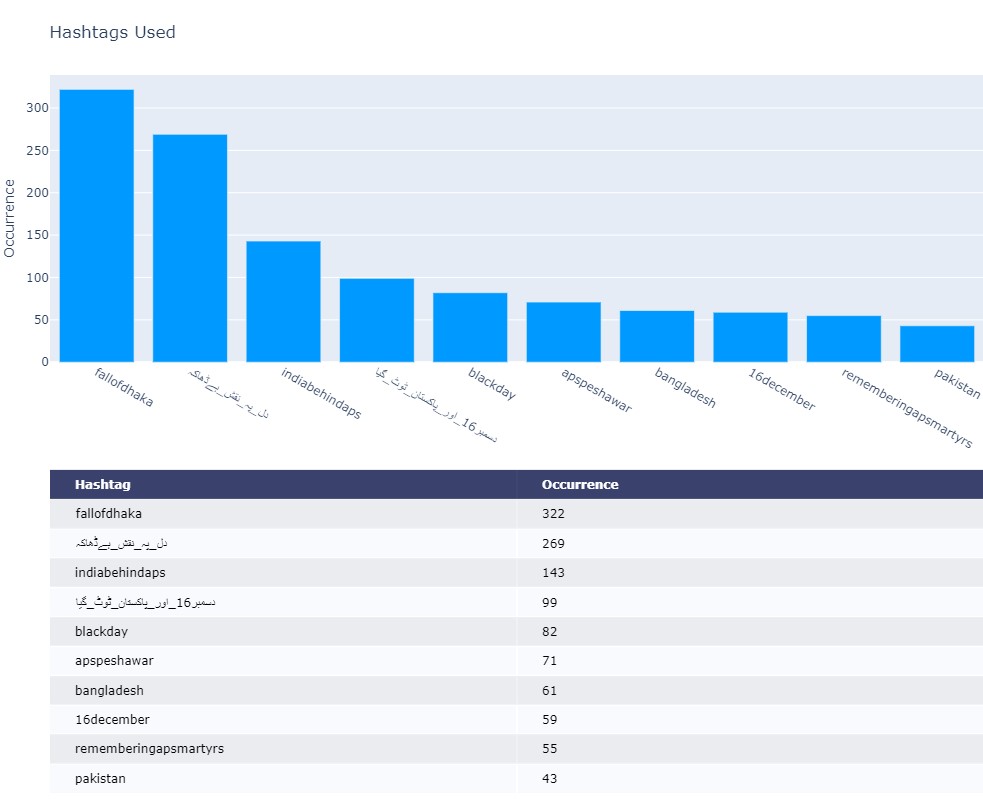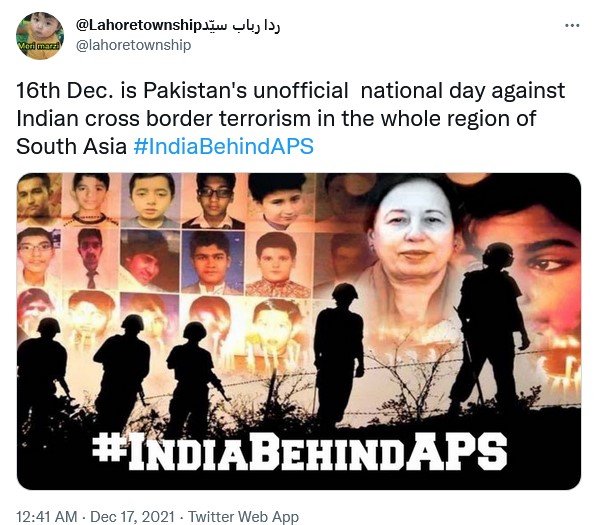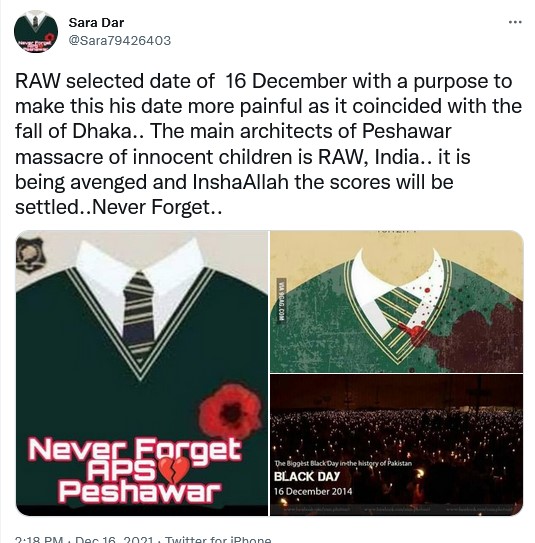 The wordcloud shows what were the majority of words used in the tweets of Pakistani handles.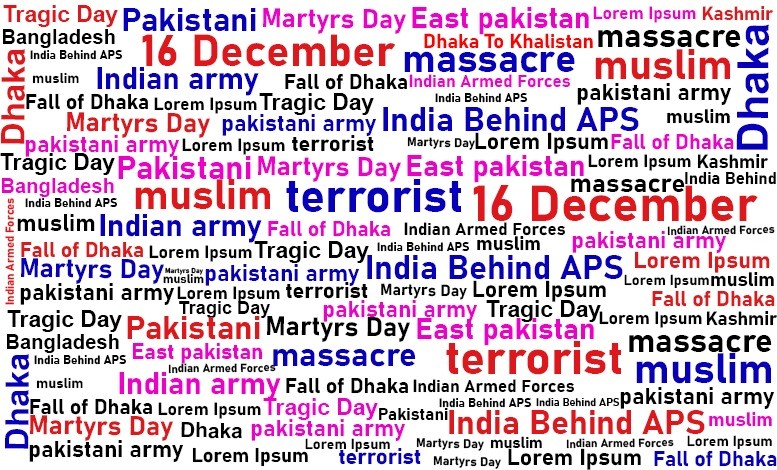 With independence in 1947, two countries became independent in the name of India and Pakistan. Pakistan was a country divided into two parts, whose geographical distance to East Pakistan was very much. In Pakistan's school books, children are taught that East Pakistan was separated by India as Bangladesh, that is, Pakistan was broken into pieces, but Pakistan does not tell children in its school books how much persecution of ordinary Bengalis of Pakistani army has increased. It was known that this was to be the end. After living together for just 24 years, East Pakistan broke away as Bangladesh. Bangladesh got real independence on 16 December 1971, but 10 days before that, India recognized Bangladesh as an independent nation. When the Commander of the Pakistani Army, Lieutenant General Amir Abdullah Khan Niazi, signed the document of surrender with Lieutenant General Jagjit Singh Arora of the Indian Army, the same day East Pakistan was erased from the world map and Bangladesh emerged as a new country.
Accounts who tweeted about India are majorly from Pakistan. Here is the graph plotting accounts who have tweeted and replied maximum number of time. tanveer642 has tweeted maximum number of time with over 100 tweets or replies followed by n0___m0re and ap__jnab with 27 and 15 times respectively.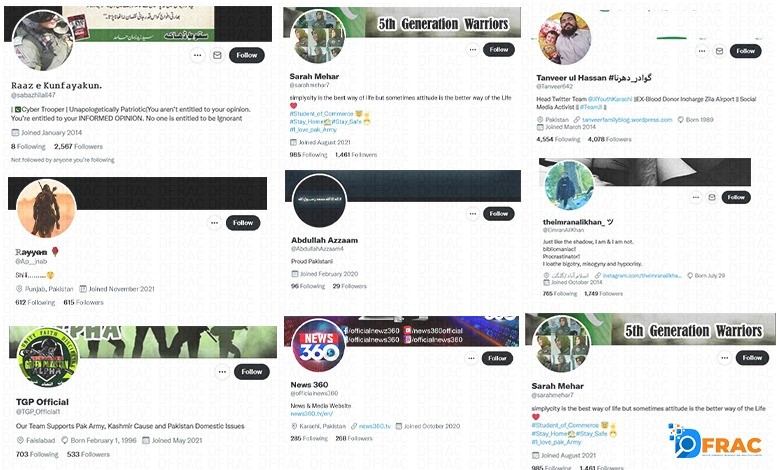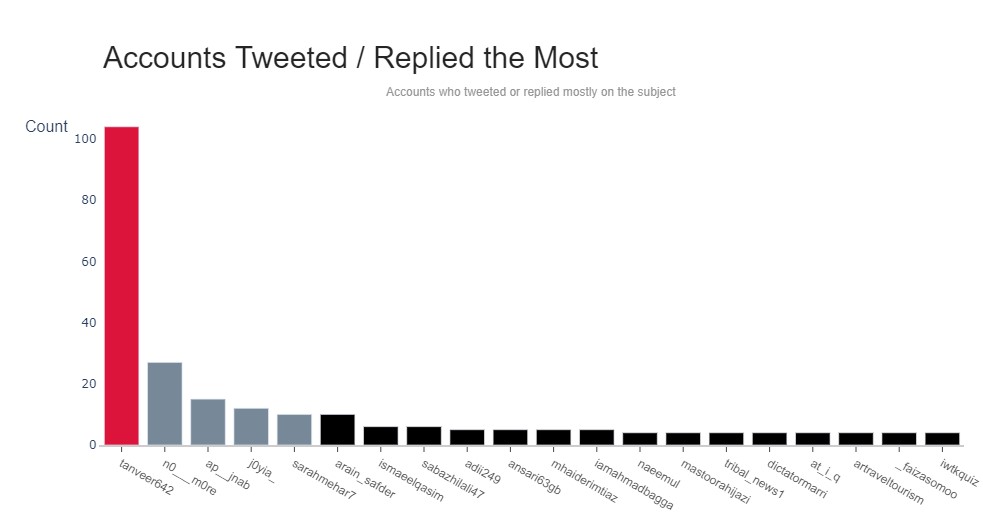 Pakistani handles have tried spreading this hate and outburst against India as much as possible, with using multiple hashtags and also tagging and mentioning other people. Below graph shows the twitter handles who were mentioned or tagged maximum number of times. The account who was mentioned mostly is legacy_leavers_ with over 60 times tagged followed by ap__jnab and tgp_official1 with 18 and 16 times tagged respectively.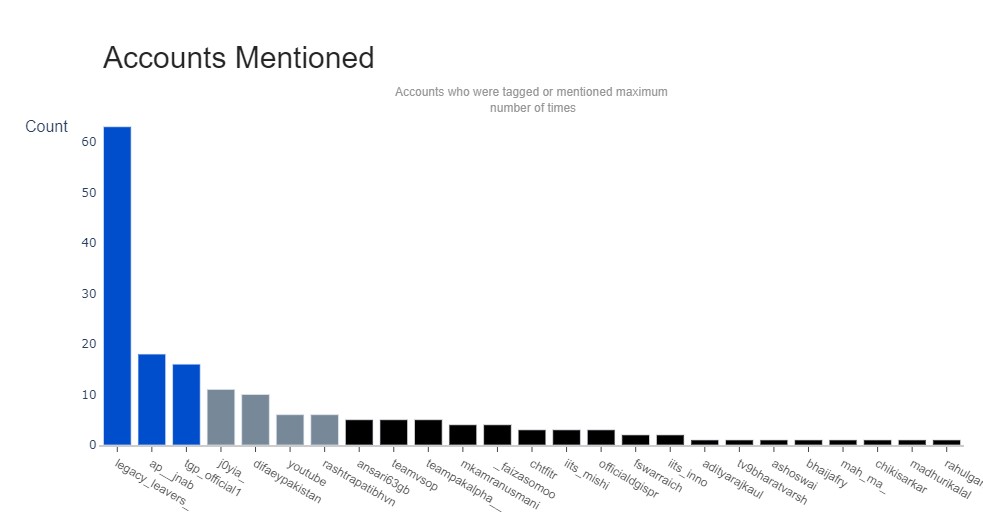 About Author