CJ Werleman, describes himself as a Global Correspondent for Byline Times, Columnist for Inside Arabia and activist against Islamophobia. But is he really a journalist or a propagandist or he is giving a platform to terrorists or really an activists exposing atrocities on minorities?
Let's us have a look at some angles!
What other journalists and social media influencer's opinion are about CJ Werleman?
Lebanese American writer Rania Khalek calls CJ Werleman, a Propagandist and pro salafi jihadist.
This is a blatant lie. CJ is a straight up propagandist who knows nothing about Syria, he just parrots the most sectarian line possible, which is interesting considering he used to be a major islamophobe. Now he's pro salafi jihadist https://t.co/B4ciDa7qMg

— Rania Khalek (@RaniaKhalek) January 19, 2018
Journalist, Benjamin Norton also calls CJ Werleman a propagandist. He even said he has whitewashed ISIS and given a platform to Syrian Al-Qaeda operatives.


Mask off: Pro-war propagandist CJ Werleman is now admitting he proudly supports NATO member Turkey's criminal war on Syria, which it is waging in alliance with al-Qaeda and other Salafi-jihadists.

Werleman is also a paid contributor to Turkish state mediahttps://t.co/loP9dmTUmx pic.twitter.com/bztVMPoss6

— Ben Norton (@BenjaminNorton) March 1, 2020

CJ Werleman — who has whitewashed ISIS and given a platform to Syrian al-Qaeda operatives — laments that his Shia-massacring Salafi buddies in Syria are losing.

Reminder: Idlib, the last rebel-held province in Syria, is literally controlled by al-Qaeda.https://t.co/m7G9lzPlBM

— Ben Norton (@BenjaminNorton) February 1, 2018

Hassan Sajwani, a social media influencer

calls

CJ Werleman, a serial Islamist and shameless Syrian Al-Qaeda and Muslim Brotherhood apologist

.
CJ Werleman is a serial Islamist and shameless Syrian al-Qaeda and #MuslimBrotherhood apologist. Thread.

— حسن سجواني 🇦🇪 Hassan Sajwani (@HSajwanization) June 25, 2020
Checking out CJ Werleman's background!
CJ Werleman has been called out for his lies and plagiarism and fired from various jobs, and his works being taken down as acts of poor journalism. He was once a writer for Alternet and Salon. Alternet removed his pieces, though Salon left them up, and the man was thoroughly trounced and disgraced. He didn't even apologize, but fobbed off a lot of his plagiarism on "bad editing", mistaken failure to use quotation marks, and even by making false counter-accusations that Sam Harris plagiarized too.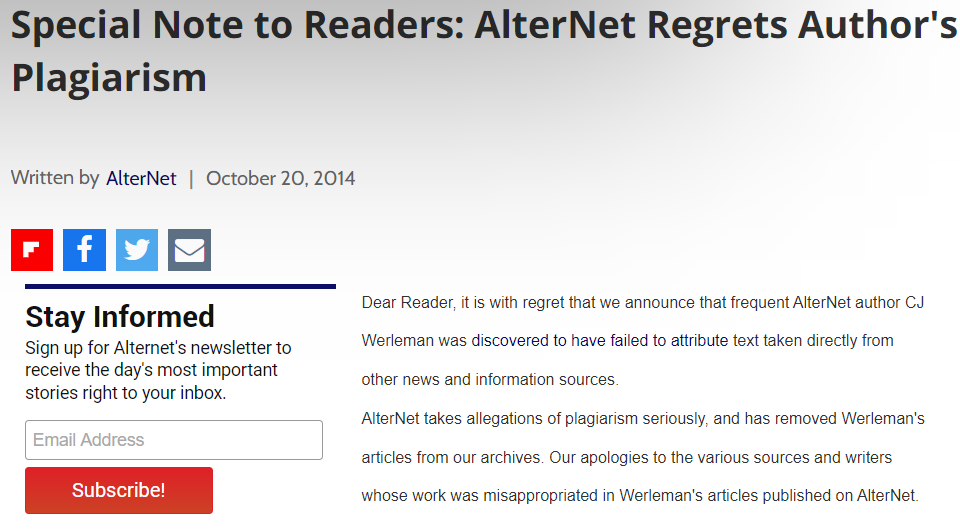 CJ Werleman, in his own words, was a vicious racist and Islamophobe. Some of the content which he used to post through his social media account says the same.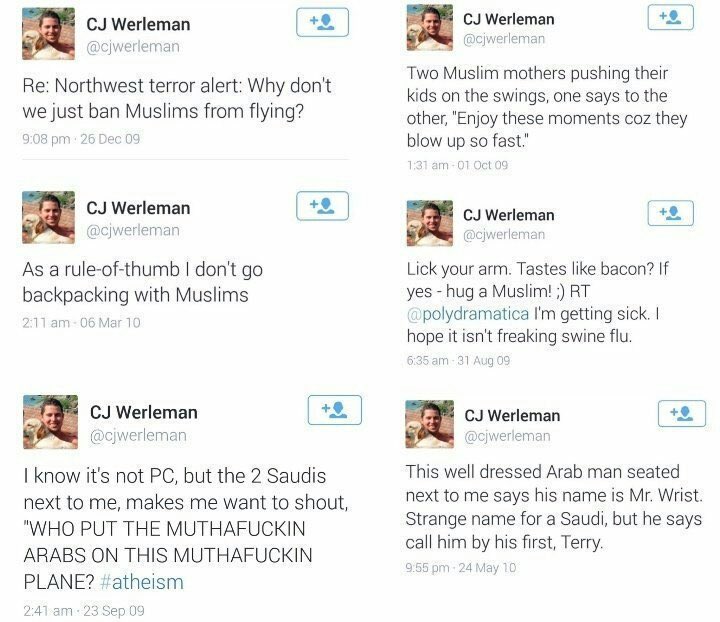 Why some call him Syrian Al-Qaeda and Muslim Brotherhood apologist?
Does he really have any links with terrorist?
CJ Werleman has had a talk with terror spokesman Abu Sulayman al-Muhajir, as is admitted by him. He said "Abu Sulayman contacted me to thank me for what he described as my "impartial" reporting of the Syrian Civil War"
Who is Abu Sulayman?
Mostafa Mahamed (born 14 February 1984, Port Said, Egypt), known as Sheikh Abu Sulayman al-Muhajir (or Mostafa Farag) is an Egyptian-born Australian Muslim who is a senior member of al-Qaeda's Al Nusra Front. He is a 32-year-old from Sydney's southern suburbs now living in Syria. He is believed to be the highest-ranking Australian member of al-Qaeda.
CJ Werleman is seen giving social media platform to terrorists
Tweet 1: CJ Werleman is seen glorifying a UK designated terrorist, named Tauqir Tox Sharif. Although Sharif has denied affiliation with any armed groups in Syria, he was stripped of his British citizenship in 2017 after being assessed by the UK Home Office to be "aligned with an al-Qaeda-aligned group".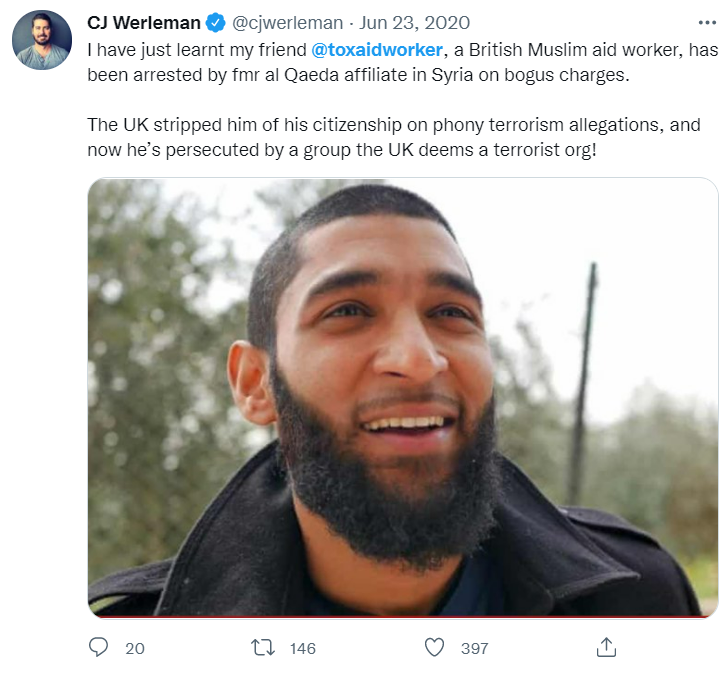 Tweet 2: CJ Werleman giving platform to Bilal Abdul Kareem, who has been criticized by some observers for a perceived alignment with jihadi fighters in Syria, with The New York Times reporting that Kareem was considered a "jihadist propagandist".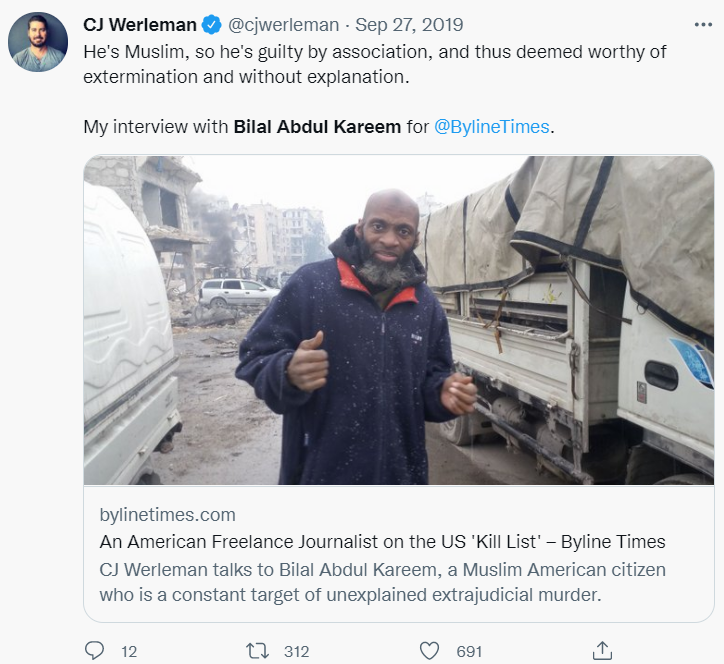 Is CJ Werleman, a fake news peddler?
Checking some of the tweets done by CJ Werleman
Tweet 1:
CJ Werleman has posted a video on Sept 1, 2021 with the claim that Hindutva Radicals destroyed a Muslim graveyard in Nathan, India.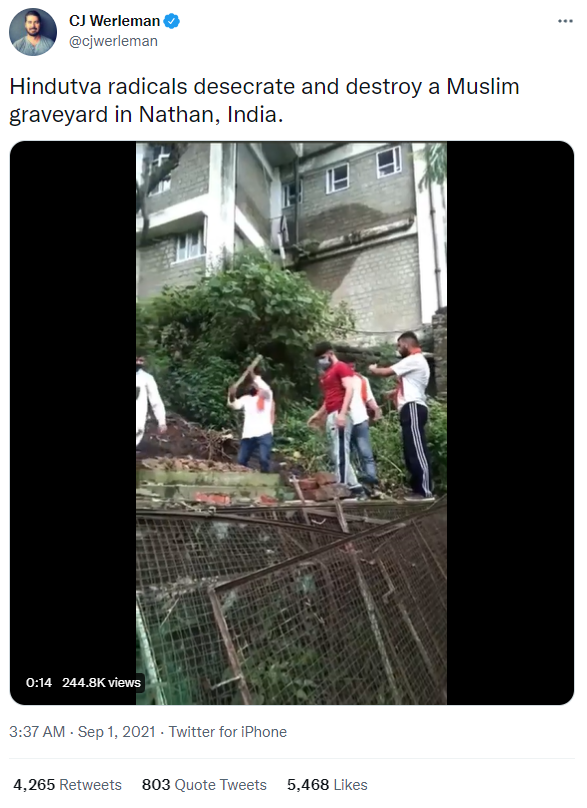 Fact Check:
The claim made by CJ Werleman seem totally wrong as the incident is not from Nathan as claimed by him. According to the Kullu Police, the video is not from Nathan, Kullu and no such incident has taken place in that area.
The video actually is from Nahan, the headquarters of Sirmaur District in Himachal Pradesh, and it does not show a Muslim Graveyard destroyed by 'Hindutva radicals' as claimed by Werleman.
The Municipal board had demolished the illegal majar with the cooperation of Hindu Jagran Manch members. This is after the reports stated that some unknown people had set up the illegal majar on government land near the Dr Y S Parmar Medical College in Nahan. Also, Hindu Jagran Manch state secretary Manab Sharma said that some unknown people had gathered construction material to build the illegal majar in the night. After they informed the authorities about the same, the illegal construction was removed in the presence of administration and police officials.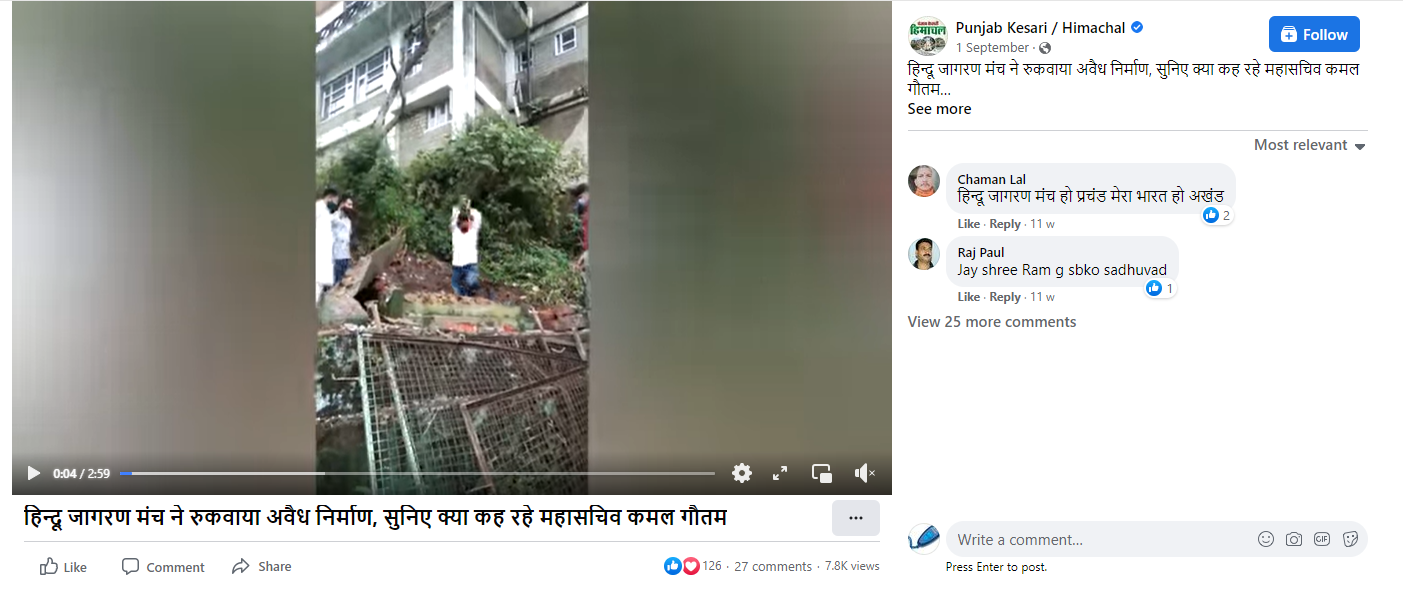 Tweet 2:
CJ Werleman has posted a video claiming Hindutva fanatics destroying 25 Muslim owned businesses and property in Aurangabad on 25 March.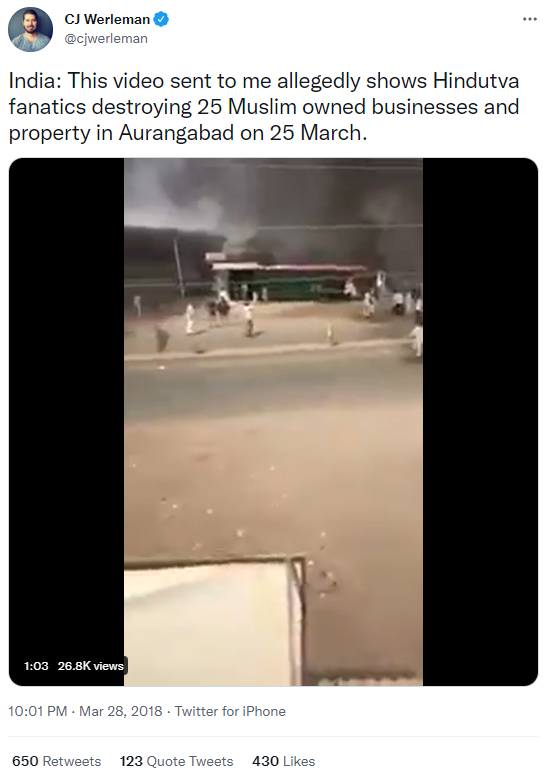 Fact-Check:
The video he posted is from January 2018, Bhima Koregaon, Maharashtra and not even related to Hindu-Muslim riots.
Maharashtra: Violence between two groups during an event to mark 200 years of the Bhima Koregaon battle near Pune yesterday, vehicles set on fire pic.twitter.com/5RpITAK4qB

— ANI (@ANI) January 2, 2018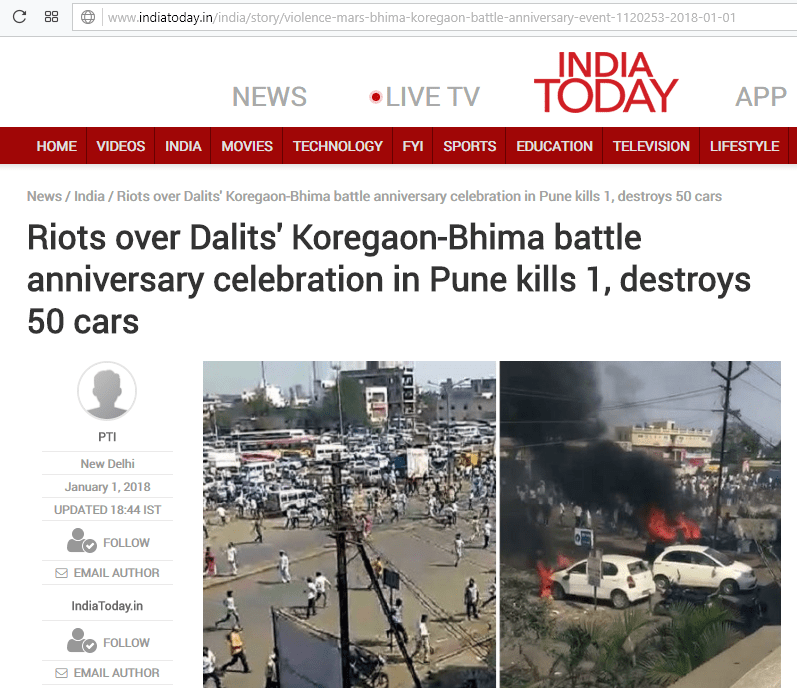 Tweet 3:
CJ Werleman posted some photos with the claim that thousands of Neo-Nazis took to the streets in Warsaw, Poland to protest against Muslims, Jews and feminists.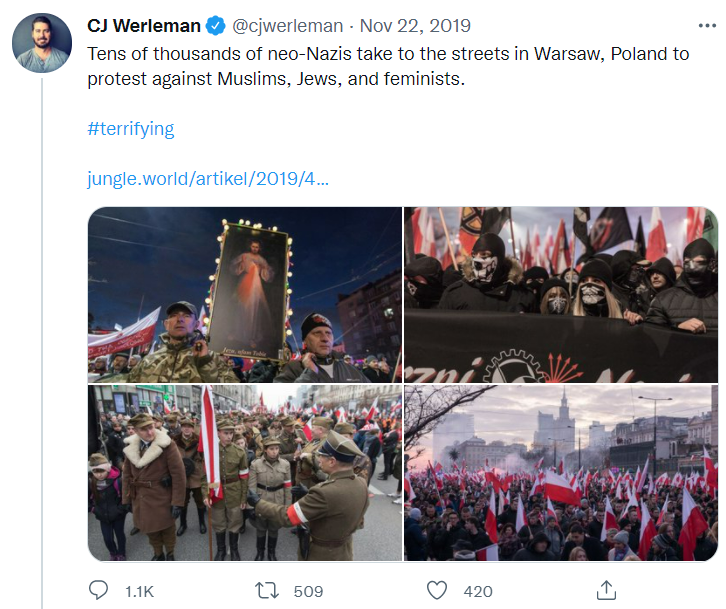 Fact Check:
The photos uploaded by CJ Werleman are not of any protest in Poland against Muslims, Jews and feminists. But these are the images of People of Poland celebrating Poland's Independence Day
Tweet 4:
CJ Werleman uploaded a video on June 6, 2020 with the claim that a Rajasthan cop brutally beats a man for not wearing a mask. He also tried to give it a Hindu Muslim angle by claiming it to be Indian police brutality against Muslims.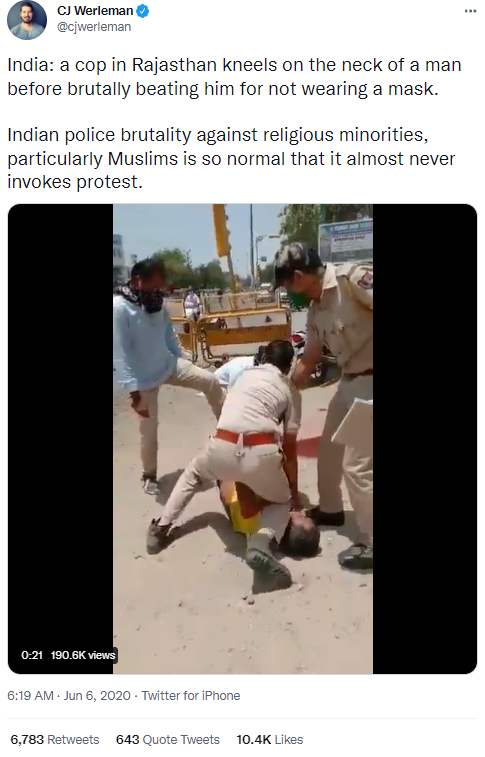 Fact Check:
On 4th June, 2020, near the Chaupasni Housing Board under Devnagar police station, a person got into a tussle with the police and got into a tussle with two constables for making a challan for roaming without a mask. He tore the police uniform and beat up the constables. Devnagar police station registered an FIR and arrested the accused. According to SHO Somkaran, constables Hanuman Godara and Raju Meena of Pratapnagar police station were taking action under the Epidemic Act at twelve o'clock in the street of Somani College. Meanwhile, when Mukesh Kumar Prajapat was found sitting without a mask at the bus stand, the constables caught him and informed the Devnagar police station for challan action
The person whose FIR was registered name is Mukesh Kumar Prajapat, and he does not belong to Muslim religious minority.
Does CJ Werleman targets India?
Tweets about boycotting Indian Product
CJ Werleman tweeted on Nov 23, 2021 that to save Muslims in India and Kashmir, one should boycott Indian Products.
How can boycotting Indian Products be helpful in saving Muslims in India and Kashmir?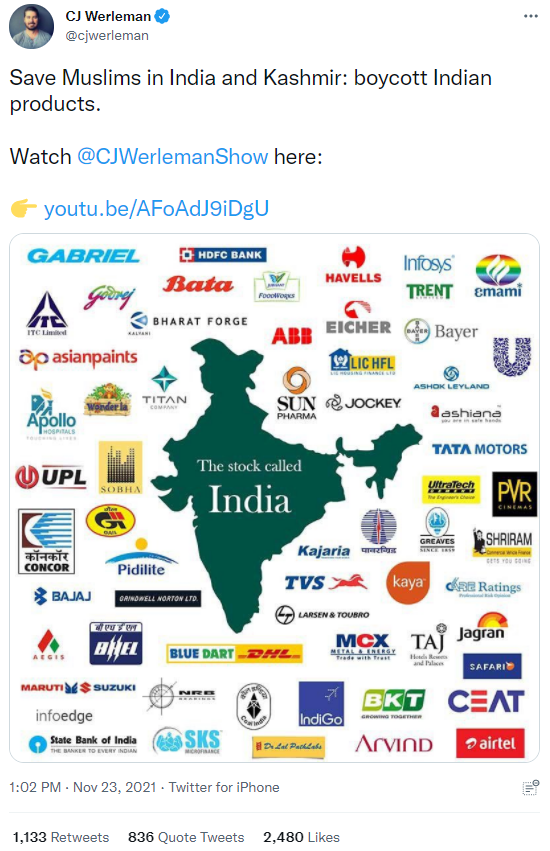 Tweet about ICC Test Championship:
In this tweet, CJ Werleman wants India to lose in ICC Test Championship, because he does not want 500 million Hindutva extremists to be happy. He has mixed sports with Religion.
Does religion have anything linked with sports?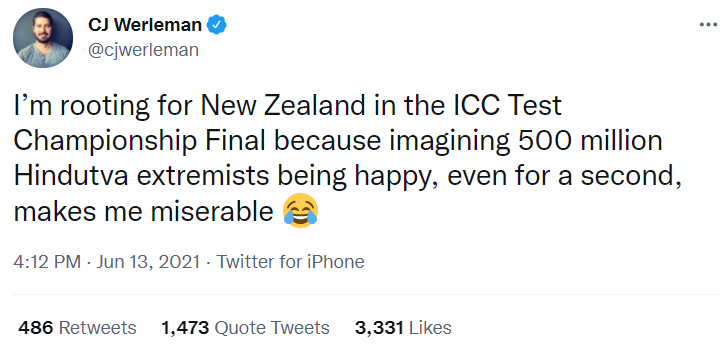 Is CJ Werleman an activist, who raises voice for voiceless?
CJ Werleman posess a youtube channel "The CJ Werleman Show A voice for the Voiceless" where he posts a video every week highlighting the atrocities on minorities in China, India, Palestine, etc.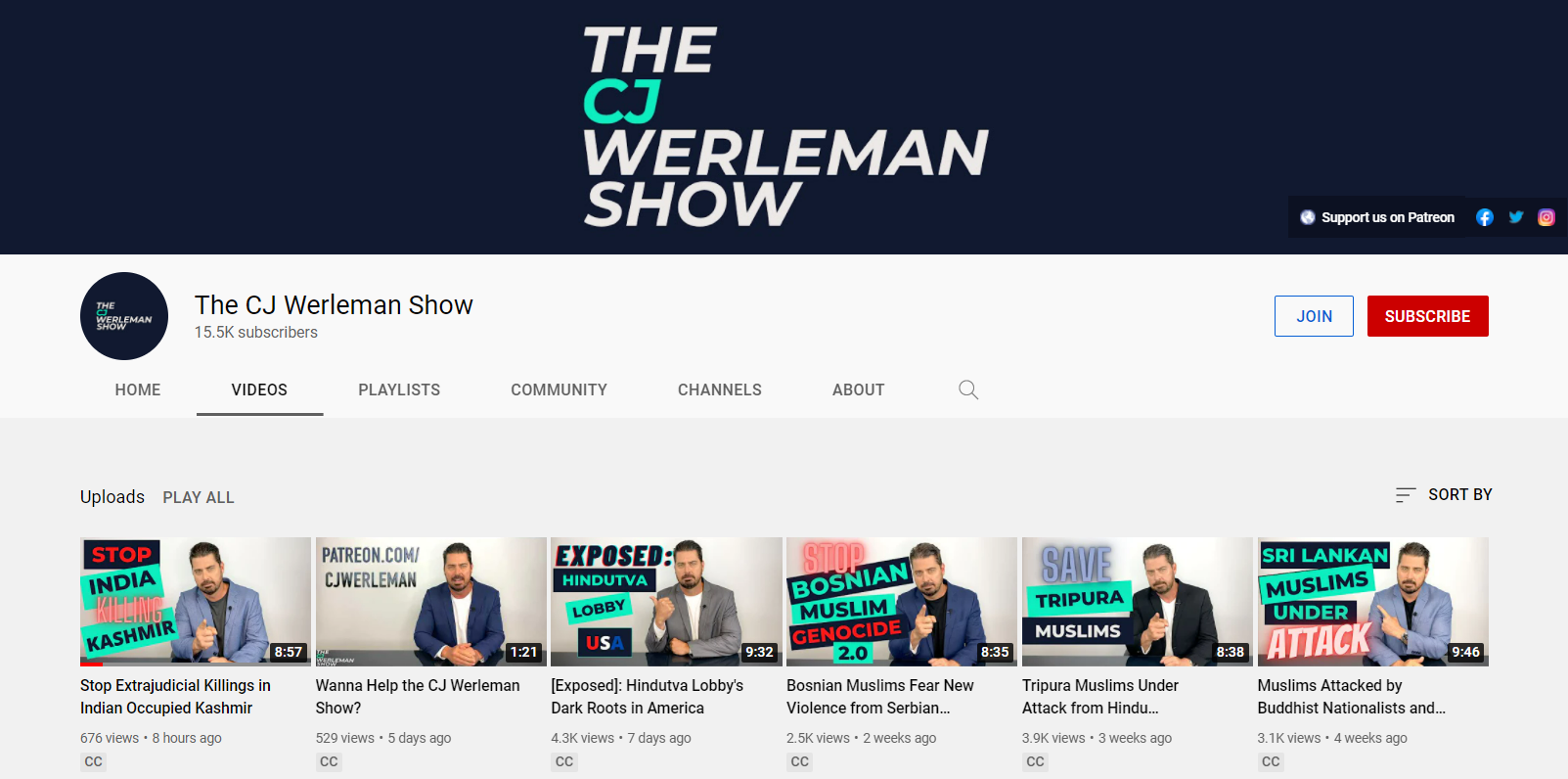 Twitter account being used by him to show atrocities on minorities. 
33% of Indian Muslims experienced religious discrimination in hospitals, finds Oxfam India survey.https://t.co/Q8Yrwkwubk

— CJ Werleman (@cjwerleman) November 24, 2021
Uyghur detainees are forced to submit DNA and blood samples.

When the data is matched with a waiting organ recipient, the Uyghur is executed and their organs removed.

Watch new @CJWerlemanShow episode in full here: 👉 https://t.co/nhK246JZeZ pic.twitter.com/ecPCI7ZHKz

— CJ Werleman (@cjwerleman) October 8, 2021
Social media account when used for highlighting the atrocities on minorities by using genuine data then it is a great platform but when it is utilized to play non-verified content, then social media becomes just a place of propaganda.
Some of the fake news shared by the account of CJ Werleman have been enlisted above and one example is shown below.
CJ Werleman has deleted his tweet with a fake video of a supposed Chinese "concentration camp" for Uyghurs, which was actually just Chinese women in a factory.
The absurd disinformation from his account is archived here: https://archive.fo/bX8fX
Sharing such unverified content is a very insensitive thing, as it can incite violence and hatred amongst various communities.
Now, it is your call, how you see CJ Werleman, whether as a journalist or a propagandist or supporter of terrorism or an activist. Our team has put our research before you.
About Author