Fact-Check: Assam CM's viral speech on Taliban, did he really give it? Hundreds of users blindly share a video on social media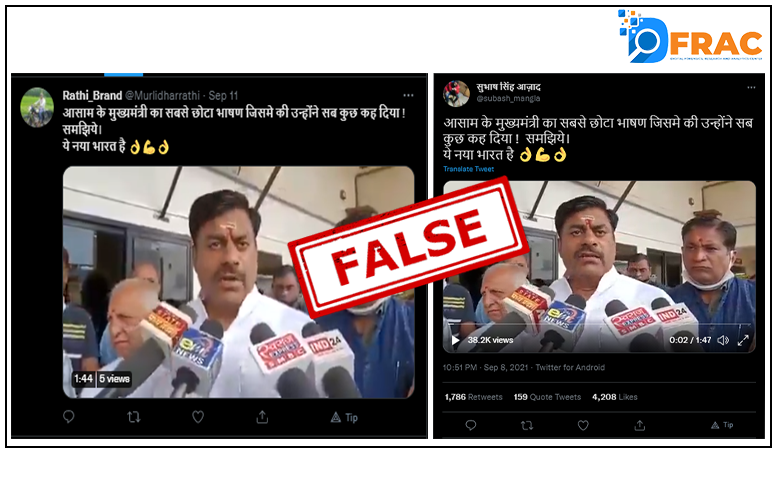 On September 8, 2021, a Twitter user named "Subash Singh Azaad", posted a video of a man giving a speech on the Taliban to a couple of news channels.
In this video, the man can be seen criticizing those who live in India and continue to raise "Pakistan zindabad" slogan and talk about the fact that those who are praising the Taliban will not survive there. In this speech he also mentions that those who live in India must abide by Babasaheb Ambedkar's constitution and not their own rules.
The video has over 38,000 views and has been retweet and liked by thousands of people.
The video and the claim was shared by hundreds of users on twitter in the span of the last 2 days.
Fact-Check:
Firstly, we recognized that this man is not the chief minister of Assam as the Chief Minister of Assam is Himanta Biswa Sarma whose image is attached below.
The man in the video looks nothing like Sarma. To verify where the video has come from, we reverse searched the key frames of the video and found news reports of BJP MLA from Bhopal Rameshwar Sharma was the one who is in the video and gave this speech. Sharma is a BJP MLA from Bhopal.
Himanta Biswa Sarma being a popular figure who is frequently on the news, it is astonishing to see just how many people blindly copy-pasted this claim and shared the video without verifying or knowing what the CM of Assam looks like.
This kind of copy-pasting pattern is used over and over again on social media to push a certain kind of agenda. However, this claim is false.
About Author