Fact-Check: Old video of Hezbollah's C-802 Anti-Ship Cruise Missiles falsely shared as Recent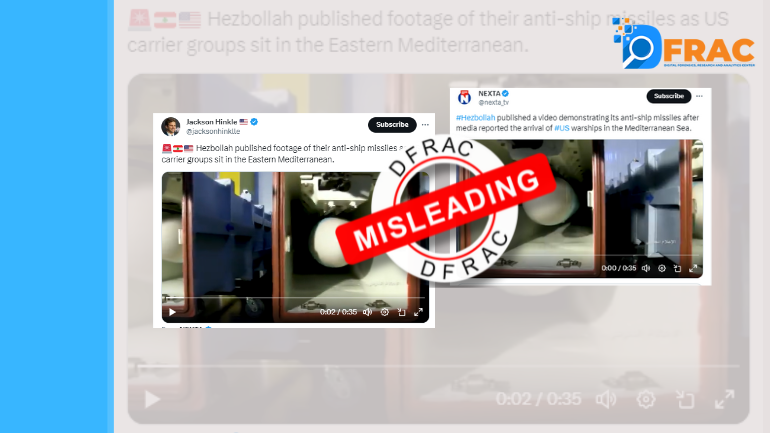 In the backdrop of the Israel and Hamas conflict, various photos and videos have surged on social media with false claims and misinformation. We came across one such video, making rounds on social media platforms and showing some anti-ship cruise missiles. Users on social media are fervently sharing this video and claiming that Hezbollah published footage of their anti-ship missiles as US carrier groups sit in the Eastern Mediterranean.
Claim made through the viral video
Sharing this video on X(Twitter), a media portal named Nexta wrote: #Hezbollah published a video demonstrating its anti-ship missiles after media reported the arrival of #US warships in the Mediterranean Sea"
Several users shared this video
We found that several users shared his video on X(Twitter) and made similar claims.
Fact-Check
To learn the truth behind viral video, the DFRAC team converted it into some keyframes and reverse-searched it on Google. We found that the video was published in the year 2019.
Video found on Iran press news agency
We found this video on the website of Iran Press News agency which was posted in the year 2019, citing "The video Footage depicting C-802 anti-ship cruise missiles has been resealed for the first time. They belonged to the Lebanese Hezbollah" as its description.
An Article from Israel Defense
Upon further investigation, we discovered an article from Israel Defense published on September 16, 2019, stating that Hezbollah has released footage taken at a storage facility containing C-802 shore-based anti-ship missiles. It also included a screengrab of viral video.
Conclusion
It is clear from DFRAC's Fact-Check that the claim regarding viral video is misleading. The video is from 2019 not the recent one.
About Author