Khalistan Referendum: Unveiling Pakistan's Sponsorship to Separatist Propaganda
In recent times, pro-Khalistan sentiments and anti-India rhetoric have gained traction in Canada, the US, the UK, and Australia. Despite India's firm stance, these governments have refrained from taking substantial action against pro-Khalistan elements within their borders.
Their justification? They argue it falls within the realm of democratic processes and respects their legal boundaries. However, let's be real here, their antics won't make a dent in their own backyard so why counter it?
Pannu has employed various legal strategies to shed light on the 1984 Sikh genocide and associate it with the Khalistan movement, often mobilizing groups of individuals who have been compensated to advocate for an implausible narrative of a Sikh independent state-sponsored by Canada and a Khalistan Referendum. Interestingly, the movement is focused on the Indian Punjab and not the West Punjab province that lies in Pakistan.
This report delves into the detailed analysis of the Khalistan referendum's global tour since 2018, its secessionist nature, and Pakistan's tactics to keep its hate propaganda alive.
Key Points
Referendum Background

TimeLine Explained: theme, venue, voting centres

Launch Of Punjab Referendum Commission(PRC)
Amplification Trend of Referendum
Lifeline for Khalistani Referendum -Pakistan
Khalistan Cartographic Conundrum
REFERENDUM BACKGROUND
"Referendum 2020" is a radical Sikh movement, believed to have been supported by Pakistan's ISI, aimed at seeking Punjab's independence from India and establishing Khalistan as a separate state.
According to Sleuths in India and the report by TOI some documents related to this movement, known as "Operation Express" within ISI circles, came to light in 2018. Among them was an internal memo proposing the launch of "Referendum 2020" on June 6, 2020, coinciding with the 36th anniversary of Operation Bluestar.
Sleuths in India claimed to have uncovered documents on Pakistan Army's Lt Col Shahid Mehmood Malhi's computer that outline a detailed plan for "Referendum 2020." While SFJ has denied any sinister motives, the documents accessed by TOI indicate that ISI has been collaborating with specific groups in Pakistan and elsewhere to further this initiative.
Sikh extremists have amassed a formidable influence by wielding their control over the community's votes, even on distant shores. These audacious referendums have become their weapon of choice, allowing them to assert their dominance with a calculated flair.
TIMELINE BEFORE THE ACTUAL OCCURRENCE OF THE REFERENDUM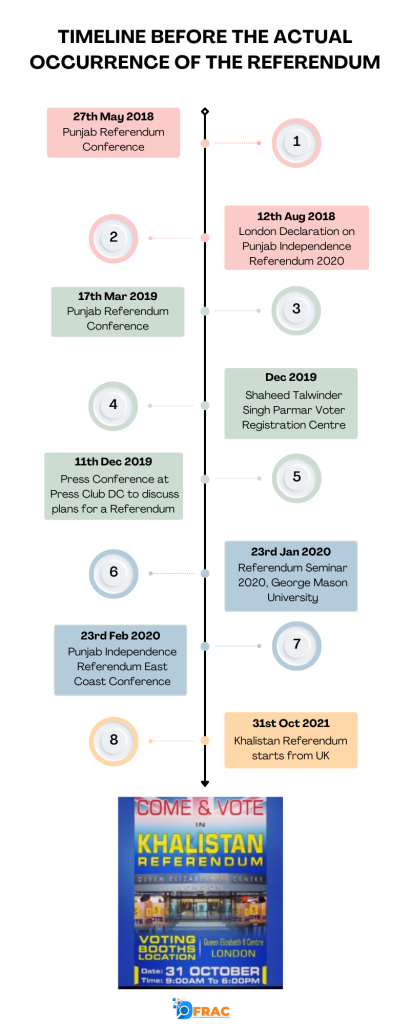 Punjab Referendum Conference (27 May 2018 )
The initiation of the Khalistan Referendum commenced with a conference held on 27 May 2018. This conference was broadcasted on the Canadian media platform, YouTube channel TV 84. The individuals featured in the video were Avtaar Singh Pannu (coordinator of SFJ), Jitendra Singh Grewal (a Canadian-born volunteer of SFJ who had not yet visited the Punjab region of India at the time of the conference, later promoted as the International Policy Director for SFJ), and Dr. Amarjit Singh (leader of Khalistan Affairs Centre).
This conference was where they publicly announced the occurrence of the Referendum 2020.
London Declaration on Punjab Independence Referendum 2020 (12 Aug 2018)
The Punjab Referendum Conference 2020 evolved into the 'London Declaration on Punjab Independence Referendum 2020,' hosted by Sikhs for Justice at Trafalgar Square in London on August 12, 2018. Notably, Lord Nazir Ahmed, a former UK House of Lords member of Pakistani origin with a child sex offense conviction, voiced support for Khalistan during the event.
In the declaration, Pannu outlined three key resolutions:
A) Conduct a global non-governmental referendum in November 2020 in Punjab, all over the world, and in Indian cities where Sikhs suffered during the 1984 genocide.
B) Following the non-governmental referendum in November 2020, present the case for an independent Sikh state (Khalsa Raj) to the United Nations.
C) After presenting the case for a Sikh state to the United Nations, initiate a widespread mass movement aimed at establishing such a state.
Advocacy of Referendum through Seminar: Prior to the commencement of the official Referendum, SFJ sustained the cause by organizing virtual seminars.
LAUNCH OF THE PUNJAB REFERENDUM COMMISSION
A live stream was conducted by Pannu on 18 November 2020, during which he made an announcement regarding the establishment of the Punjab Referendum Commission (PRC). This commission has been assigned the responsibility of developing a voting plan for the referendum, including determining the initial country where the voting process will commence and announcing the date for voting.
DFRAC has previously also analyzed the workings of the PRC in their analysis, but it's also important to understand the factions involved in its commencement.
The announcement of a new referendum date swiftly followed the easing of COVID restrictions, with the updated date set for 31st October 2021 over a live stream conducted on 11, Aug 2021.
Notable individuals present in the livestream included Khalid Mahmood( a Labour MP from Birmingham), Dr. Bakhshish Singh(President of the Khalistan Council) Jatinder Singh Grewal(International Policy Director for SFJ) Parmjit Singh Pamma, (Khalistan Tiger Force Member).
START OF THE REFERENDUM TIMELINE
The voting of the so-called "Punjab Independence Referendum" began for Sikhs overseas in 2021, starting in the UK on October 31st. The anniversary of the killing—the 1984 assassination of India's prime minister, Indira Gandhi, by two Sikh bodyguards.
The referendum was conducted right next to the British Parliament in the Queen Elizabeth II Hall. Hosting it near the British Parliament under the banner of freedom of expression is a cynical ploy. Just think – a potentially divisive event allowed to take place so close to the heart of the nation's legislative power.
Few points we want you to address to understand how they play with the emotions of the Sikhs on foreign soil:
Theme & questions put forth in voting
The ballot paper used by SFJ for voting posed a straightforward question: "Should Indian-governed Punjab become an independent country?"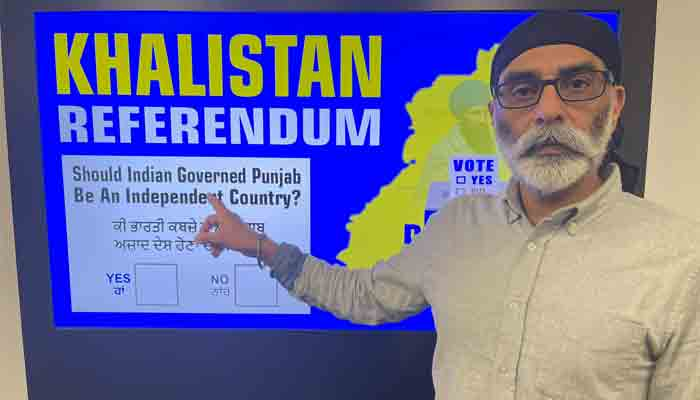 Additionally, another recent question raised during voting was, "Is Indian High Commissioner Verma accountable for the assassination of Hardeep Singh Nijjar?"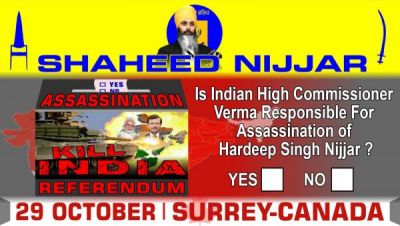 A prominent theme in their referendum was the concept of a "Kill India Referendum." In a video released on August 14, 2023, Pannun claimed to have gathered £250,000 (INR 2.6 crore) to support a Khalistan Referendum vote in Scotland scheduled for 2024.
Sikhs Iconography: Name of the voting Registration centres
SFJ has cynically glorified several extremists in their Referendum campaigns, dedicating voting centers in their names under the guise of patriotism. This practice began with the establishment of the Shaheed Talwinder Singh Parmar Voter Registration Centre in December 2019.
Talwinder Singh Parmar, the mastermind of the Kanishka massacre, continues to be glorified as a martyr by ardent Khalistani supporters in Canada and beyond. His image, depicted as a soldier-saint wielding a sword, is permanently displayed at a significant Sikh temple in British Columbia.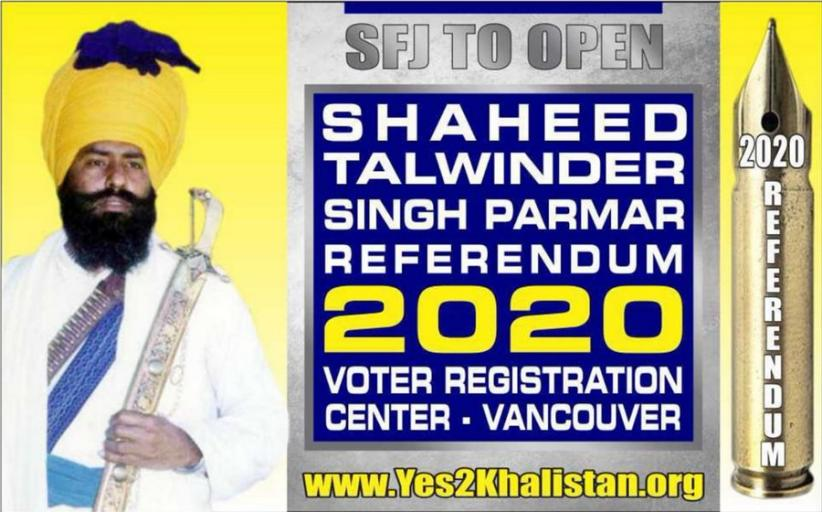 Other individuals include Deep Sidhu (Waris Punjab de), Jarnail Singh Bhindranwale, Satwant Singh, and Kehar Singh (involved in the assassination of Indira Gandhi), General Shabeg Singh (a war hero who aided Bhindranwala), Hardeep Singh Nijjar (a Khalistani extremist), and Mohinder Singh Kooner Khalsa (another Khalistani extremist).
Referendum Venues: Rejections and Desperation
SFJ primarily chose Gurudwaras and Sikh community-owned centers for their referendum voting venues. When these options were unavailable, they resorted to Sikh wedding venues to disseminate their propaganda. However, securing venue approvals was far from straightforward.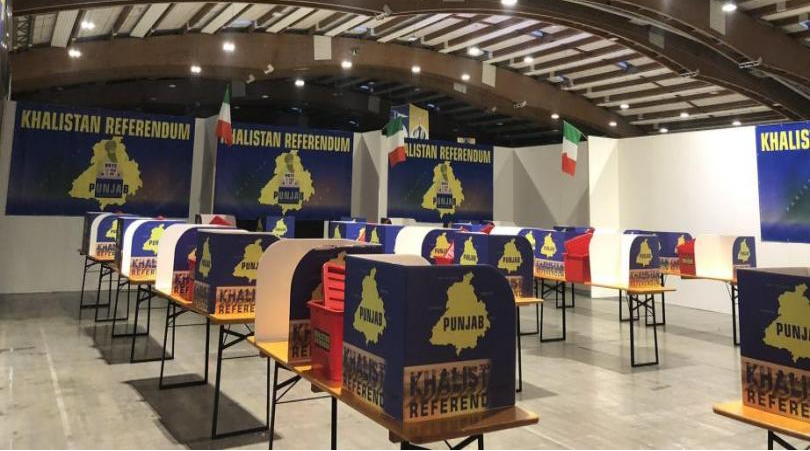 In Surrey, they faced venue cancellations, and this was not an isolated incident. In Sydney, prior to their referendum event, they encountered multiple rejections from various venues, including St George School, Cropley House, Blacktown Leisure Centre (May 12), and the Sydney Masonic Centre (May 27). The Minchinbury venue became their fifth and final attempt.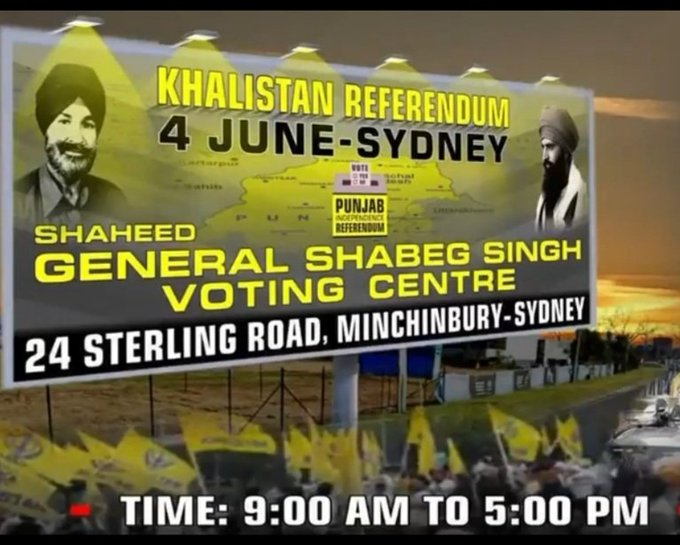 AMPLIFICATION TREND OF KHALISTAN REFERENDUM
From 2020 to 2023, a significant number of Twitter accounts emerged with the clear objective of advancing the Khalistan narrative. These accounts actively engaged in spreading and boosting Khalistan Referendum-related trends, contributing to the amplification of this cause.
Our analysis of Google Trends also revealed a deliberate effort by K- groups to ensure that "Khalistan Referendum" trends prominently during the referendum period. The timeline for the 2023 referendum aligns precisely with the peaks in this trend.
This strategic manipulation of online platforms to influence public perception and garner international attention is a concerning indication of the lengths to which these groups are willing to go to advance their agenda.
LIFELINE FOR KHALISTANI MOVEMENT- PAKISTAN
Pakistan's use of proscribed Islamist militant groups has been increasingly restricted due to international scrutiny through the FATF. Pak is likely to remain on the "grey" list, as it has skillfully projected an image of economic importance, making it too risky to fail.
As a result, Pakistan places importance on its less-publicized non-Islamist proxy assets, such as the Khalistanis, which it has nurtured over many years.
In the referendum analysis as well we also find the hands of Pak entities voicing against India.
One thing that is important to understand is that Khalistani elements in Britain have garnered media attention by staging protests with the support of Pakistani-funded organizations and prominent Pakistani leaders like Lord Nazir Ahmed. Khalistani supporters are helping Pakistani forums to stage rallies in London against India during Independence Day and Republic Day.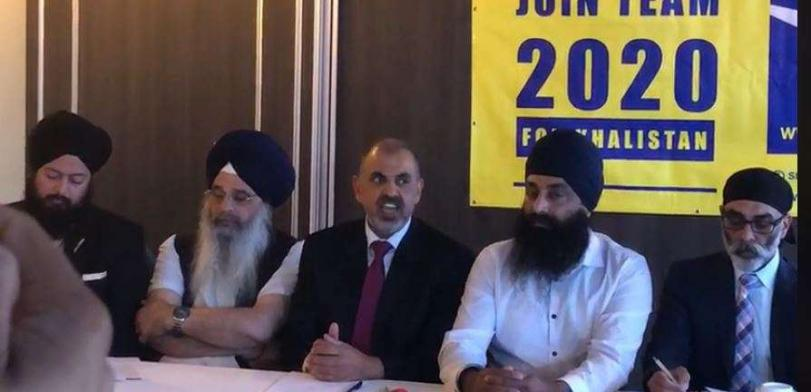 Lord Nazir Ahmed, who became the first Muslim to be appointed a peer in Britain's House of Lords, was born in Pakistan-occupied Kashmir and migrated to the UK as a child. He was convicted of sexual assault in 2022. He has been known throughout his time in the House of Lords for intemperate remarks, particularly on India and Israel. Nazir has also been a supporter of Khalistani groups and has organized protests over Kashmir and Khalistan. His presence was noted during the London Declaration on Punjab Independence Referendum 2020 campaign.
We also checked his Twitter account where to date he's spreading hate and continuously supporting for Khalistan movement. The sheer tactic to keep alive the agenda of propaganda against Kashmir, he played the K-group card to instigate the movement.
Tweets by Ahmed in support of Referendum and Khalistan
He had been sharing tweets in support of Khalistan whether the promotion of the referendum or for propaganda as a whole. he has continuously vouched for support from Pakistan to help in the creation of Khalistan.
Not only Khalistan or Kashmir but also called out for independent Nagaland and Assam.
In one of his tweets, he mentioned Ranjit Singh(a member of the World Sikh Parliament) as a very close ally. He even called him the ambassador of free Khalistan.
The collaboration between Lord Nazir Ahmed and pro-Pakistani activists like Ghazala Habib highlights the close ties between Khalistani elements and Pakistan's interests. Joint efforts to organize events and discussions aimed at tarnishing India's image and supporting separatist movements demonstrate a disturbing alliance.
On Aug 5, 2020, Ghazala Habib, the head of Friends of Kashmir, collaborated with the Pakistani embassy and consulate in Houston. An online event addressing the "Crisis in Kashmir" was hosted by her. Notably, one of the advertised speakers at this webinar was Avtaar Singh Pannun, a spokesperson for SFJ. Friends of Kashmir actively sought the support of SFJ for this event.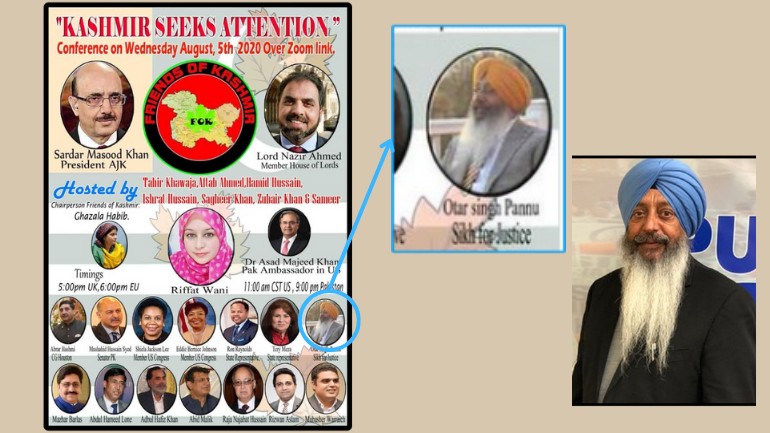 We were not shocked to find Gazala Habib and Gurpatwant together in this picture. They met the commissioner of the US Commission on International Religious Freedom and guess what, Pakistan's favorite topic Kashmir.
SFJ's Letter to Pakistan Former PM Imran Khan
Gurparwant Singh Pannu wrote to Pakistan PM Imran Khan seeking his intervention in the Referendum and the 'Fall of Delhi'. The letter was written on December 16, 2021, the 50th year anniversary of the formation of Bangladesh after the 1971 war which led to Pakistan's humiliating defeat.
Pannu had written to the Prime Minister of Pakistan, Imran Khan, to support SFJ to "Free Punjab" and form "Khalistan". In the letter addressed to Khan on December 16, the terrorist organization SFJ called itself a "human rights advocacy group". The letter read, "SFJ is conducting its first-ever global non-governmental Khalistan Referendum on the question 'should Indian governed Punjab be an Independent country"?" and sought his support in the referendum.
ISI, bot accounts, and social media users operating from Pakistan heavily oversee the internet presence of elements spreading Pro-Khalistani content. The posts related to the referendum have generated a renewed fondness among pak users, by keeping alive the #kashmirviakhalistan.
KHALISTAN CARTOGRAPHIC CONUNDRUM
SFJ released a map in the year 2021 to give a strong base to the posters of the referendum.
The maps presented by Khalistan referendum campaigners over the years reveal a paradox. On the surface, these maps depict an expansive Khalistan, stretching into several Indian states, even including New Delhi. However, upon closer examination, a stark contrast emerges when it comes to the Pakistani side of Punjab.
Remarkably, the proposed Khalistan does not extend into traditional Sikh lands in Pakistan, including Lahore, where Maharaja Ranjit Singh once ruled, or Nankana Sahib, the sacred birthplace of Guru Nanak. These areas hold immense significance in Sikh culture and history.
What does it imply? More about "balkanising" India rather than a demand for a Sikh homeland & aspirations, making Pak sponsorship evident. It appears that while Pakistan supports Sikh independence, it doesn't extend this generosity to Sikh lands within its own borders.
CONCLUSION
The detailed analysis of the Khalistan referendum and the machinations behind it reveal a complex web of interests, subversion, and propaganda. While proponents of Khalistan have been relentless in their efforts to create a separatist movement, India's resilience and commitment to preserving its unity remain unshaken. The Khalistan movement's focus on the Indian Punjab, rather than West Punjab in Pakistan, underscores the ulterior motives of its sponsors. This exposes the opportunistic nature of Pakistan's involvement, using Khalistan as a pawn for its strategic interests.
The referendum may be a global tour since 2018, but it is a journey fraught with divisive intentions and external manipulation.
About Author