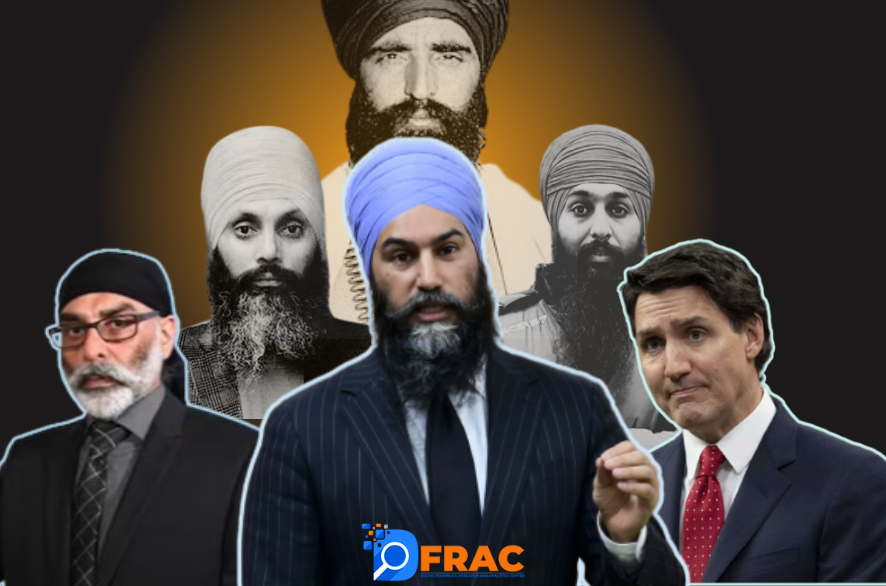 The secessionist endeavors orchestrated by Sikhs residing abroad, aiming to "annex" Punjab from India, have become a formidable obstacle in India-Canada relations. In recent times, a considerable number of Canadian Sikhs have actively participated in an unofficial voting process of "Khalistan referendum."
While Canadian authorities have staunchly defended this as an exercise of freedom of speech, the Indian government has vehemently accused Canada of allowing extremists to partake in "deeply objectionable" and "politically-motivated maneuvers."
This report unfolds the intricate web of the Khalistan network in Canada, a narrative that has been amplified by the insidious machinations of Pakistani accounts and the persistent presence of the Khalistan referendum throughout the years.
But before we delve deeper, there is one burning question that demands our attention.
Why Canadian politicians pander to Sikh extremists?
Trudeau leads a minority government that receives support from the New Democratic Party (NDP), led by Jagmeet Singh, who is associated with the Khalistani separatist movement.
The NDP holds 24 seats in parliament, making their support crucial for the survival of the Trudeau government. Consequently, Trudeau must be cautious not to alienate Singh, given the significant influence the NDP wields over the Liberals. After the elections Singh and Trudeau signed what has been dubbed as the confidence-and-supply agreement. This will remain in force till 2025.
So if you ask- why does Canada do this? Simple answer "vote bank politics"
Entities in Canada voicing for Khalistan
NDP's Jagmeet Singh Dhaliwal aka 'Jimmy'
Jagmeet Singh, the son of Indian immigrants, is no stranger to extremists idealogy.His activism intensified following India's revocation of special status to Jammu and Kashmir in early August 2019. Notably, in 2013, Singh organized a conference in Ontario that brought together pro-Khalistan activists with the intention of tarnishing India's reputation on the international stage.
In 2015, while serving as a member of the NDP legislature, Singh participated in a pro-Khalistan rally in San Francisco, where he openly praised Jarnail Singh Bhindrawale, a notorious terrorist leader who was killed during Operation Blue Star.
Taking his stance further in 2016, Singh endorsed the use of violence as a legitimate means to achieve an independent Sikh homeland separate from India.Furthermore, following the Indian government's decision to abrogate Article 370, Singh expressed his support for pro-Pakistan propaganda on the issue of Kashmir.
Though Singh's meteoric rise in Canadian politics is seen as triumph of multiculturalism but raises concerns regarding his associations with extremist organizations.
Tweets of Jagmeet Singh on India
By analyzing his tweets, it becomes evident how his extremist and hateful stance in the years 2014-2015 transforms into a more cunning, gentle, and professional approach to target India after he attains a position of authority in the Canadian government following the 2019 elections.
During 2014-2015, he attempted to create a divisive narrative by amplifying clashes between the Hindu and Sikh communities, portraying them as state-sponsored genocides.
However, around 2020, his language takes on a more polished tone as he cleverly ridicules and exaggerates to incite hate speech and violence. He has periodically voiced support for farmer protests, Muslim sentiments, and criticized Justin Trudeau's visit for the G20 summit.
Not only sikh but he was also not behind to create hindu -muslim divide with his tweets.
The enemy of my enemy is my friend
How to not deny his relations with Pakistan? These Tweets below shows how they share best friends relations with each other.
National Sikh Youth Federation (NSYF) and Jimmy's strong ties
The NSYF, an organization established in 2012 and based in Southall, UK, has been actively advocating for the Khalistan movement. Represented by Shamsher Singh, the organization has openly expressed support for the use of violent methods to achieve their objectives. In February 2016, Jagmeet Singh was invited by the NSYF to speak as a guest in Southall, London, UK. It is worth noting that he did not reject or challenge Shamsher Singh's endorsement of violence as a means to attain sovereignty. He has remained unapologetic about his involvement in the Khalistan separatist movement.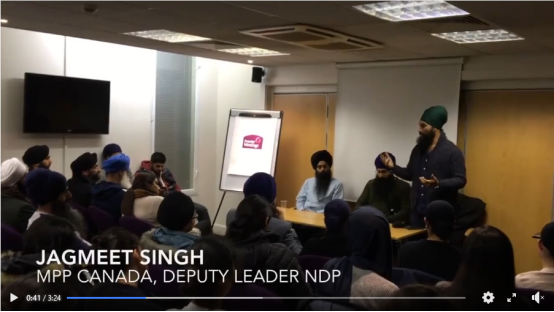 Sikh For Justice (SFJ)
Formed in 2007, the SFJ is headed by Gurpatwant Singh Pannun. Singh is a law graduate from Panjab University who is currently an attorney in the US.
The group first announced in 2018 that it would hold an unofficial voting exercise, at the time dubbed "Referendum 2020", across several countries with sizeable Sikh diasporas, with the aim to "liberate Punjab from Indian occupation".
Pannun has also been found to be actively in contact with Paramjit Singh alias Pamma. Who is a BKI terrorist based in the UK, as well as Hardeep Singh Nijjar (KTF) and Malkit Singh Fauji (ISYF/BKI) based in Canada, along with various Khalistani terrorists based in Punjab, India. Pannun has advocated for the establishment of a separate Sikh state modeled after Catalonia, Spain, and even traveled to Spain to study the self-determination referendum that took place in Catalonia in 2017.
On July 1, 2020, the Government of India designated Gurpatwant Singh Pannun as a terrorist under the Unlawful Activities (Prevention) Act [UAPA]. SFJ has also attempted to attract Pakistani dalits, Muslims, and Christians through social media in order to garner support for a Khalistani state.
Amplification of the keywords surrounding the movement
Khalistan
The term 'Khalistan' gained the highest number of searches in Canada, closely followed by India, primarily attributed to the recent Surrey Referendum. The term was also at the peak on 16 September of the search list, after the 10th September referendum in Canada.
Hardeep Singh Nijjar
His named was found to be searched the maximum number of time in Canada surrounding the Recent diplomat issue between the two nations.
#IndianTerrorismExposed
Amplified majorly by Pakistani accounts after the recent diplomat issue between Canada – India.
Maximum words used along with the hashtag are, 'assassination, 'raw agents', 'terror state'.
Catalysts endorsing Khalistan Movement
Canadian Journalist
Multiple Canadian Sikh journalist are equally vocaling and magnifying the propanganda surrounding Khalistan, hand in hand with the resounding statements put forth by the NDP in favor of this cause.
Jagdeep Singh : Runs Daily Show "Jawab Mangda Punjab" with live telecasts targeting India
Tweets shared by these journalists in support of Khalistan
Pakistan
The Pakistani media, think tanks and Social Media users have taken it upon themselves to magnify the videos of referendums, voting events, and the Khalistani movement. Their purpose? To ensure their agenda remains vibrant and pulsating against India.
#theme 1- Coverage of Pannu's threatening comments:
The alleged statement of Khalistani terrorist Pannu has been prominently published in Pakistani media, in which he is threatening to divide India, make Punjab Khalistan and take revenge of Khalistani terrorist Hardeep Singh Nijjar. This threat of Pannu has been reported by many media houses including Pakistani media like Neo News Urdu, Such News, Voice News and Bolo Pakistan.
#Theme 2 – Coverage of 10th September 2023 Referendum
Pakistani accounts are also following the footsteps of their media
#Theme 3- Pakistan think tanks supporting Khalistan movement
The pattern of these tweets exposes Pakistan's sneaky tactics of pushing its anti-India agenda by lending support to the Khalistan movement.
Peddling of Fake/Misleading news by Pakistan
1. A video was shared in Pakistan claiming that a protest was held in front of the RAW office in Amritsar, Punjab, India, against the murder of Hardeep Singh Najjar in Canada. The protesting Sikh community people raised the slogans of Khalistan Zindabad. We found on investigation that it was an old video of the protest held in July. The police detained Dal Khalsa workers, who were protesting against the killings of Sikh separatist leaders abroad.
2. It was claimed that the White House supports the charges that Canada has leveled against the Indian government for the killing of Sikh leaders. But According to media reports, America's National Security Council spokesperson Adrienne Watson stated," she is 'very concerned' about the allegations made by Canadian Prime Minister Justin Trudeau." Nowhere in the media reports has it been said that the White House has supported
3. Pakistani user "Dukhtar e Balochistan" claimed – "We have been saying from day one that Karima Baloch was killed in Canada as part of a conspiracy by India and held Pakistan responsible for her murder. Everyone knows that Canada is the main hub of Indians. They have many active cells which are working against Pakistan and Khalistan. Recently, another such conspiracy of India was revealed by Canadian Prime Min. Trudeau." But according to media reports, the family members of Karima Baloch suspected the Pakistani Army in the murder. According to Karima's husband Haider, this cannot be denied because he is receiving threats. He left Pakistan because his house was raided more than twice. She had worked on many global forums to expose the atrocities of the Pakistani Army in Balochistan.
Khalistan Referendum
The referendum has been on a world tour since 2020, which seeks to establish a consensus among Sikh communities to carve out a separate homeland within India, which will be known as Khalistan.
It strategically targets the separatist sentiments within the Sikh diaspora. Multiple voting events have been successfully organized in prominent cities such as London, Melbourne, Rome, Geneva, and Ontario. The group ultimately aspire to culminate their efforts by conducting a vote in Punjab in 2025. It is important to note, however, that the outcome of this vote does not hold legal validity within India.
Gurpatwant Singh Pannun : "Once the voting is complete we are going to present our case to the United Nations seeking them to push India to get an official referendum just on the lines of the way Scottish people did it in the U.K."
Who can cast their vote ?
According to Pannun, individuals who identify as Sikh and are at least 18 years of age are eligible to vote, irrespective of their place of birth.
Who shall preside over the process of referendum?
Additionally, Pannun asserts that although SFJ is responsible for organizing the voting process, the Punjab Referendum Commission, an independent entity, will be responsible for tallying the votes.
Punjab Referendum Commission
They describe themselves as 'a panel of independent and non-aligned direct democracy and political experts whose mission is to monitor the voting in the non-governmental Punjab Independence Referendum.'
The Members
M. Dane Waters. Commission Chair.
Dane is the founder and Chair of the Initiative & Referendum Institute at the University of Southern California – a research and educational organization established to study direct democracy.
Paul Jacob
PRC describes him as 'leading national figure in initiative and referendum and is president of Citizens in Charge and Citizens in Charge Foundation'. In recent referendum on September 10,2023 in Canada, he was seen addressing the gathering for the voting.
In the interview given to Sarbaj Singh Kahlon and Dal Khalsa, he describes about extending his helping hand of expertise of all these years of organising referendums to the sikh for justice to full fill their agenda. He also defends how the school authorities at Tamanawis Secondary School in Surrey misunderstood the Khalistan poster for cancelling the event. On asking the question of whether a referendum could happen in Punjab state, he stated,
" In my knowledge whats going on the punjab region, it could not take place there without people being arrested and imprisoned. And that's' s really very sad and the reason why its being held all over the world, beacause it can't be held in punjab."
10 September 2023 referendum
It was supposed to be held at the Tamanawis Secondary School in the town of Surrey in British Columbia. But was withdrawn by the school authorities after the 'Khalistan Referendum' posters featured both an AK-47 machine gun as well as a kirpan. Alongside the images of weapons, the promotional posters also feature pictures of the school.
Later, it was shifted to the Guru Nanak Sikh Gurdwara. Where its former president Hardeep Singh Nijjar was shot and killed, always to stay connected with the agenda.
Creation of Bot Accounts
It has been observed that khalistanis frequently resort to the utilization of bot accounts. There they circulate their posts , hashtags aligned with their agenda. This year, a substantial number of accounts, exceeding 300, were generated to share Pannun's video. It was prior to Prime Minister Modi's visit to Australia between February and April 2023. Over 100 new accounts were also created to promote hashtags such as #G20IgnoringHRViolationsInIIOJK and #G20_Boycott_Meeting_in_IIOJK. The graph below will provide with the proliferation details of these bot accounts.
DFRAC made a detailed analysis of the khalistani propaganda surrounding the g20
Conclusion:
The Canadian government's endorsement of multiculturalism, appears to be used as a cover for supporting the Khalistan movement. Sikh Politicians' meteoric rise in Canadian politics is seen as triumph of multiculturalism . But it also sparks apprehension about their affiliations with extremist groups and their unabashed endorsement of the Khalistan Movement.
The recent events of allegations and removing of diplomats from their particular embassies have raised concerns about growing legal support towards khalistan movement by Canadian authorities. The modus operandi of propagation is handled by Pakistan and Canada media accounts. There they show sneaky tactics of pushing its anti-India agenda by lending support to the Khalistan movement.
About Author