Did Gandhi want to provide a corridor to connect East and West Pakistan? Read here for more.
On October 2, 1869, Mahatma Gandhi was born in Gujarat's Porbandar. Indians celebrate this day as "Gandhi Jayanti." However, there are groups of people who remember Nathuram Godse on this day. On January 30, 1948, Nathuram Godse killed Mahatma Gandhi. Admirers of Godse think that Gandhi was responsible for the partition
What claim is going viral?
An infographic has been shared with the claim that Gandhi wanted to provide a corridor through India to connect West Pakistan (present Pakistan) and East Pakistan (present Bangladesh). And to finalise this project, he was supposed to go to Pakistan in 1948. Right before it, Nathuram Godse killed him. Gandhi was going to divide India. By killing Gandhi, Nathuram Godse saved India from further division.
Which users made the claim?
On social media platform X (formerly Twitter), a user named Sanatani Hindu Bhairav Kumar (@BhairavJHA_IND) posted the infographic with this claim.

Another user, @sampaul43309420 , posted this infographic with the caption #Nathuram_Godse_Zindabad.
Fact Check:
Our DFRAC team tried to gather information regarding the claims made in the infographic. We found a few media reports with the help of a keyword search on Google.

What is in the media report?
According to a report published in Deutsche Welle (DW) Hindi, a professor from Punjab University, Rajiv Lochan, in conversation with DW said, "On May 22, 1947, Jinnah was the first person to talk about the corridor between West and East Pakistan. He said it in his reply to a journalist from a news agency, Reuters. The journalist from Reuters asked Jinnah if he thinks India should provide a corridor between Pakistan and India for roadways. Jinnah gave an affirmative response. However, he did not discuss it with the Congress leaders in any official meeting."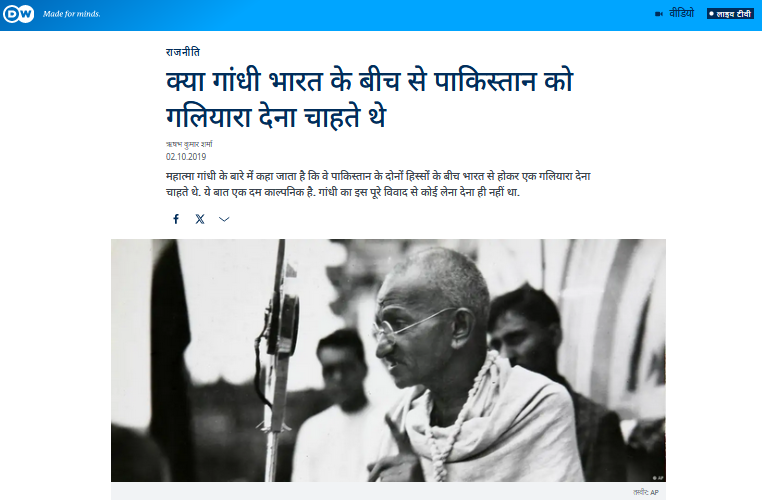 The report further says, "In June 1947, the British Government said that Indians should show great heroism and provide the corridor to Pakistan. At that time, from the Congress side, leader C. Rajagopalachari had completely rejected this demand. Talking with a news agency, Associate Press, Rajagopalachari called it a completely unnecessary demand, which will not be discussed. Nehru too outrightly rejected this demand of Jinnah. Gandhi was not involved in this entire debate. After Nehru and Rajagopalachari rejected this demand, this topic never came to Gandhi's notice. Gandhi never made any statement regarding this demand. The Nizam of Hyderabad, who happened to be a supporter of Jinnah, called this demand immature.
Conclusion:
It is clear from the fact-checking by the DFRAC team that the claim made about Gandhi is false and misleading.
About Author