Amritpal & Khalistan: Anti-India information warfare raises its ugly head again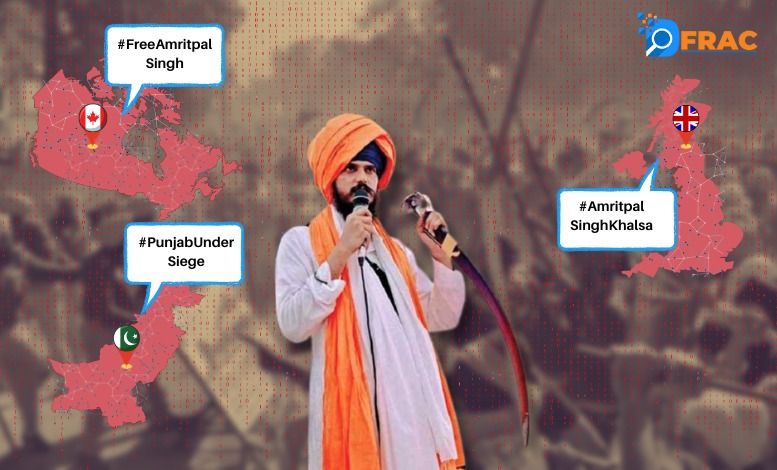 Pakistani and Canadian propagandists have found an easy opportunity to run pro-Khalistani and anti-India campaigns on social media after police launched a hunt for self-acclaimed Khalistani supporter Amritpal Singh in Indian Punjab. The campaigns clearly seek to foment an atmosphere of fear and anarchy in India and incite Sikh community to rise against the government of the day. These campaigns are being run very tactfully by propagandists. They have opened new accounts from different global locations. These accounts have run many hashtags to disseminate misinformation to induce their targeted audience scattered around the world. The main weapon used in this information warfare has been Twitter.
In this report, the DFRAC will analyse how these propagandist Twitter accounts and the trends run by them have been used to vitiate atmosphere in Punjab at the pretext of police action against incendiary Amritpal Singh.
Who is Amritpal Singh?
Amritpal Singh, a young man in twenties, is the head of a radical group called Waris Punjab De. He was earlier assisting his uncle in the transport work in Dubai since 2012. He surprisingly returned to India in August 2022 supporting the year-long farmers' protest against the Centre's now-repealed farm laws and kick-started his campaign for demanding Khalistan. Indian security agencies have said that he was in touch with Khalistani leader Avtar Singh Khanda who is believed to be working at the behest of Pakistan's ISI. He was allegedly building a "private militia" of youth from drug de-addiction centres, to be used for violent protests. The de-addiction centres were allegedly also used to stockpile illegally-sourced weapons from Pakistan.
With the commencement of the arrest campaign against Amritpal Singh, Khalistani supporters spread across the world have opened a front against India. It is being publicised at the international level that the situation in India's Punjab worsened due to the police action taken by Amritpal Singh and his supporters. An attempt was also made to present this action as an atrocity on the Sikh community. At the same time, some others also appealed to the governments of other countries to intervene in this internal matter of India.
Hashtags in Support of Amritpal Singh
As soon as police launched its hunt for Amritpal Singh and his supporters, various hashtags like #FreeAmritpalSingh,#AmritpalSinghKhalsa and #PunjabUnderSiege appeared on Twitter and they attracted a lot of attention.
The above graph shows those accounts that ran hashtags like #FreeAmritpalSingh, #AmritpalSinghKhalsa & #PunjabUnderSeige. A huge number of tweets were made on these hashtags. Out of them, the hashtag @ChrisT88393731 recorded maximum 345 tweets, then @s3khonn saw 306 tweets and @rav3419 logged around 281 tweets.
This graph shows the timeline of three hashtags. It interestingly highlights that the number of tweets swelled after March 17, the day Amriptal episode came to light. On March 19, more than 3,000 tweets were made within a short span.
This graph shows the timeline of accounts that tweeted on the subject of three hashtags. All these accounts were specifically created on certain dates to highlight developments in Punjab. On November 29, 2020, around 38 accounts were created, while 30 accounts were formed on the next day, November 30, 2020. Recent new accounts came into existence on March 19, 2023 when all three Punjab-related hashtags had reached crescendo.
#FreeAmritpalSingh
#FreeAmritpalSingh The tweets made along with this hashtag have claimed that Amritpal Singh was arrested by Punjab Police. However, Singh was not nabbed till writing of this report and he had reportedly gone into a secret hiding.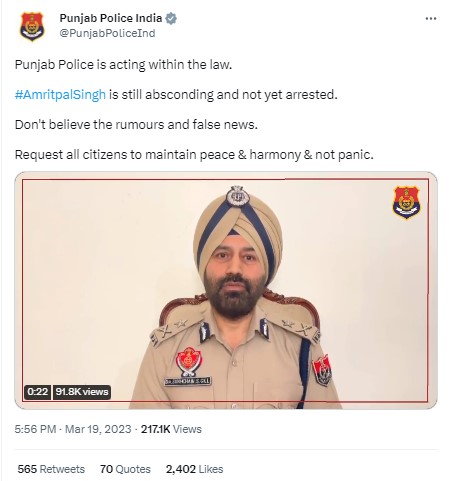 To quash misinformation about Amritpal's arrest, the Punjab Police issued an official statement refuting any such claim. It also issued a video statement that said that the force was acting within parameters of law enforcement periphery. It said that Amritpal Singh was still on the run and his arrest is yet to be made. The police urged common citizens not to pay attention to rumours and misleading information. It also urged citizens to maintain peace and decorum in the state.
#AmritpalSinghKhalsa
This hashtag has been devoted to singing paeans to Amritpal Singh. Simultaneously, the tweets made on this hashtag tried to create the impression that Sikhs are on the verge of facing 1984 like hostile situation.
#PunjabUnderSiege
This hashtag highlighted that human rights are being acutely violated in India. Besides, the overall democratic functioning of Indian state was also questioned.
Fake accounts created to popularise hashtags in support of Amritpal Singh
Khalistani separatists and their supporters created a number of fake accounts from various locations. These accounts were created to push hashtags in support of Amritpal and his agenda. They were created only for this purpose and have largely been fake.
Canada and Pakistan: Two locations of anti-India propaganda
Huge anti-India propaganda was launched from Canada and Pakistan in support of Amritpal Singh. Pro-Khalistani politicians from Canada also tried to create an anti-India narrative. A careful look at the tweets made by Canadian politicians shows that everyone has copy-pasted the same content. It appears to be part of the anti-India toolkit distributed on social media.
Khalistan-supporting tweets were made from Pakistan to explode the whole Amritpal issue into an-India inferno. Tweets from Pakistan claimed that Khalistan movement has made a comeback in Punjab and that Pakistan would back this movement.
In the last 24 hours (March 20), the most searched keyword on Google was Khalistan Zindabad. Most of searchers for this keyword were from Canada. Then came the turn of India and United Kingdom.
Another keyword that was most searched on Google in last 24 hours was Punjab. Punjab was searched by people in Pakistan, followed by India and Canada.
Apart from this, Khalistan was the next most searched keyword on Google in the last 24 hours. It was most searched in India, followed by UAE and Kuwait.
Conclusion:
Anti-India and pro-Khalistani elements in Canada and Pakistan have tried to colour the police action against Amritpal Singh into anti-Sikh operation launched by India. Unfortunately, even some Canada politicians are also part of this misinformation drive. They even appealed Canada government to intervene so that a provincial issue of India can be internationalised.
About Author