Cropped video of Rahul Gandhi is being shared with a misleading claim
Many social media users are sharing a video of Congress leader Rahul Gandhi's speech, where he can be heard saying, "Mahatma Gandhiji picked up the idea of non-violence from our great religions, from our great teachers. Mahatma Gandhiji picked up the idea of non-violence from ancient Indian philosophy, from Islam."
Many social media users are sharing this video under different captions.
A user on Twitter writes, "Mahatma Gandhi took the idea of Non-Violence from Islam": Rahul Gandhi."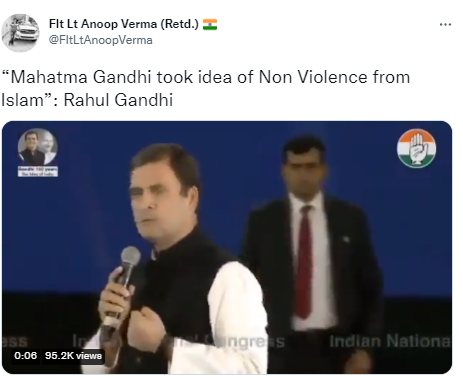 Another user writes, "Ridiculous Gyaan from Rahul Gandhi: Mahatma Gandhi picked up IDEA of "NON VIOLENCE" from "Islam" that's why people call him Pappu #राष्ट्र_न्यूज"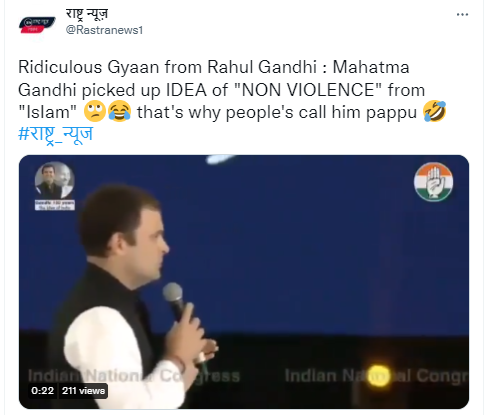 Fact Check:
To investigate the viral video DFRAC team used certain keywords and found the viral clip was uploaded on the verified YouTube channel of the Indian National Congress on January 11, 2019. The clip is of Rahul Gandhi's speech in a cricket stadium in Dubai.
At around 24:24 of a 27 minutes 37 seconds long video, one can hear Rahul making the viral remarks however after that he also mentions many other religions like Christianity and Judaism for inspiring Mahatma Gandhi's non-violence policy.
Congress President Rahul Gandhi addresses the Indian diaspora in Dubai
Source: Youtube
Conclusion:
Although, Rahul Gandhi does mention the Islamic religion that thought Mahatma Gandhi Non- violence, at the same time he mentioned Christianity and Judaism for the same.
So, the video is cropped and circulated with misleading claims.
About Author