Fact Check: Did PM Modi stop the Russia-Ukraine war for 3 hours to evacuate Indian students?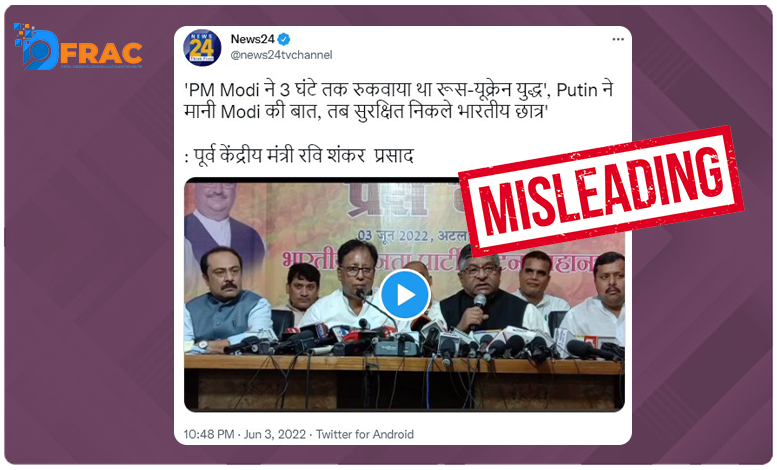 Making a big claim about the Russia-Ukraine war, Former Union Minister Ravi Prasad said that Prime Minister Narendra Modi has halted the war for 3 hours so that Indian students can be taken out safely.
'PM Modi ने 3 घंटे तक रुकवाया था रूस-यूक्रेन युद्ध', Putin ने मानी Modi की बात, तब सुरक्षित निकले भारतीय छात्र'

: पूर्व केंद्रीय मंत्री रवि शंकर प्रसाद pic.twitter.com/TdOvlGyTcG

— News24 (@news24tvchannel) June 3, 2022
In a video posted by News24, Ravi Shankar Prasad said, "PM Modi had stopped the Russo-Ukraine war for 3 hours. Putin obeyed Modi, then Indian students came out safe."
Fact Check:
During the investigation of the viral claim, our team found a report by The Quint. The Ministry of External Affairs (MEA) on Thursday, March 3, denied claims that Russia had halted the war for three hours on Wednesday to facilitate the evacuation of Indians from Kharkiv.
https://www.youtube.com/watch?v=wDZQiMmoICg&t=1201s
                                   ( at 20:21 sec of timestamp )
Apart from this, we also found a video report of DD News dated 03 March 2022. In the video MEA spokesperson refuted the news that Russia had stopped the war for three hours to allow Indians to evacuate Kharkiv.
During a press conference , Ministry of External Affairs spokesperson Arindam Bagchi said, "We got specific inputs that this is a route that is available. We told our citizens, and I am glad that many people could make it. Not in the best of circumstances maybe because I think such an incident happened violence, but it is a war zone. Saying that someone is bombing or it is something that we are coordinating , Which I think is absolutely wrong. I don't think if I could have been more assertive , it would be extrapolated by itself. This would be what triggered the bombing of our request again."
Conclusion:
Hence, Ravi Shankar's claim of PM Modi stopping the Russia-Ukraine war for 3 hours to evacuate Indian students is false .
Claim: Russo-Ukraine war was halted by PM Modi for 3 hours to evacuate Indian students
Claimed by: Former Union Minister Ravi Shankar Offering
Fact Check: Misleading
About Author