Fact Check: Are Minor beaten up in UP for raising Pro-Pakistani slogans?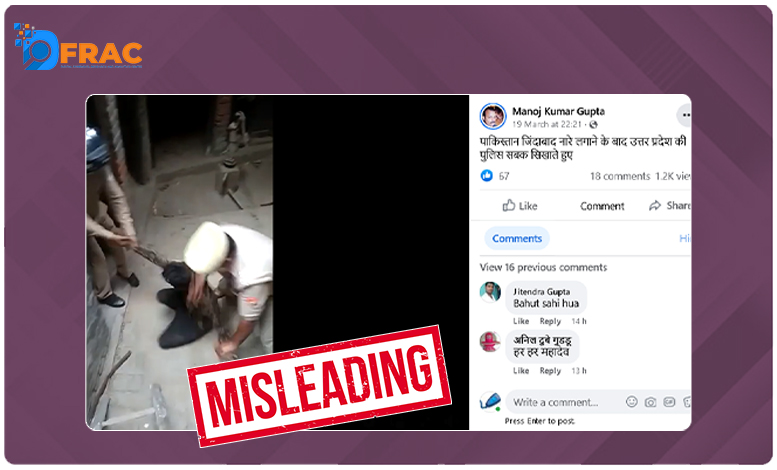 A Video of police personnel thrashing some minors is getting viral on social media. Claiming, minors are getting thrashed for raising Pro-Pakistani Slogans.
Many Facebook users s have shared this video with the caption, "UP police is teaching them a lesson for shouting slogans in favor of Pakistan" (translates Hindi)
Twitter too is filled up with this post under the caption, "See how Uttar Pradesh police are taking out the heat of Pakistan by entering the house of the person who speaks Pakistan Zindabad, see in the same way that whoever speaks Pakistan Zindabad in the whole of India, its heat should go out, this is amazing of Baba. (Translates Hindi)
पाकिस्तान जिंदाबाद बोलने वाले को उत्तर प्रदेश पुलिस कैसे घर के अंदर घुस के पाकिस्तान का गर्मी निकाल रहे हैं देखिए ऐसे ही पूरे हिंदुस्तान में जो भी पाकिस्तान जिंदाबाद बोलेगा उसका गर्मी निकल जाना चाहिए यह बाबा का कमाल है pic.twitter.com/UoRKP31QiU

— DARJAN SINGH JAGAT (@DarajansinghJa) March 20, 2022
Fact Check:
To prove this as misleading news chaundali police have tweeted on their official Twitter account. Stating, "The case is more than a year old in which departmental action has been taken by suspending both the policemen at the time due to the inhuman treatment done to the child. Please refrain from circulating anything without full facts and clear information."(Translates Hindi)
प्रकरण एक वर्ष से अधिक पुराना है जिसमें बच्चे के साथ किए गए अमानवीय व्यवहार के कारण तत्समय दोनों पुलिसकर्मियों को निलंबित करते हुए विभागीय कार्रवाई की जा चुकी है। कृपया पूर्ण तथ्य एवं स्पष्ट जानकारी के बिना किसी चीज़ को प्रसारित करने से बचें।@UPPViralCheck https://t.co/7Tx0ncnOOg pic.twitter.com/CointCNYZY

— Chandauli Police (@chandaulipolice) March 20, 2022
The video was of the year 2021 , and Amar Ujala too covered it at that time.
Conclusion:
The video is not of recent times but of the year 2021, where the minor was beaten up because of a charge of stealing and not of raising Pro –Pakistani slogans.
Claim Review: Minors beaten up in UP for raising Pro-Pakistani slogans.
Claimed by: social media users
Fact Check: misleading
About Author