Indian Twitter has become very abusive towards outspoken and vocal women who use the platform to speak on issues including prominent personalities like Barkha Dutt, Rana Ayyub, Richa Chadha, Arfa Khanum Sherwani, Sania Mirza, Taapsee Pannu, Safoora Zargar, Kavita Krishnan, Saba Naqvi, Rohini Singh, Swati Chaturvedi and Swara Bhaskar.
This report shows the hatred for women spread by some Twitter accounts. Some Twitter users are using abusive and derogatory remarks to express anger towards outspoken women.
Some of the examples of the above is shown below:
Table 1: Abusive words used for vocal women
Intensity of Hate:
On checking the replies sent on the tweets to Rana Ayyub, Swara Bhaskar, Sania Mirza, Arfa Khanum Sherwani, Richa Chadha, Taapsee Pannu and many others, it was found that some Twitter users are making derogatory statements against them and even using abusive language.
A Twitter user has thanked Pakistan for taking Sania Mirza and urged Pakistan to take Swara Bhaskar and Rana Ayyub as well. The tweet has garnered 319 retweets and 1712 likes.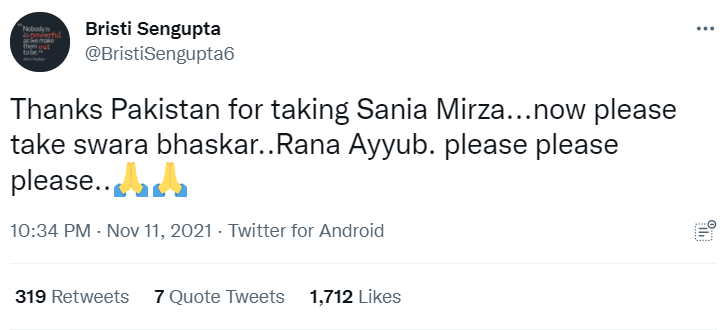 Several other users have also  tweeted the same thing.
Common accounts that use abusive language for all the women mentioned above
On analyzing the derogatory content posted by different Twitter handles for Rana Ayyub, Sania Mirza, Arfa Khanum Sherwani, Barkha Dutt, Saba Naqvi, Richa Chadha, Kavita Krishnan, Taapsee Pannu, Swara Bhaskar and Safoora Zargar. It was found that some accounts were posting derogatory remarks towards almost all the women above. Listing some of them below along with their tweets.
Rohit Kaushik
This account was created on August 2009, with the first tweet on June 21, 2019. When the tweets from this account were analyzed, it was found that there are about 33.7% replies, 56.8% retweets and only 9.5% tweets.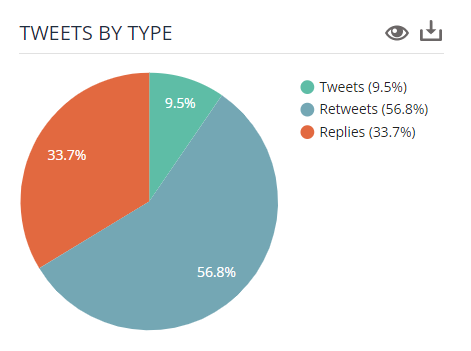 Most of the tweets and retweets were pro-BJP and anti-Congress. The replies were being used to make derogatory comments to other users.
Table 2: Abusive words used for Rana Ayyub, Saba Naqvi, Richa Chadha and Arfa Khanum Sherwani by Rohit Kaushik twitter account
Amit Pathak
This account was created on January 9, 2020. The first reply was to Gauahar Khan and abusive words were used to reply to Vishal Dadlani on the day of account opening.
On further analyzing the profile of Amit Pathak, it was found that there are only 1% tweets, 31% retweets and 68% replies.
The replies were used to abuse verified accounts, especially Swara Bhaskar.
The description mentioned on the twitter account of Amit Pathak suggests that he is supporter of BJP.
Chetan Mislolkar
This account was created on 8th Dec, 2016, with its first anti-Congress reply to Rahul Gandhi using hashtag #CorruptCongress on June 23,2018. On analyzing the profile of Chetan Mislolkar, it was found that 2.6% were tweets, 87.6% were retweets and 9.8% were replies.
Retweets mostly contained pro-BJP content and replies were being used for using abusive words.
Table 3: Chetan Mislolkar derogatory comments for Swara Bhaskar and Tapsee Pannu
The description mentioned on the twitter account of  suggests that he is follower of PM Modi and a Proud Sanghi.
Aman
This account was created on 20 July, 2015. On analyzing the type of tweets done by Aman, it was found it includes 1.5% Tweets, 49% Retweets and 49.5% Replies.
The replies from this account contains abusive words. Showing the replies made by @amansihag91 to Saba Naqvi, Swara Bhaskar, Arfa Khanum Sherwani & Kavita Krishnan.
Table 4: Abusive words used by Aman for Saba Naqvi, Arfa Khanum Sherwani, Swara Bhaskar and Kavita Krishnan.
Mantraa
This account was created on 11th sept, 2020. The first tweet he posted was on 18th Sept 2020 and it was a reply to Anurag Kashyap which included abusive words for him. On analyzing its posts further, it was found that this account's tweet was 8.1%, retweets were 2.7% and replies 89.2%.
Replies from this account consist of abusive words. This account even targeted Jaya Bachchan.
Table 5: Abusive words used by Manntraa for Rohini Singh, Swara Bhaskar, Richa Chadha & Taapsee Pannu.
Karan
This account was created on 26 Sept, 2019. On analyzing posts of this account, it was found that this account has no tweets, only retweets and replies i.e., 59.9% replies and 40.1% retweets.
Table 6: Abusive words used by Karan for Swara Bhaskar, Saba Naqvi and Swati Chaturvedi
On analyzing the above twitter accounts, a pattern was visible which shows:
These accounts mostly reply and retweet and only 1-2 % tweets.
The content retweeted by these accounts is mostly pro-BJP.
In reply, they use abusive words for the person who raise voice for an issue.
Some of the profiles in their description has specifically mentioned BJPian.
With less than 130 followers, all these accounts seem to be fake and they have either not kept or copy pasted their profile picture.
Our team has discussed some of the accounts to explain how hate and abuse against women has become common on social media. But we found many accounts in our research, which are indulging in lousy acts like abusing women and other respected person on social media. It's hard to understand why Twitter turned a blind eye to accounts publicly abusing people. A short list of abusive accounts is shown below. Report these accounts so we can make social media a better place for women and remove the haters.
Table 7: List of abusive accounts on twitter (Highlighting the common accounts using abusive words for all the women)

The above account in the table also shows the same pattern as specified above, with low follower, reply and retweet percentages far higher than tweets with no profile picture applied to these accounts or a normal applied Some have specifically mentioned BJP in their description, some have mentioned hatred towards Swara Bhaskar, some have mentioned nationalist. But it is interesting to know that most of the accounts have been created recently in 2020 and 2021. The motive behind these fake fanatic accounts could be to defame the government internally and cause embarrassment internationally.
Table 8: Pattern shown by above accounts
S. No.
Account
Follower
Created On
Total Tweets
Retweet and reply percentage
Profile Picture
Description
1
@UjjwalK40403832
2
Sept, 2021
24
Replies (29.2%)

Tweets (66.7%, only hashtag tweeted)

Retweets (4.2%)

General Picture
–
2
@GamingEffete
0
Oct, 2021
2
Replies (100%, Hate for Swara Bhaskar)
General Picture
–
3
@VishalSingh8990
9
Oct, 2021
1059
Tweets (2.6 %)

Retweets (96.9%)

Replies (0.5%)

applied
–
4
@SamarS54766508
120
Oct, 2021
1381
Tweets (0.5%)

Retweets (95.5%)

Replies (4.0%)

General Picture
Har Har Mahadev
5
@Itsjeet22
0
Aug, 2021
22
Replies (100 %)
Applied
An ordinary person
6
@yash_rock96
4
March, 2010
1988
Replies (89.0%)

Retweets (9%)

Tweets (2%)

General Picture
Hindustan zindabad…i hate swara bhasker and that asshole Dhruv rathee
7
@sumits7340
179
July, 2015
8630
Replies (87.0%)

Retweets (11%)

Tweets (2%)

General Picture
love family, hate propaganda politics , Ram bhakt , love the @modiji will always support the my country
About Author