Fact-Check: No, the collapsed madrasa in Bihar did not result in deaths of 7 bomb makers
On June 10, 2021, a Facebook page by the name of Hindu Sena posted pictures of a collapsed Madrasa on their page along with the caption," बिहार के बाँका जिले में मदरसे की छत धमाके से उड़ गई। देश के 7 होनहार बम वैज्ञानिक हमें छोड़कर चले गए xD (translation: The roof of the madrasa in Banka district of Bihar was blown away by explosion. 7 promising bomb scientists of the country left us)
The post was shared by multiple users and groups using either the photos or the same exact caption.
Same claim posted multiple times of Facebook
Aaj Tak also reported on the event and claimed that a bomb was kept in a truck near the Madrasa which exploded and all the men around the area absconded.
Face check – Upon researching on the claim on the internet, we found several news articles by esteemed news media sites that stated that while yes there was an explosion in the Madarasa, only the Imam of the Madrasa was killed and no arrests were made.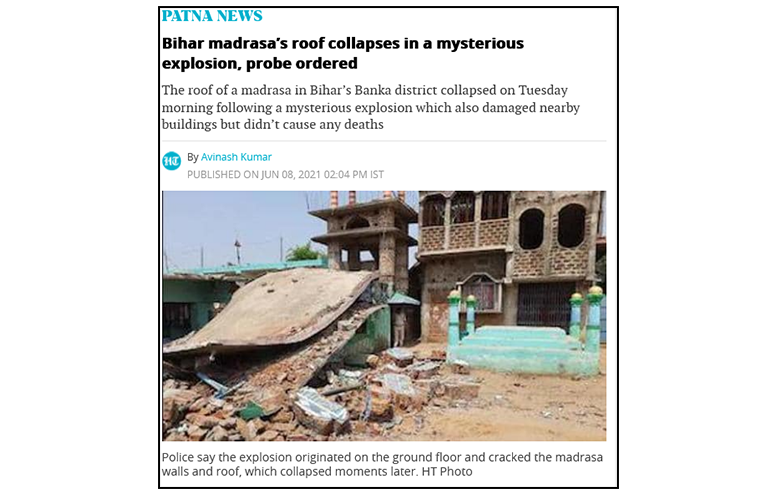 News link – Bihar madrasa's roof collapses in a mysterious explosion, probe ordered
Free Press Journal's report – Bihar madrasa blast: NIA likely to take over probe; here's the story so far
This claim is firstly misleading and also bordered on spreading hate against the Muslim community.
About Author