Fake News of Accident due to Swing Breaking in Barabanki goes viral. Here's the Reality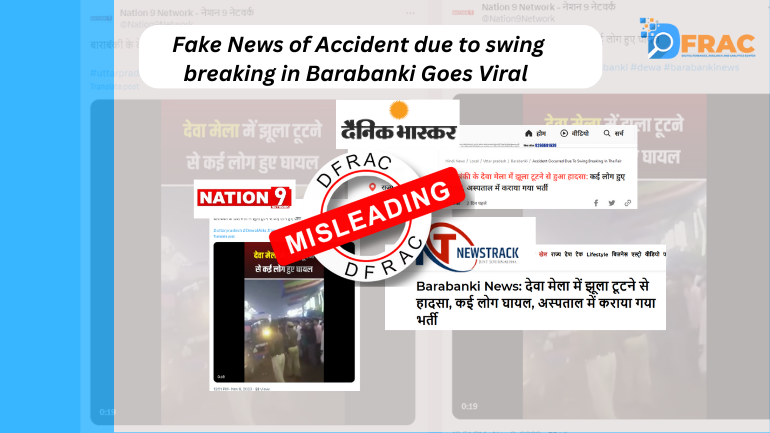 News is making rounds on the Internet claiming that a big swing suddenly broke at the Deva Mahotsav in Barabanki, UP injuring many people. The police, who reached the spot after receiving the information, admitted the injured to the hospital.
Several media houses including Nation 9 Network, Dainik Bhaskar, and Newstrack published this news on their news websites reporting the incident took place at Deva Fair in UP's Barabanki.
Nation 9 Network posted a video
Posting a video carrying a text (Many people were injured when a swing broke at Deva Mela) on X(Twitter), Nation 9 Network wrote: "Several people were injured when a swing broke at Deva Mela in Barabanki".(English Translation)
News Published By Dainik Bhaskar and Newstrack
We found that the viral news has also been published by Dainik Bhaskar and Newstrack
Newspaper Website Dainik Bhaskar published this news two days ago stating thatthe big swing on which people were swinging during the ongoing Deva Mahotsav in the Barabanki district suddenly broke. Due to this many people who were swinging got injured. Due to the breakage of the swing, an atmosphere of chaos spread in the fair. With the help of police and local people, who reached the spot immediately after the accident, the injured were admitted to the hospital through ambulance.
Moreover, News found on the News Website 'Newstrack' also reported similar facts regarding this incident.
Fact-Check
A keyword search of the viral news led us to a brief note shared on the official X(Twitter) handle of Barabanki police with the caption: "Refutation of misleading news by #barabankipolice"
Brief note by Barabanki Police
In this brief Note, Barabanki Police mentioned that False and misleading news like "Accident due to breaking of swing in Deva fair, many people injured, admitted to hospital" is being spread on social media, while a person was found drunk in Deva fair under Deva police station area. He had jumped from the swing from a height of about three feet suffered minor injuries and was sent to the hospital for treatment by the police force deployed at the Deva Mela. After treatment, the person went home safely.
It also included a warning for the Public to take legal action against those who spread False/Fabricated news.
Conclusion
It is clear from DFRAC's Fact-Check that the news published by media houses (Nation 9 Network, Dainik Bhaskar, and Newstrack) is completely fake. In fact, the incident was about a drunk man who jumped and suffered minor injuries in the Deva Mela of Barabanki, UP.
About Author