Fact-Check : Did Madhya Pradesh CM held a meeting asking to stop Congress from coming into power? Truth behind viral video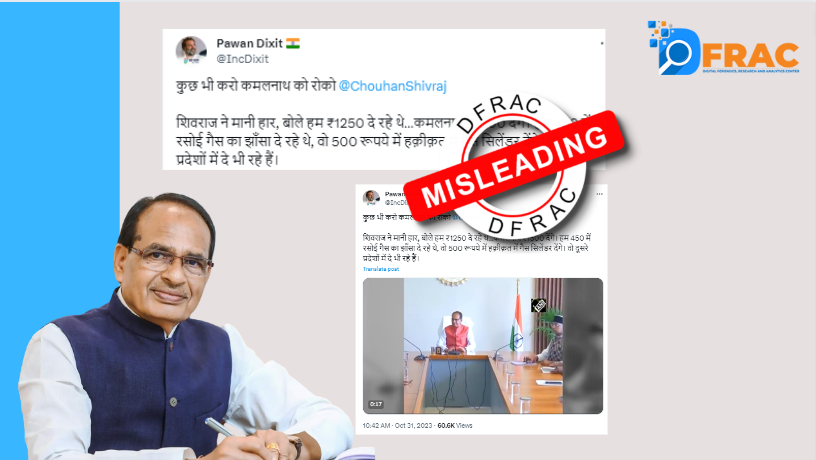 A video is going viral on social media site X (Twitter). In this 24 seconds video, Madhya Pradesh's Chief Minister Shivraj Singh Chouhan can be seen chairing a meeting. The fabricated part in the circulated video is the voiceover used in the background . The voiceover's audio has been tried to synced with Shivraj Singh Chouhan.
Claim made through the viral video
A twitter account named Pawan Dixit with a following of more than forty thousand shared this video and quoted the fake voiceover in the caption . In the voiceover, the man portraying to be Shivraj Singh Chouhan is saying, " Stop Kamal Nath ! If Congress comes to power it will lower down the prices of gas." On investigation we found out that the audio in the background is a fake voiceover synced with Shivraj Singh Chouhan in the video.
Fact- Check
A reverse image search of the key frames obtained after converting the viral video led us to a YouTube video.
Video was found on YouTube
We found the original video uploaded on ANI'S YouTube channel with title, 'MP CM Shivraj Singh Chouhan holds meeting with Ministers over fire at Satpura Bhawan.' on 13 June 2023. The original ANI's video has been muted.
What did the media report say?
Upon further investigation, we found a news report by The Times of India published on 13 June 2023 with the same ANI video. The news report was titled, "MP CM Shivraj Chouhan holds meeting with Ministers over fire at Satpura Bhawan." As per the report, Mr.Chouhan held a meeting with the Ministers of the State Government and senior officials to discuss the fire incident at Bhopal's Satpura Bhawan.
Conclusion
It is proved from DFRAC's fact check that the viral video of Mr.Chouhan has been fabricated by attaching a fake voiceover and the claims made in the voiceover are invalid and completely unrelated to the original video.
About Author