Fact-Check: Old video of Canadian Envoy paying obeisance at Golden Temple, Amritsar is falsely shared as Recent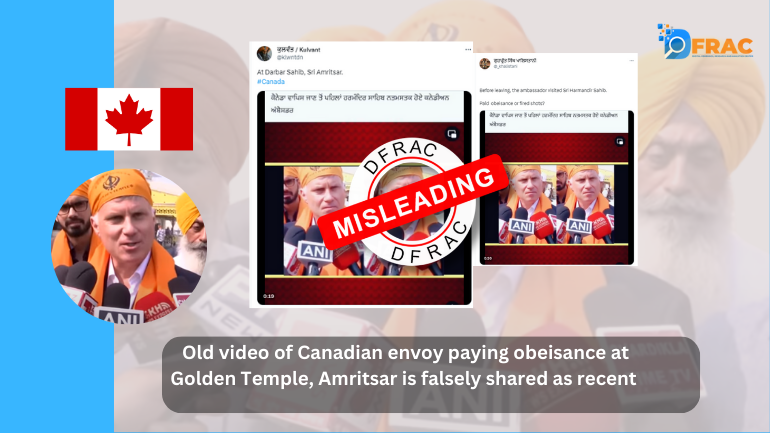 A video is going viral on social media platforms amid the India-Canada diplomatic row. The viral video shows Canadian envoy Cameron Mackay visiting a religious site where a reporter questions him about how is Canadian Government dealing with the Khalistani outfit and their referendum.
Social media users are fiercely sharing this video and claiming that the Canadian envoy has been recently seen paying obeisance at Golden Temple, Amritsar.
Sharing this video on Twitter(X) , a user named Kulvant says: "At Darbar Sahib, Sri Amritsar. #Canada"
Another user by the name of @_khalistan also posted this video on Twitter(X) and wrote: "Before leaving, the ambassador visited Sri Harmandir Sahib. Paid obeisance or fired shots?"
Fact-Check
To fact-check the above viral video, the DFRAC team converted it into some keyframes and reverse-searched it on Google. The team found this video on ANI's official YouTube channel, mentioning: Canadian High Commissioner to India Cameron Mackay on October 27 visited Gurdwara Bangla Sahib in Delhi" in the description.
In addition to that, the team found a news article published on Oct 27, 2022, by the news website 'The Print' stating: "Canadian High Commissioner to India Cameron Mackay on Thursday visited the Gurudwara Bangla Sahib here and observed the facilities, members of the Delhi Sikh Gurdwara Management Committee (DSGMC) said".
It clearly indicates that the Canadian envoy visited Gurudwara Bangla Sahib, Delhi, not the Golden Temple, Amritsar. Moreover, the video dates back to October 2022.
Conclusion
DFRAC's Fact-Check proves that the viral video showing the Canadian Envoy visiting the Golden Temple is completely misleading. Therefore, the claim of social media users is false.
About Author