Fact-Check: Viral video shows People collecting diamonds on the Roads of Surat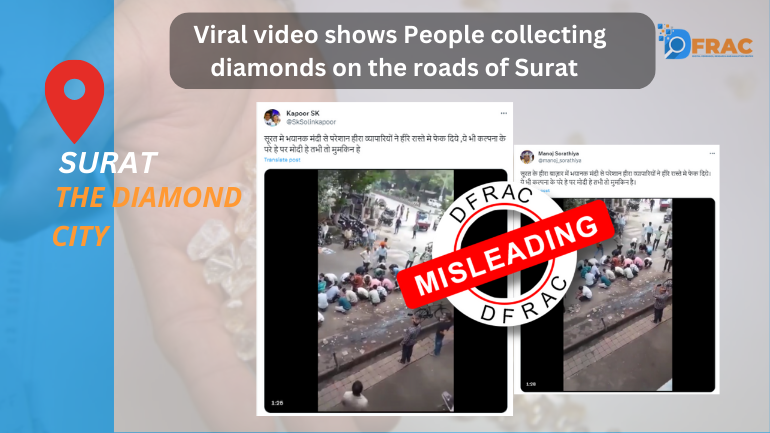 A video is going viral on social media platforms showing some people collecting diamonds on the Roads of the financial capital of Gujarat i. e. Surat. Due to the tremendous recession, Diamond traders threw American diamonds on the roads which were being picked up by the public present on the roads of Surat.
A user by the name of M G posted this video and wrote: "Troubled by the terrible recession in Surat, diamond traders threw diamonds on the road".(English Translation)
Subsequently, several users also shared this video with similar claims.
Fact-Check
The DFRAC team conducted a keyword search which led us to some media reports, disclosing that when collected diamonds were examined. It was revealed that those were American Diamonds, having no value compared to real diamonds.
News website Aajtak published a news article with the headline: "Seeing the diamonds scattered on the road, there was a competition among the people to loot them, some got a dozen and some were left empty-handed". In this news article, Aajtak revealed: "When the plucked diamond was examined, everyone was shocked. It was revealed that this diamond is neither the real diamond extracted from the mine nor the CBD diamond prepared in the lab. These are American diamonds, whose price is nothing special. For several hours the diamond pickers started feeling cheated".
Moreover, according to a news article published by the new website LokTej, when a diamond was found in a person's hand, after examining it he said that it seemed that someone had thrown this American diamond on the road. These are not real diamonds or good quality synthetic diamonds but fake ones used in jewelry or saree work. However, for some time this incident spread rapidly in the mini market.
Conclusion
It is clear from DFRAC's Fact-Check that the viral video showing people picking real diamonds on the roads is misleading since the collected diamonds were American diamonds, not real diamonds.
About Author