Fact-Check: Obscene Video is falsely shared on Social Media to defame International Female Wrestler Anshu Malik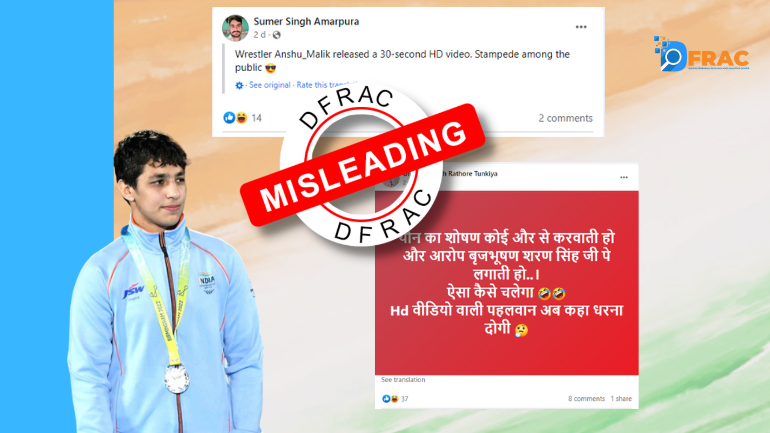 An obscene video has surfaced online with the picture and name of International Female Wrestler Anshu Malik. Social media users are fiercely sharing this video and claiming that the video has been released by the Wrestler Anshu Malik herself.
Wrestler Anshu Malik has remained one of the grappling wrestlers who protested against the WFI Chief and BJP MP Brij Bhushan Sharan Singh and accused him of sexually harassing female wrestlers, including a minor.
On Facebook, a user named Sumer Singh Amarpura says: "Wrestler Anshu_Malik released a 30-second HD video. Stampede among the public"
Another user by the name of Ummed Singh Rathore writes: "You get sexually exploited by someone else and accuse Brijbhushan Sharan Singh ji
How will it work, Where will the wrestler with HD video protest now"(English Translation)
Fact-Check
To investigate the claims related to the above viral video, the DFRAC team conducted keyword research on Google which led us to a tweet posted by the official Twitter handle of 'Jind Police' stating: "Conspiracy to defame international female player failed, the video turned out to be of another couple. The international female player has no connection with the viral video. The accused who posted the objectionable video on social media pretending to be of an international female player has been arrested".
On a related note, the team also discovered some media reports published by Dainik Bhaskar and The Print India revealing further information related to the above viral video.
According to a news article published by the Newspaper Website Dainik Bhaskar, The obscene video viral on social media is not of an international female wrestler. Jind Police has called it fake. Police have arrested Amit Kumar alias Akshay Ravan, a resident of Barwala, Hisar, accused of making the video viral. Earlier, the father of the female wrestler had also given a complaint to the police, terming this video as fake and a conspiracy to defame her.
Another News Website 'The Print' also published this news mentioning: "Deputy Superintendent of Police said that during interrogation, the accused told that he had edited the picture and posted it on the social media platform to increase the number of his followers".
Conclusion
It is clear from DFRAC's Fact-Check that the obscene viral video is not associated with International Female Wrestler Anshu Mailk. Therefore, the claim of social media is completely false and misleading.
About Author