A screenshot of a tweet is becoming fiercely viral on social media sites. Through this, it is claimed that famous English cricketer Moen Ali has boycotted the IPL. A user named Mohammad Quamar captioned it on Facebook, "Respect Moen Ali 𝑂𝑢𝑟 𝑃𝑟𝑜𝑝ℎ𝑒𝑡 𝑂𝑢𝑟 𝐻𝑜𝑛𝑜𝑢𝑟. 𝑂𝑢𝑟 𝑃𝑟𝑜𝑝ℎ𝑒𝑡 𝑂𝑢𝑟 𝐼𝑑𝑒𝑛𝑡𝑖𝑡𝑦. 𝑂𝑢𝑟 𝑃𝑟𝑜𝑝ℎ𝑒𝑡 𝑂𝑢𝑟 𝐷𝑖𝑔𝑛𝑖𝑡𝑦. 𝑂𝑢𝑟 𝑃𝑟𝑜𝑝ℎ𝑒𝑡 𝑂𝑢𝑟 𝐿𝑒𝑎𝑑𝑒𝑟. 𝑂𝑢𝑟 𝑃𝑟𝑜𝑝ℎ𝑒𝑡 𝑂𝑢𝑟 𝐼𝑚𝑎𝑎𝑛. 𝑂𝑢𝑟 𝑃𝑟𝑜𝑝ℎ𝑒𝑡 𝑂𝑢𝑟 𝐿𝑖𝑓𝑒. 𝑂𝑢𝑟 𝑃𝑟𝑜𝑝ℎ𝑒𝑡 𝑂𝑢𝑟 𝐿𝑜𝑣𝑒. 𝑊𝑒 𝑤𝑖𝑙𝑙 𝑛𝑒𝑣𝑒𝑟 𝑡𝑜𝑙𝑒𝑟𝑎𝑡𝑒 𝑖𝑛𝑠𝑢𝑙𝑡 𝑡𝑜 𝑜𝑢𝑟 𝐵𝑒𝑙𝑜𝑣𝑒𝑑 𝑃𝑟𝑜𝑝ℎ𝑒𝑡 𝑀𝑢ℎ𝑎𝑚𝑚𝑎𝑑 #Prophetmuhamma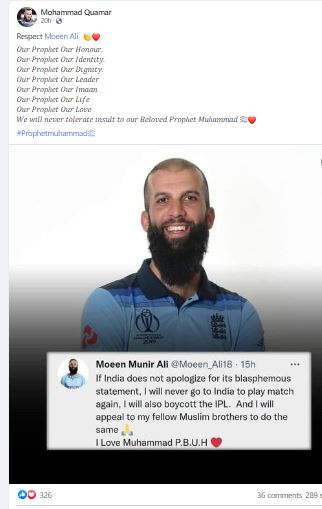 The tweet has been deleted by the Twitter handle @Moeen_Ali18 seen in the screenshot . But its archive link is being given here.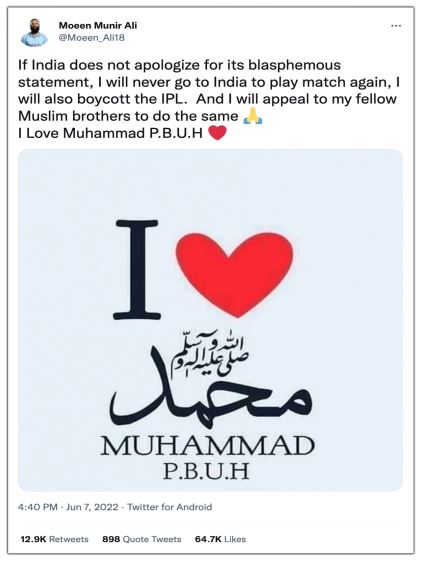 A user named Zohaib Khan, supporter of  Pakistan Tehreek-e-Insaf (PTI) shared the same screenshot with the caption #MoeenAli Love you bhai " .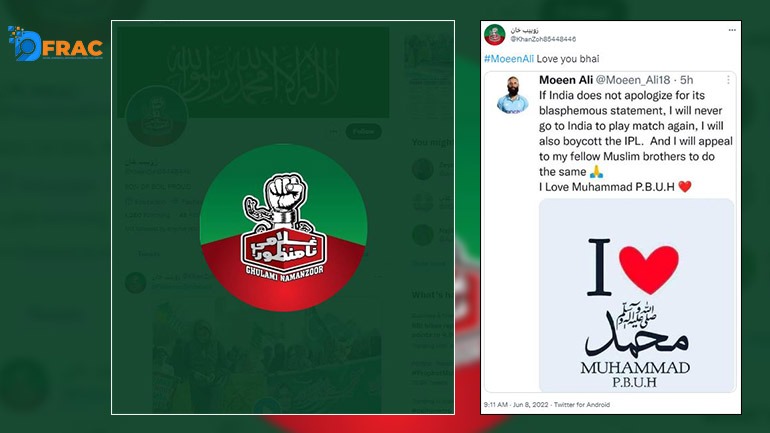 Similarly, another user Shezz malik shared the post with the caption, "England Star Moen Ali reacted on blasphemous remarks made by #nupursharma Well done #MoeenAli."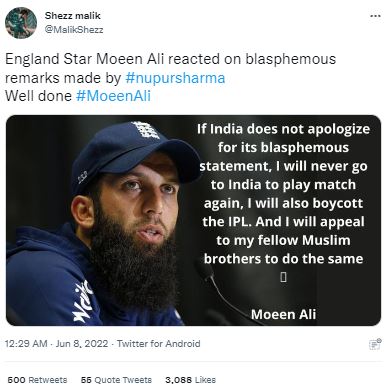 Fact Check: 
On searching the internet with this quote, we found that neither the viral tweet is of Moen Ali nor the Twitter account. But, he is not active on Twitter nor has he commented on the controversy.
Furthermore , we searched the official Twitter account of Moen Ali , but could not find anything. On Ali's profile on the official website of the England Cricket Board , all linked social media accounts were either inactive or unavailable. The Twitter account being referred to is @MoeenAli Is. It has 111 followers while tweet is zero. This is an unverified account.
After this, we did not even find some media reports on search of Moeen Ali's statement. Recently Ali toured India to play for Chennai in the 15th edition of IPL.
Also Read: ARE THE PEOPLE DRIVING OVER THE INDIA FLAG ON THE STREETS OF TAMIL NADU? 
Conclusion:
Hence,  English cricketer Moen Ali has not posted any such tweet. Therefore, the social media users are sharing it with the wrong claim.
Claim: Moen Ali boycotted said to IPL over Nupur Sharma controversy
Claim by: Social Media Users
Fact Check: Fake