Did army chief general Manoj Pandey meet with RSS Chief Bhagwat, Read-Fact Check
A picture is going viral on social media sites, in which RSS Sarsanghchalak Mohan Bhagwat, General Manoj Pandey and union minister Nitin Gadkari could be seen. Through this picture, users are claiming that these three have met at the RSS headquarters in Nagpur.
A user named Kumar Talukdar with the caption, "What is General Manoj Pandey doing here with Mohan Bhagwat?" posted a picture on Facebook. It was also written on the picture "Shri Mohan Bhagwat ji, General Manoj Pandey ji and Shri Nitin Gadkari ji met at RSS Headquarters Nagpur."- (English Translation)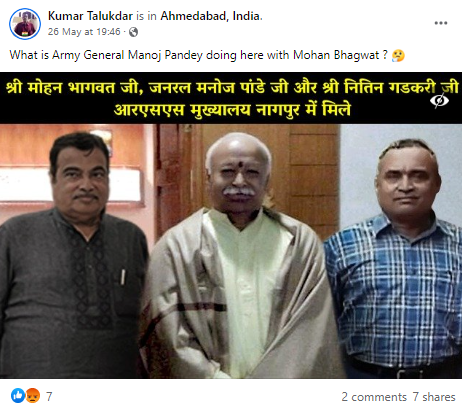 Similarly, a user named Stanley has also tweeted the same photo with the same caption.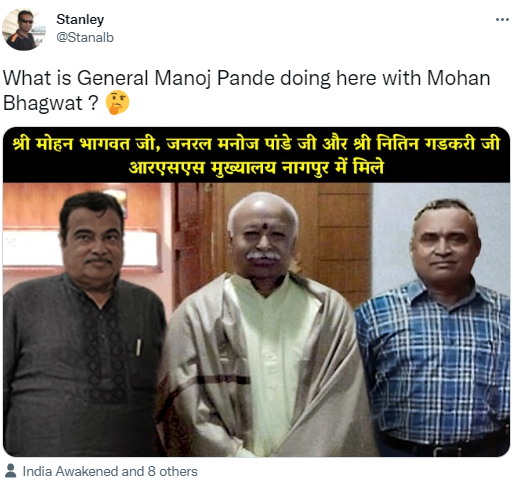 Fact Check:
We did a reverse image search on the internet, we found that 'The Asian Age' published a news story on December 05, 2016 with the headline, "Uddhav Thackeray meets RSS chief at Nagpur HQ". A group photo of Maharashtra CM Uddhav Thackeray, his son Aaditya Thackeray and RSS chief Mohan Bhagwat has been used in it. This picture has been photoshopped and shown to General Pandey and Gadkari.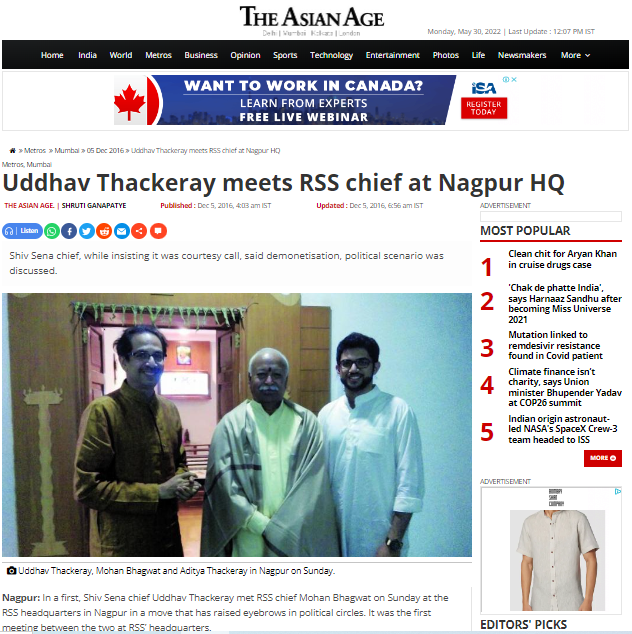 The image of Union Minister Gadkari used is actually on April 4, 2022, published by The Print with the headline, "Nitin Gadkari meets Raj Thackeray in Mumbai, calls it 'family visit".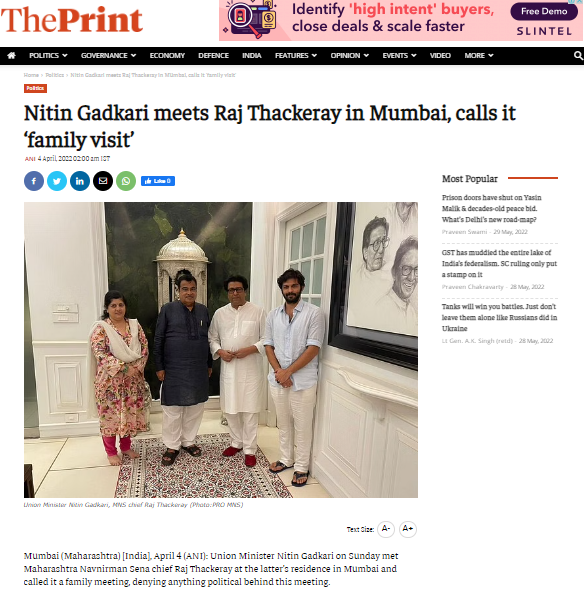 On the other hand, the picture of General Pandey used in this photo was published by Etv Bharat dated 19 April 2022, with a special story in Marathi language.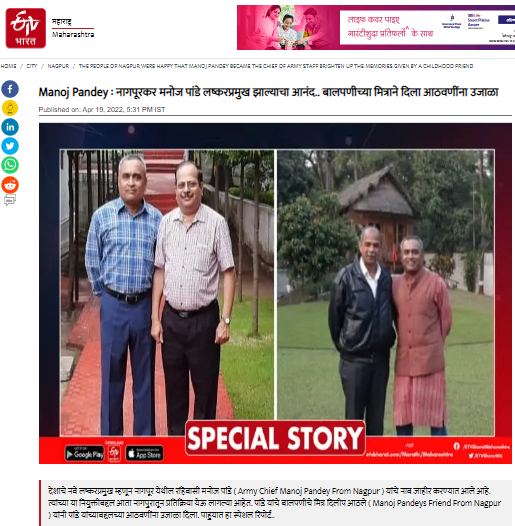 Conclusion:
This fact check of DFRAC proves that the claim being made by the users is fake because the photo on which this claim is being made is baseless and fake. Apart from this, there is no news of General Manoj Pandey, Union Transport Minister's meeting with RSS chief Mohan Bhagwat even after doing a Google search.
Claim Review: General Pandey and Gadkari met with Bhagwat

Claimed by: Social Media Users

Fact Check: Fake
(Follow #DFRAC on Twitter, Facebook, and YouTube.)
About Author