Home Minister Amit Shah Video in which he was addressing the people of Raipur, Uttrakhand spread all over social media. It is shown in the video that as soon as HM Amit shah took the name of congress public at once shouted Zindabad to his speech.
Supporters of Congress on social media are trolling him for the same. As can be seen in these tweets:
छोटू बोला "कांग्रेस पार्टी"

जनता बोली "जिंदाबाद" 😅😅 pic.twitter.com/lIXl6aTTH2

— INC Chhattisgarh (@INCChhattisgarh) February 13, 2022
छोटू बोला "कांग्रेस पार्टी"

जनता बोली "जिंदाबाद" 😅😅 pic.twitter.com/v7No38XjHt

— India Awakened (@IndiaAwakened_) February 14, 2022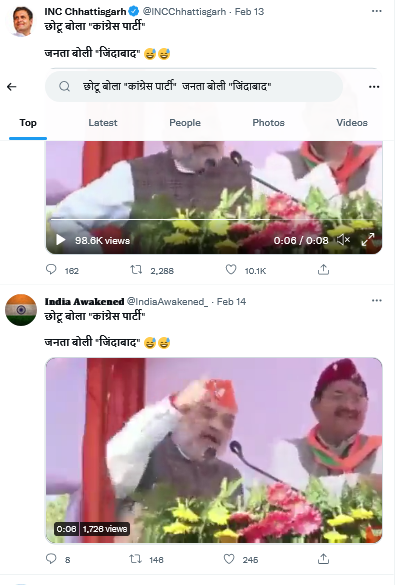 Fact Check:
By our research on the various medium we found that this is the clipped part of the whole speech given by HM, Amit Shah. No such thing happened in the campaign, or over his speech.
The people in the campaign were fully supporting him and were shouting in his favor only.
This can be seen in the video of the full speech given by HM, Amit Shah which was uploaded by BJP on various media platforms.
There is a YouTube link for the same Which can be heard at about 11:20 min in the video.
The full Speech was also seen in the twitter account.
HM Shri @AmitShah addresses public meeting in Raipur, Uttarakhand.
https://t.co/BY85XndeRW

— BJP (@BJP4India) February 12, 2022
Conclusion:
Therefore the clipped part of the whole video is misleading in reality, no such scenario happened in the speech.
Claim Review: Home Minister Amit Shah's speech went viral.
Claimed by: social media users.
Fact Check: Misleading.