Fact-Check: Senior BJP leaders post Rashid Alvi's statement without context ahead of UP Elections
On November 12,2021, BJP IT Cell Head Amit Malviya posted a video of Congress leader Rashid Alvi's speech  where he can be heard saying,"Those who raise the chant of Jai Shri Ram are not saints (muni), but demons (nishachar). You have to be careful."
The video has over 50,000 views on Twitter and has been further shared by other prominent leaders of the party. 
सलमान ख़ुर्शीद के बाद अब कांग्रेस के नेता राशिद अल्वी जय श्री राम कहने वालों को निशाचर (राक्षस) बता रहे हैं।

राम भक्तों के प्रति कांग्रेस के विचारों में कितना ज़हर घुला हुआ है। pic.twitter.com/kHG3vXSpDW

— Amit Malviya (@amitmalviya) November 12, 2021
सलमान ख़ुर्शीद के बाद अब कांग्रेस के नेता राशिद अल्वी जय श्री राम कहने वालों को निशाचर (राक्षस) बता रहे हैं।

राम भक्तों के प्रति कांग्रेस के विचारों में कितना ज़हर घुला हुआ है।#ISupportAmishDevgan pic.twitter.com/ZPCndHqZ4E

— Arun Yadav 🇮🇳 (@beingarun28) November 12, 2021
The managing editor of News18 Amish Devgan also posted the same video. 
सलमान खुर्शीद के हिन्दुत्व की तुलना ISIS और बोको हराम के बाद अब कांग्रेस के एक और नेता मियां राशिद अल्वी भी मैदान में उतर आए हैं। राशिद अल्वी ने तो दो कदम आगे बढ़ते हुए कह दिया कि जय श्रीराम बोलने वाले राक्षस हैं। #RashidAlvi pic.twitter.com/MsCuuB0bRS

— Amish Devgan (@AMISHDEVGAN) November 12, 2021
Fact-Check: 
We performed a keyword search on Google and it led us to a Youtube video of the entire speech that was posted by Mojo.
https://www.youtube.com/watch?v=A_Udsi-NBCY
We watched the entire video and found that the video used by the above users has been clipped. Here is his entire statement,"How should Ram Rajya be? There is no place for hatred in Ram Rajya. Tulsidas has said that a goat and a lion will drink from the same pond (under Ram Rajya). How can there be space for hatred in such a country? But these days, some people are misleading the people of India by raising the Jai Shri Ram chants. We have to be careful."
Alvi further continues, "In Ramayana, when Lakshman was wounded, the Sanjeevani herb was required to be brought before sunrise, or his life was in danger. Hanuman was given the responsibility to bring the herb from near the Himalayas. Ravan meanwhile disguised a demon in the form of a seer who started chanting 'Jai Shri Ram' while Hanuman flew to his mission. Many people chant the slogan these days. Hanuman as a devotee, sat down to chant. The demon, whose real intention is to waste (Hanuman's) time, told him to bathe in Lake Mansarovar before taking the Lord's name. It is another matter acharya ji, that today those who say 'Jai Shri Ram' say it without the ritual bathing." 
"A crocodile, who is an apsara living her curse, held Hanuman by his legs, and said "Why are you wasting your time? You have to get the Sanjeevani herb before the sunrise. The monk who sits chanting 'Jai Shri Ram' is not a seer, but a terrible demon. I just wish to take my leave by saying that even today, not all the people who chant 'Jai Shri Ram' are seers (munis), but demons."
This comment is clearly directed towards the BJP party when we look at the entire context. The video seems to be only circulated to cause divisiveness in the society and the hidden motive seems to be to sway the voters away from the party ahead of UP elections. 
With our analysis we declare this claim misleading.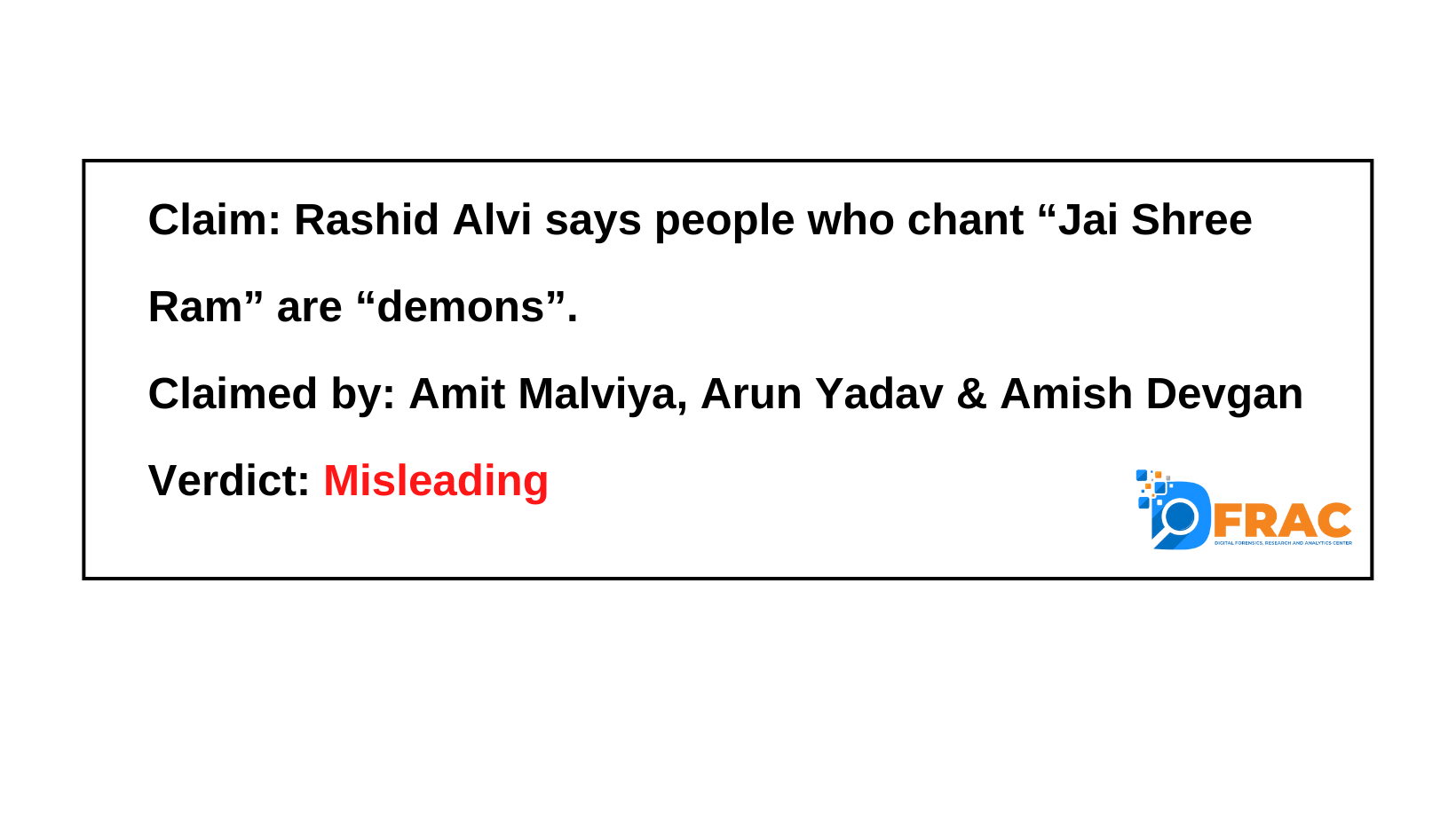 About Author