Fact-Check: Shah Rukh Khan becomes the target of fake claims and communal hate through #शाहरुख_खान_गद्दार_है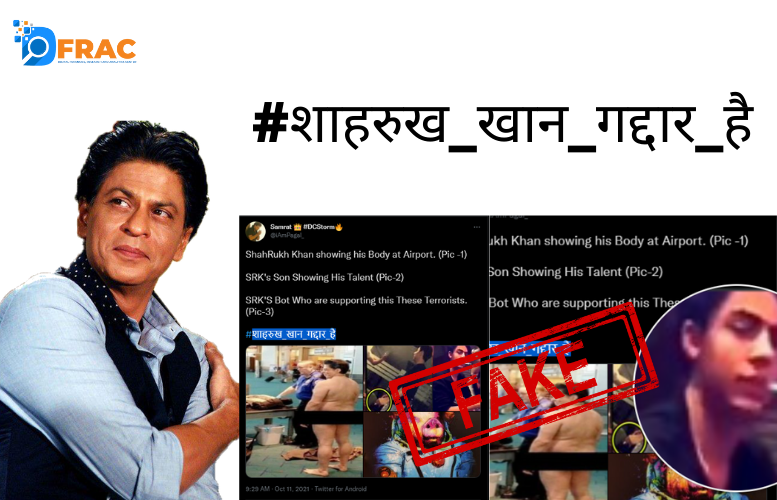 On October 11,2021, a hashtag named #शाहरुख_खान_गद्दार_है started to trend on twitter with over 34,000 tweets. Within this hashtag, users have made grave accusations against Bollywood actor Shah Rukh Khan, whose son Aryan is currently in the middle of a highly publicised narcotics investigation.
Users felt it necessary to drag Khan into the situation with claims that target his religion and his allegiance to India. Apart from rampant hate, the hashtag has made various slanderous claims against Khan and here we will be fact checking them.
Claim 1:
The first claim made is that Aryan, just like his father, is a chain smoker and this is why they must not be trusted to be a patriotic citizen of the country.
This image has been posted by multiple handles with the same claim which included pictures of Aryan Khan smoking along with a picture of Shah Rukh Khan smoking.
Fact-Check:
First thing to be noted is that cigarette smoking is legal in India for ages 21 and above and as per our knowledge does not determine the nationalist sentiments of anyone.
Nonetheless, we looked at the two alleged images of Aryan Khan separately.
In the first image, using a magnifier, we found that the first image has been photoshopped to show the person holding a cigarette as the cigarette does not align with the mouth.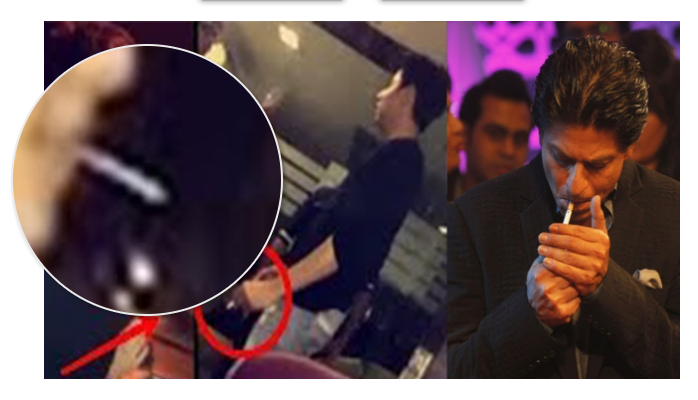 Secondly, the second image showing a man holding a cigarette standing facing away from the camera is also supposed to be Aryan Khan according to the users. However, upon scouring the internet to find a source of this image linking it to Aryan Khan.
Therefore, this claim is fake and hateful.
Claim 2:
The second claim posted by many users is an image of Shah Rukh stripping at an airport alongside an image of Aryan Khan once again smoking a cigarette.
The image is being posted insinuating that Shah Rukh Khan was strip searched at an airport and the same image of Aryan Khan smoking has been posted.
Fact-Check:
We first looked at the image of Shah Rukh Khan getting strip searched at an airport. Upon reverse searching the image on google, we found a fact check done by Boom Live on a similar image but this time the claim was that the Interior Minister of Pakistan Sheh­r­yar Khan Afridi was being strip searched at an airport. Boom found that the image was taken from 2012 when a man stripped at the Portland Airport in the US. Afridi's image was morphed and put on the man's body.
In a similar manner, Shah Rukh's face has been put atop the same image.
Since the same image has been used to substantiate the claim, this claim too is fake.
Thirdly, the image used to show Aryan Khan smoking is very clearly photoshopped as there is a resolution and alignment issue.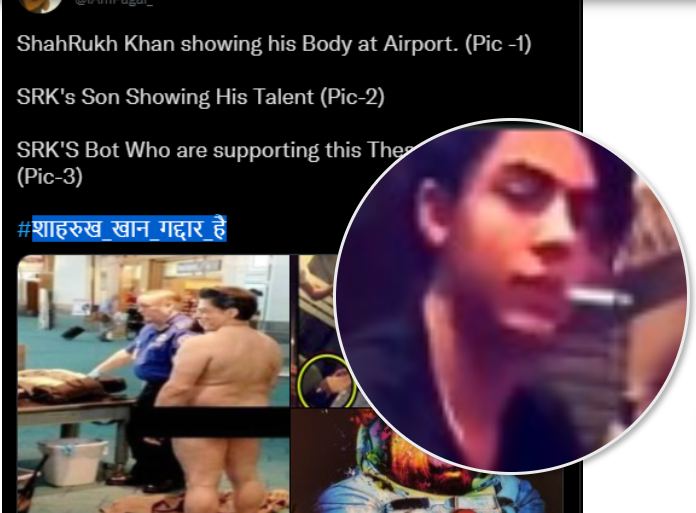 Claim 3:
A graphic showing that Shah Rukh Khan donated 45 crores to victims of an apparent tank explosion in Pakistan. The graphic urged people to circulate this image everywhere and to 'true nationalists'
Fact-Check:
Upon reverse searching the image, we found that the claims made in the graphic have already been fact checked previously by Hindustan Times, who spoke to representatives of Khan who vehemently denied the claim. Additionally, the article provided a detailed list of donations which have been made by Khan and none of them include a donation to Pakistan.
Therefore, this claim is fake.
This hashtag along with the hate directed toward Khan and his family is just a latest instance of hate against Bollywood which has been previously spewed on the likes of Rhea Chakraborthy, Deepika Padukone and others. You can read more about this newfound hate here.
About Author