BJP workers protested against Canada by considering 'Canara Bank' as Canada. Read the Fact Check
A picture is being shared on social media with a claim that workers of BJP party are protesting against Canada by considering 'Canara Bank' as Canada.
TMC leader and former cricketer Kirti Azad shared a picture on Twitter(X) and wrote: "Canara Bank to Canada Understanding this, BJP's Sanghis protest in front of him".
X Archive Link
Other social media users are also sharing the above viral picture and making similar claims.
X Archive Link
X Archive Link
X Archive Link
Fact-Check
The DFRAC team conducted a reverse image search and found that the picture had gone viral in December 2022 as well with the same claim as being from Uttar Pradesh.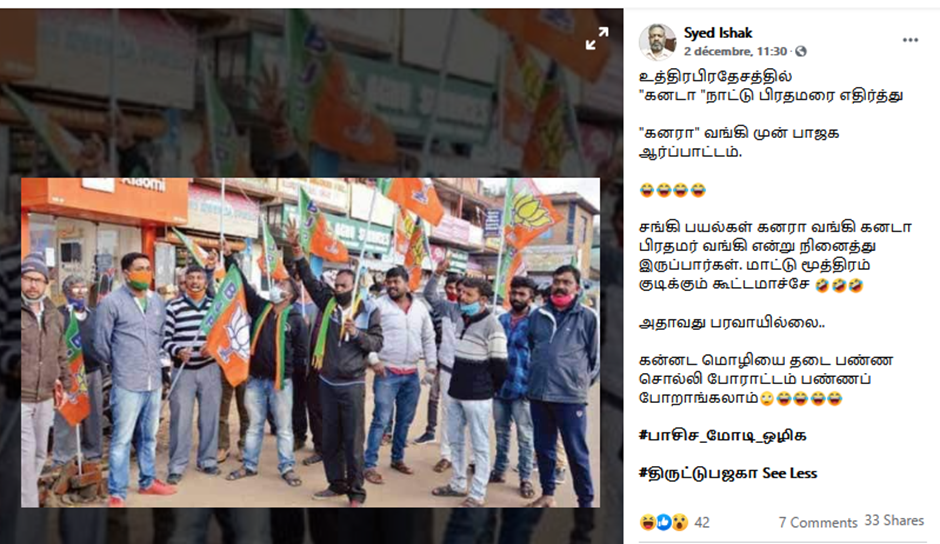 Upon further investigation, the team found that according to the news website Maalaimalar.com, this picture of 2020, belongs to the Nilgiri district, Tamilnadu.
According to a news article by Maalaimalar.com -In Ooty of Nilgiri district, BJP workers had built a pole without permission, to hoist the party's flag on which Municipal Corporation Commissioner Saraswati filed a complaint at Ooty City Central Police Station and the police removed the flag pole.
The viral picture captured this protest by BJP workers over the removal of the party's flag from the flag pole.
Conclusion
It is clear from DFRAC's Fact-Check that the viral picture dates back to 2020. It is not associated with the protest over Canada. Hence, the claim of other social media users including TMC leader Kirti Azad is misleading.
About Author