The picture of the Thailand Expressway is shared as Mumbai-Nagpur Highway. Read- Fact check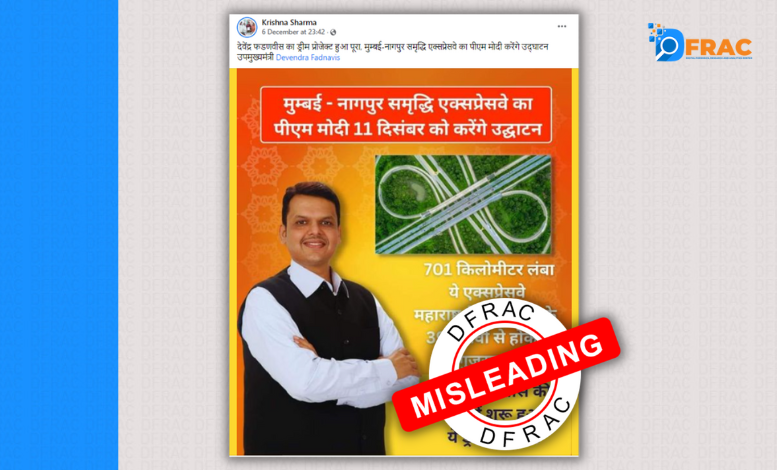 A picture is getting viral on social media sites. The viral post has a picture of an expressway with Maharashtra Deputy Chief Minister Devendra Fadnavis.
Social media users are claiming that an aerial view of inter- connected highway recently built in Maharastra is attached to Mumbai and Nagpur.
By sharing this picture a user named Krishna Sharma captioned: " Devendra Fadnavis's dream project completed Pm Narendra Modi to inaugurate Mumbai-Nagpur Samruddhi Expressway Deputy Chief Minister." ( English Translation)
Source: Facebook
Fact check:
To know the reality of the viral claim, the team of DFRAC did some keyword searches and found that Mumbai Live uploaded this report on 6 March 2020. The headline: " Some land acquisition still pending for the new Mumbai- Nagpur road Project.
Source: Mumbailive
On further searches, the team reverse image searched the picture and found a website of 123RF. The headline: "Aerial view highway junction, crossroads, interchange, and the expressway is an important infrastructure in Thailand."
Source: 123rf
We found a similar picture on the Adobe Stock website-
Source: Adobe
At the same time, the team found the image from Gettyimages. The headline stated: "Aerial top view expressway road multi lenses, Mittraphap road, Nakhon Ratchasima"n, Thailand."
Source: Getty images
Conclusion:
It is clear from the fact check of DFRAC that the viral picture of the expressway is 3 years old and this picture is from Thailand not from Mumbai- Nagpur project. Therefore, the claim made by social media users is misleading.
About Author