Congress leader Rahul Gandhi is taking out a Bharat Jodo Yatra from Kanyakumari to Kashmir. During his Yatra, Gandhi is also visiting places of worship of all religions including temples, monasteries, churches, and mosques. Pictures of this journey are also getting viral on social media.
At the same time, a picture of Rahul Gandhi is being shared fiercely on social media. In this photo, Rahul Gandhi can be seen sitting in a Hindu Sankarachacharya. Social media users are claiming that the photo is from Sringeri Mutt in Karnataka, where Shankaracharya has refused to bless Rahul Gandhi and former Karnataka CM Siddaramaiah, by calling them anti-Hindu.
Sharing these posts a user wrote " "# Hindu saints are with us… Now is the time of Sanatan… Jagadguru Shri Shankaracharyaji Maharaj of Shringari Peeth… Calling Rahul Gandhi and former Karnataka CHIEF Minister Siddaramaiah anti-Hindu…! Refused to bless..!" (English Translation)
A user shared a poster, In which he has given very specific details
Meanwhile, many other users are claiming a similar claim-
Fact check:
To analyze the viral claim of the picture DFRAC did the reverse image search to fact-check the photo going viral. The team found this picture on the Twitter handle of news agency ANI. Which was posted on March 21, 2018.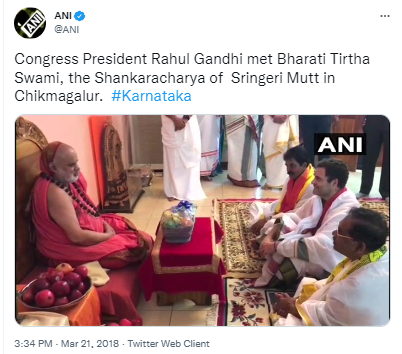 According to ANI, Rahul Gandhi met Shankaracharya Bharathi Teertha Swami of Sringeri Mutt in Chikmagalur. At the same time, a photo was also posted from the official Twitter account of the Congress about Rahul Gandhi's meeting with Shankaracharya. It has been told that during the Jan Ashirwad Yatra, Rahul Gandhi went to Sringeri Math and met Shankaracharya.
Fact check:
It is clear from our fact check of DFRAC that Rahul Gandhi's photo is 4 years old and this photo is from Rahul Gandhi's Jan Ashirwad Yatra and not Bharat Jodo Yatra. Therefore, the claim made by social media users is wrong.
Fact Reviewed: Shankaracharya calls Rahul Gandhi anti-Hindu, refuses to bless him
Claimed By: Social Media Users
Fact check: Fake
- Advertisement -