A parody, commentary, or fan account is an account that depicts another person, group, or organization in their profile to discuss, satirize, or share information about that entity.
In this DFRAC Exclusive we will debunk some of the parody accounts which are in the name of famous personalities. Interestingly, these personalities themselves are not Twitter but their parody/fake accounts are actively operating on Twitter. All these fake accounts use the name of renowned personalities to gain a large number of followers. The majority of the content of their posts includes:
The misleading content shared through these accounts
The Hateful narratives of such accounts
The pattern of tweeting and retweeting
The pattern of gaining followers.
This DFRAC exclusive will expose three such accounts that are having an ample number of followers. These accounts are   @IRanjan_IND is a pardody account Ranjan Gogoi who is  former Chief Justice of India with 10.2k followers, @IMohan_1a pardody account Mohan Bhagwant who is Chief of Rashtriya Swayamsevak Sangh (RSS)} with 35.3k followers, and this @IAjitDoval_IND account is related to the  fifth National Security Advisor Ajit Doval, with approximately 60k followers. This account is also a Parody account.
Parody Account of Ajit Doval:
Its Twitter bio mentions the page as a fun page that is run as a fan of Ajit Doval. The name of account was Ajit Doval and it was having a huge number of followers around 60 k but, now the username of this account is changed to Kalyan Singh Chauhan, Chairman Zilla Parishad Gurugram.
Old Username: @IAjitDoval_IND
UserID: 1544989887450923009
New Username: @kalyansingh0777
Screenshot of old username
With the help of web archive, we were able to find the archived version of the user. We found out that the user ID of the parody account of Ajit Doval was 1544989887450923009.
Link: https://web.archive.org/web/20220812030005/https://twitter.com/IAjitDoval_IND/status/1557742645815873537 
Screenshot of new username:
In order to check if the username has changed, we checked the profile of @kalyansingh0777 where we saw the user id to be same as the archived version of the parody account of Ajit Doval, which is 1544989887450923009.
Link: https://twitter.com/kalyansingh0777 
We also got to know that the new account has retweeted the other parody accounts.
Moreover, when we searched a query on twitter to fetch tweets from the account of @IAjitDoval_IND, we got the tweets done from the account of @kalyansingh0777, the screenshot of the result is given below.
Link: https://twitter.com/search?q=(from%3AIAjitDoval_IND)&src=typed_query&f=top 
It clearly proves that the account of Kalyan Singh Chauhan was earlier running in the name of a parody account of Ajit Doval.
Misleading Content:
Claim 1:
The account tweets, "The film costs Rs 400 crore, but the audience is not going to the theatres. Har Har Mahadev – Jai Shri Ram." (English Translation)
Fact Check:
According to many reports, day 5 collection of movies Bharmastra is nearly about 150 crores indicating that the movie has created a buzz in the audience and people are visiting the theatres.
Claim 2:
The account tweeted, "70% of the people of India want to see Yogi Adityanath ji as the next prime minister, will you guys also support." (English Translation)
Fact Check:
The team searched for such reports from different sites using specific keywords and found reports from leading newspapers like Economic Times and NDTV from the year 2020, the report shows that 70% of the people wants Narendra Modi to be next Prime Minister. There was no mention of Yogi Adityanath.
Claim 3:
The account tweeted, "Good news – Ram temple will get the status of a national temple, those who are happy tell their name."(English Translation)
Fact Check:
when the team investigated, we found the report regarding this on The Print which states, Uttar Pradesh Chief Minister Yogi Adityanath said Ram Mandir in Ayodhya will be the national temple of India."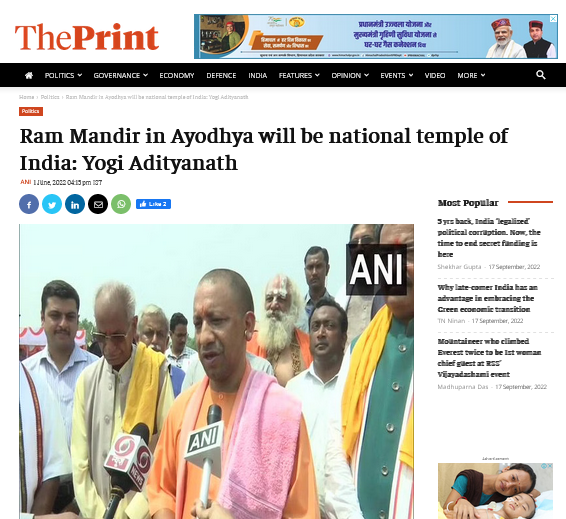 But, nothing like this was given on official government sites. Hence, the claim is having no valiad authentification.
Parody Account of Ranjan Gogoi:
The twitter bio of this account states that he is a former Indian advocate, a former Judge. In the account it is also mentioned that it is a parody account and the main purpose is to serve the country as the account clearly wrote, "Country comes first."
Misleading Content:
Claim 1:
The account tweeted, "Anil Kapoor donated Rs 5 crore for the floods in Pakistan. If only! He would have given it to a Gurdwara in India where millions of people eat free food." (English Translation)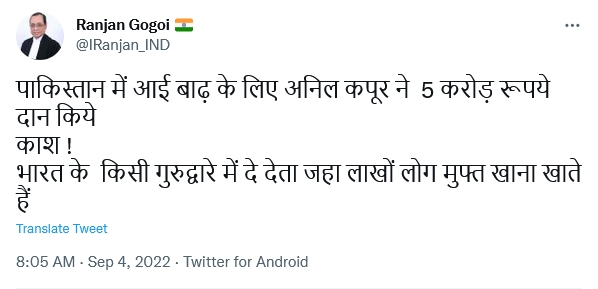 Fact Check:
To investigate on the above claim DFRAC desk ran a keyword search and found no news like this on the mainstream media, if this would have been the case media shall have covered it.
Then on further investigation, we scrolled through Anil Kapoor's social media accounts and got no official statement made by him on this matter.
Claim 2:
The account Tweets, "Brahmastra – 16 September has been kept as the day of buying the faith of Hindus in just ₹ 75/- by telling cinema day, and all this preparation has been done by that eternal traitor Karan Johar." (English Translation)
Fact Check:
The team investigate and found many reports on this scenario and according to a report of Indian Express, National Cinema Day was postponed because of Brahmastra's success Tickets for Rs 75 won't be available on Sept 16.
The report further states, "The Multiplex Association of India shared a note on their social media saying that "on request from various stakeholders and in order to maximize participation," they have postponed National Cinema Day. With Brahmastra's release, the footfalls of theatres have increased after a long time so it seems like the theatre owners want to maximize their share since the film has been pulling in huge audiences." showcasing that the film is already a big success.
3. Parody Account of Mohan Bhagwat:
The account's bio mentions him as a sarsangchalak(Chief) of Rashtriya Swayamsevak sangh (RSS). The account has a huge following of more than 30k in return the account is following only 44 people.
Misleading Content
Claim 1:
The Tweet states, "Now when Ajmer Sharif no one goes So why isn't there a hospital instead of a dargah school shall be opened." (English Translation)
Fact Check:
The team used certain keywords to find the reality of the above claim through simple Google search and found that around than 1.5 lakh people visit the dargah every single day.

Claim 2:
The account tweeted, "Shah Jahan made his daughter Jahanara his wife after the death of his wife Mumtaz. And historians say that the Mughals were great, where is my shoe." (English Translation)
Fact Check:
We at DFRAC already debunked this misleading claim. This was in-fact an anti-women thinking and view of those western historians that if a woman got so many rights, then that woman was told to have an illicit relationship with her father. Without knowing how much a father adores his daughter.
Hateful Narratives:
All these accounts are now using #BoycottBollywood as their weapon to create an audience base and traffic on their accounts. They provoke sentiments of a particular sections of the society and play with their emotions. They work on the narrative to create communal distress in the society and glorify one religion over the other. Apart from this, there are demeaning communal posts on famous attraction spots of India like Taj Mahal and Ajmer Shraif Dargah. They also target opposition party leaders by using words like firangi etc.
Pattern of Tweeting and Retweeting:
All these parody accounts have similar pattern of tweeting and retweeting. They keep on sharing and promoting each other on individual pages to attract maximum followers and reach.
Accounts Mentioned:
Below graph shows that majority of the accounts that are mentioned/retweeted are @IRanjan_IND, @IMohan_1, @Ikhnna_09, @kalyansingh0777 (Previously @IAjitDoval_IND), @ISonu_IND, etc. The tweets of these accounts are retweeted by each of these accounts again and again to gain attraction and reach.

Pattern of Gaining Followers:
These accounts have some notable similarities that help them to gain followers of their interest:
They ask people to follow then as they are new, or their previous account got suspended.
They have a specific audience base, so they tweet provoking content to gain followers by using words like Hindu, Sanatanis, Hindustani, Mughal, Muslim jihadis, etc.
They also tempt their followers by giving them a follow back.
Majority of these followers consists of non-verified followers, but some verified users are also following these parody accounts. For example, @ptshrikant, who is the BJP MLA of Mathura Vrindavan. @ptshrikant follows the parody accounts of Ajit Doval, Gen. Major Bakshi, Mohan Bhagwat, Kangana Ranaut. Hema Malini, etc. @IndiainNZ, which is the official account of Indian High Commission to New Zealand also follows some parody accounts of Kangana Ranaut, Mohan Bhagwat and Ajit Doval. @drharshvardhan, who is the former minister of health also follows the parody account of Mohan Bhagwat.
All such parody accounts work on the agenda of gaining followers and then changing or selling their usernames to the member of political parties.
Conclusion:
In this DFRAC Exclusive we have debunked the behavior of such accounts in order to gain maximum followers' i.e their tweeting and retweeting pattern, targeting particular religion and spreading communal differences. We also have debunked a lot of misleading news and hateful narratives spread through such accounts.
There are many such accounts on social media platforms of that use the name of famous personalities and gain large number of followers. Majority of these accounts function on a set agenda of spreading disinformation/misinformation.
- Advertisement -