Did Pm Modi attend the event of Shahrukh Khan's movie Pathaan?
A lot of pictures and videos go viral on social media regarding the connection with political leaders and Bollywood celebrities. Just like that, a video of BJP leader PM Narendra Modi and Bollywood movie actor Shahrukh Khan can be seen together.
By sharing this video a social media user @captainanjan captioned it " SRK, and Modi Ji together for #Pathaan event. Relax boy's Modiji  wants to  see #Pathaan theatre
Fact check:
To analyze the originality of the above video the DFRAC team converted the video into multiple Keyframes using the InVid tool. After this, the team did a reverse image search on the keyframes. We found a video uploaded on YouTube on 20, October 2019 on the official channel of Hindustan Times. The video has been titled – Gandhiji 2.0 is what we needed: Shahrukh khan at Pm Modi's event.
The duration of the video is 3:00 minutes. The event was about creating awareness about the global leader Mahatma Gandhi. As the title- 150 years of celebrating Gandhi. The interaction was held at 7, Lok Kalyan Marg, New Delhi.
News Nation has also covered this news on their official YouTube channel-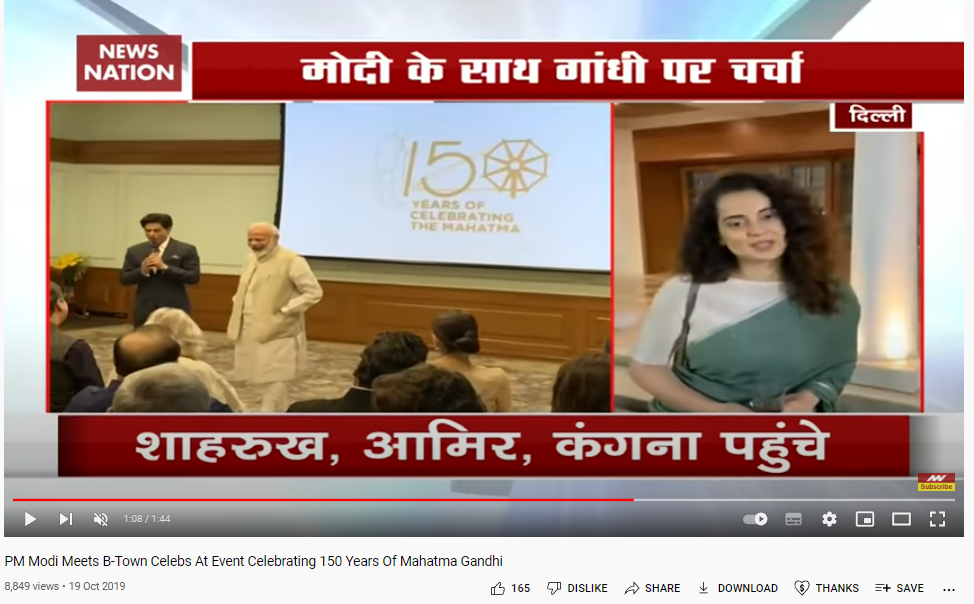 Afterward, the DFRAC team checked the social media of Shahrukh Khan, we did not find any posts related to the above claim.
DFRAC Found in its analysis that the user who posted this took the video from an unknown source and merged the video with a different caption. The event was organized to encourage Bollywood to spread Mahatma Gandhi's messages all around the globe.
Conclusion:
It is clear from the fact check of DFRAC that Modi Ji did not attend the event of Shahrukh Khan's movie Pathaan.
Claim review: Pm Modi attend the event of Shahrukh Khan's movie Pathaan
Claimed by: Captain Anjan
Fact check: Fake
About Author