A post in the name of Draupadi Murmu, the recent president of India is going viral on social media. People on social media are claiming that President Droupadi Murmu had issued orders to completely ban any kind of non-vegetarian feasts or drinks inside the Rashtrapati Bhavan.
The post contains a picture of Murmu along with the words, "Full Ban on any kind of non-vegetarian feast or drinks in Rashtrapati Bhawan. The Beginning of our Hindu Rashtra. Every morning our President herself will perform the aarti at Brahma muhurta (4 a.m)".
Many users shared the post along with different captions.
A user @Samvad_jod writes, "Ban on any type of Non-veg feast or Drink in Rashtrapati Bhavan."
Fact Check:
To investigate the viral claim DFRAC desk used specific keywords and found no such news reports regarding this in any of the mainstream media houses.
If the claim would have been true it would have made its way into the news reports.
On further investigating about Draupadi Murmu the desk found many reports like one in the newspaper The Print claiming her to be a complete vegetarian who does not even eat onion and garlic.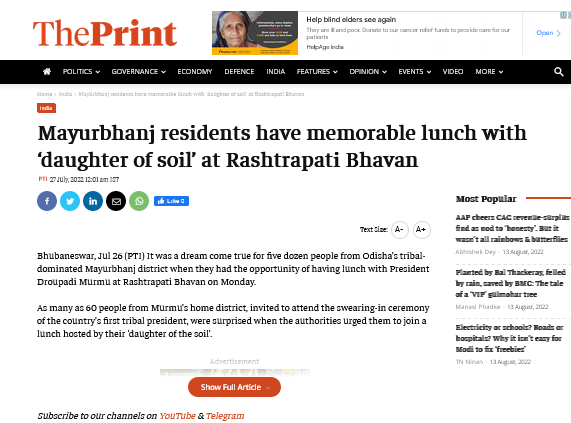 Conclusion:
Even though resident murmur is a complete vegetarian, there is no ban on the non-vegetarian food items inside the Rashtrapati Bhavan.
Claim Review: President Droupadi Murmu banned on non-vegetarian food inside Rashtriyaati Bhavan.
Claimed by: social media user.
Fact Check: fake.
- Advertisement -
Error 403 The request cannot be completed because you have exceeded your quota. : quotaExceeded