Vivek Ranjan Agnihotri is an Indian film director, screenwriter, and author who works in Hindi cinema. He is famous for controversial films like The Tashkent Files, The Kashmir Files, etc.
He is active on Twitter with almost 8 lakh followers. His bigot comments and tweets always make him to controversies, which he seems to enjoy.
In this DFRAC Exclusive report, we are going to debunk some of the deceptive Content that he posts on Twitter to mislead and misinform his followers.
Fake News 1:
Agnihotri and his team took on the entire social media by flaunting his invitation from Cambridge University.
Vivek's 'I am Buddha Foundation' shared the details of his scheduled program at Fitzwilliam College at Cambridge University. "National award winners @vivekagnihotri and #PallaviJoshi will be speaking on DIGNITY AND RIGHT- In Kashmir at @FitzwilliamColl, Cambridge University Today at 6 PM. #HumanityTour." Reads the Poster
Fact Check:
To this Vivek got a humiliating reply from Fitzwilliam College at Cambridge University
It replied, "This is a commercial booking and is not hosted by Fitzwilliam College nor the University of Cambridge."
After this incident, he started blaming Pakistani and Kashmir Muslim students for this decision according to many media houses reports.
https://timesofindia.indiatimes.com/videos/entertainment/hindi/the-kashmir-files-director-vivek-ranjan-agnihotri-claims-to-file-a-lawsuit-after-oxford-union-and-cambridge-university-cancel-his-speech/videoshow/91931003.cms?from=mdr
His lies were busted by those who were present at the venue. One user Trishant explained in detail what exactly happened on his Twitter account. He gave a thread of his analysis by also posting the videos of Vivek in the form of proof.
Fake News 2:
He bluntly present his views on the farmer's protest.
Fact Check:
In reality, the farmer's Protest was so impactful that even government took back the famer's Law.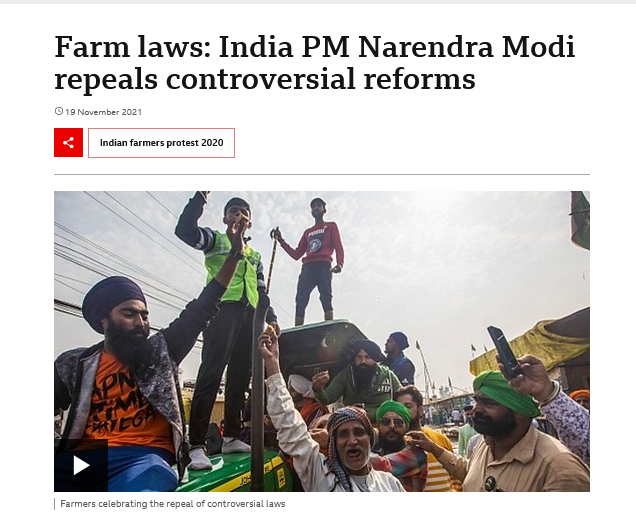 https://www.bbc.com/news/world-asia-india-59342627
He made such insensitive remarks on farmer protest and farmers without any facts and figures.
Fake News 3:
He shared a post claiming that Shaheen Bhag Protestors and Kashmiri Pandits got into a Fight, despite of being in solidarity with Kashmiri Pandits.
He tweeted, "Pl judge for yourself how fake and dangerous these seculars are."by sharing two different pics under the caption.
Under pic 1 there is a tweet of aajtak which states Shaheen Bhag Protestors and Kashmiri Pandits got into a Fight.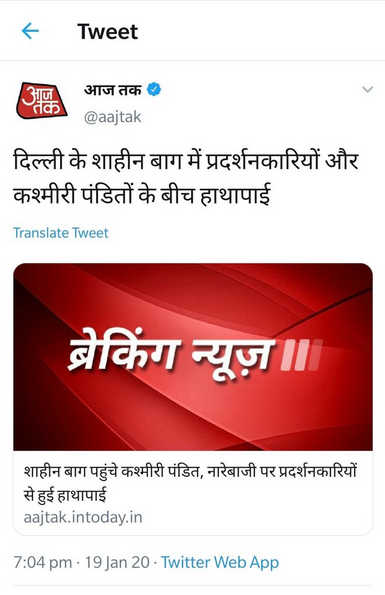 And under pic 2 there is a poster which states 'Solidarity with Kashmiri Pandits.'with the remarks like 'Fake' and 'he didn't support us'.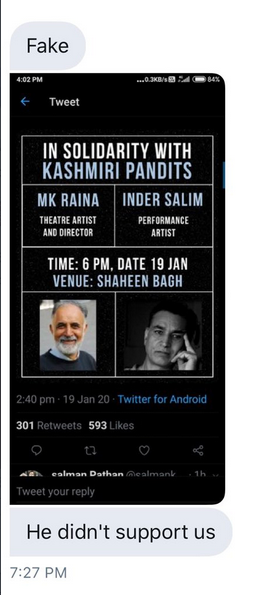 Fact Check:
Just below his tweet he got many replies in which the original video from the Shaheen Bagh Protest was posted.
An official account vivek (@ivivek_nambiar) shared the video with the caption, "Continue with your lies, Sir. Channels may jump the gun, but remember this. Truth will come out. We may disagree, we may argue, but in the end, we are in all in this together. #ShaheenBaghTruth #ShaheenBaghwithKashmiriPandits Bharat Mata Ki Jai! Inquilab Zindabad!"
Fake News 4:
In an interview Agnihotri joins Abhinandan Sekhri to discuss his journey of writing the book, as well as the events that were triggered in the aftermath of its publication.
In response, Vivek said that his comments had been edited and decontextualized. Agnihotri also claimed "He edited it to his advantage to take the context out,"(referring to Newslaundry's Abhinandan Sekhri) the man who interviewed him.
He further stated, "The complete sentence was 'Facts are not facts if they're coming from people like you.' This was the complete sentence."
Fact Check:
In reality in that interview when the New Yorker interview cited one of his tweets in which he said the same, Agnihotri declared, "I always tweet 'facts are not facts' if they're coming from communists or Naxalites."
The non-edited video of his entire interview is given in the link below:
https://www.newslaundry.com/2018/08/29/vivek-agnihotri-urban-naxal-nl-interviews-2
Fake News 5:
Vivek posted a video clip of JNU leader Kanhaiya Kumar on November 12 and writes, "The messenger of Urban Naxals and the prophet of partition is talking about his religion publicly."(Translates English)
Fact Check:
By using specific keywords 'Kanhaiya Kumar Muslims' we found a YouTube video posted by One Channel. This video is 34:31 minutes long and on 11:50th minute Kumar can be heard making the statements that went viral on social media.
A clipped version of the full-length video was posted to make it appear as if Kumar made the above-mentioned statements, when, in fact, he was quoting Maulana Abul Kalam Azad.
how he is spreading hate on social media:
Vivek shared a video where a girl uses the word she/her pronouns and suddenly the cat in her hand tried to scratch her.
For this he wrote rather sarcastically, "Cat's reaction to She/Her pronouns #Watch." Making a joke on people who are 'Gender Neutral'.
He shared a thread analysis about fact checkers of India and called them biased , agenda driven ,funded and anti-Indians without any basis .whereas in reality, Indian fact checkers try to bring out the reality to the people without being biased on the basis of religion, caste, creed, gender etc.
Why was he trolled on Twitter?
Several old tweets made by filmmaker Vivek Ranjan Agnihotri began to resurface on social media after he was appointed as the new cultural representative of the Indian Council for Cultural Relations (ICCR)
Some of the tweet of Vivek were sexiest and full of misogyny (which he later deleted) started flooding the social media.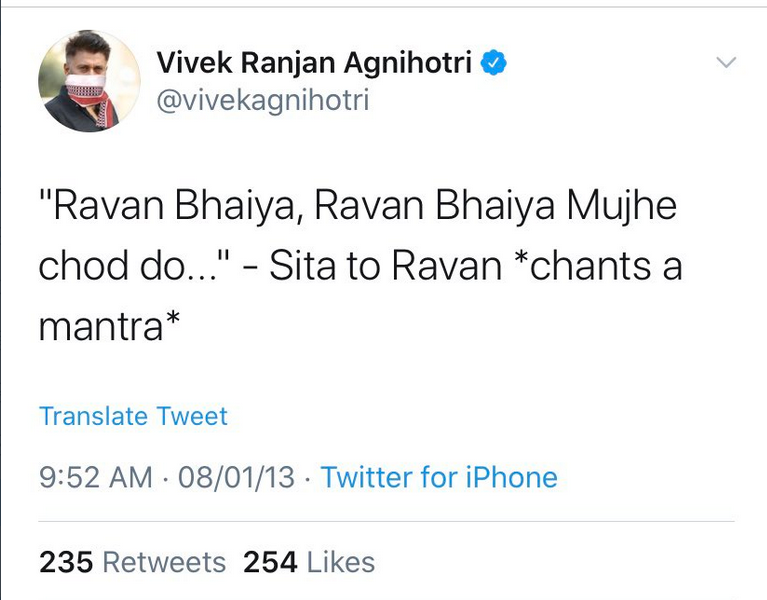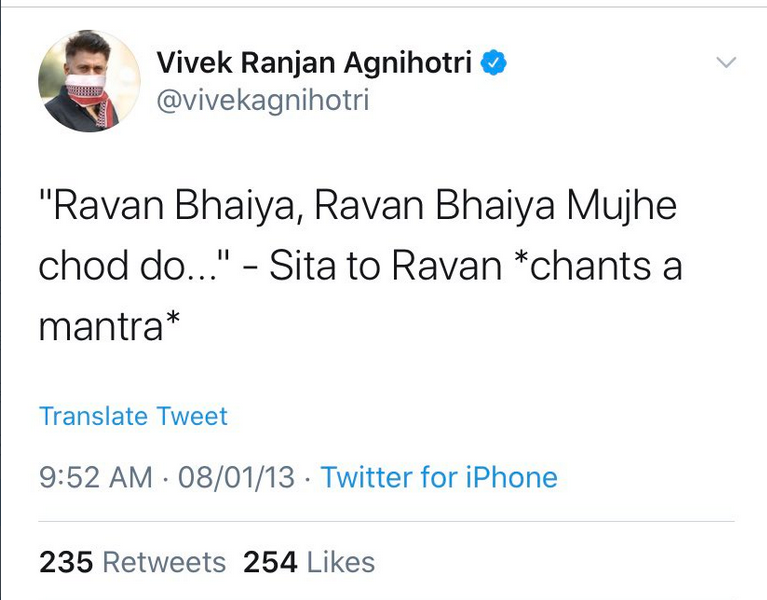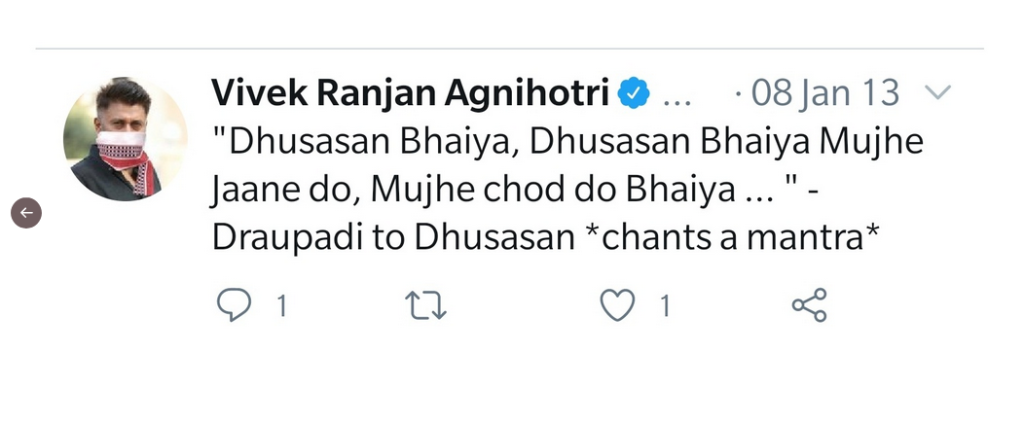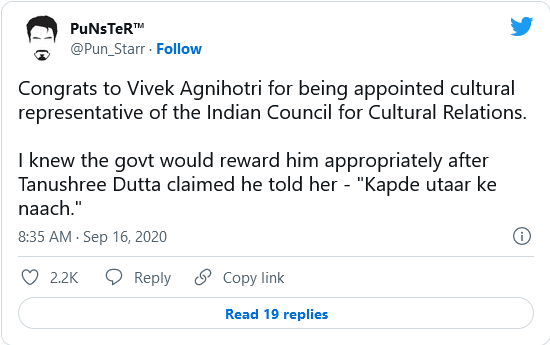 Not only this, netizens also shared his tweets in which include a distasteful rape joke featuring the Tata Nano.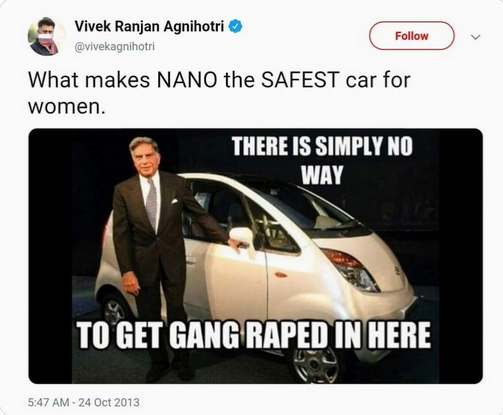 Conclusion:
In this DFRAC Exclusive Report we have debunked many fake news which are spread through the twitter account of Vivek Ranjan Agnihotri. We have also talked about his bigot and sexiest comments and how he was trolled for the same. We at DFRAC always try to burst the lies and bring out the reality to all of you so that you are always updated with the real news.