A video is going viral on social media sites. Users are sharing this and claiming that when the "Panchayat Secretary" did not give the part in the Rewa district of Madhya Pradesh, the BJP leader beat him up. Sharing, the video Facebook user Rakesh Patel wrote, "Rewa, M.P, the "Panchayat Secretary" did not give his share of money, then the BJP MLA beat up and punished him."
( "म.प्र. रीवा में "पंचायत सचिव" ने हिस्सा नहीं पहुंचाया तो भाजपा के जोशीले नेता जी ने धून दिया,, पंचायत सचिव को उठक बैठक लगवाई और मुर्गा बनाकर रखा।।" )
Similarly, many other users have posted the video with the similar claim.
Originally tweeted by Rana Yashwant (@RanaYashwant1) on April 24, 2022.
Fact Check :
On reverse image search of some frames of the video going viral, we found several reports published by different media houses regarding this video.
Etv Bharat has published a report on 17th April 2022 with the headline, "Young man was cocked and thrashed with police sticks, video viral".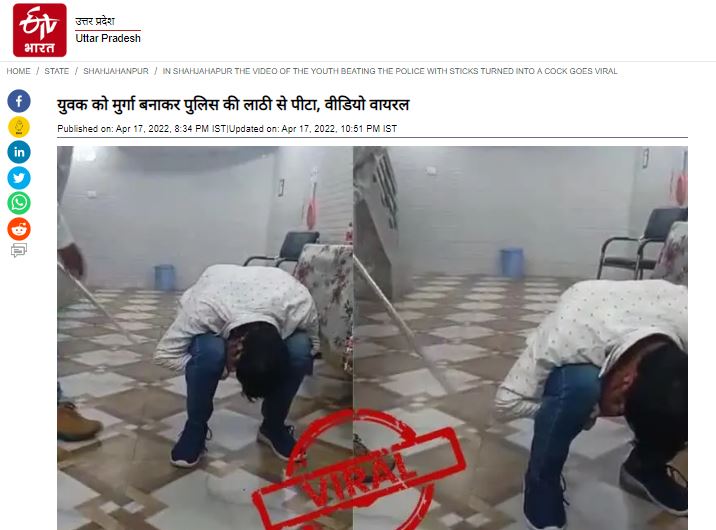 Further, DFRAC team also fund a tweet from the official Twitter account of Shahjahanpur Police that, "
Mr. Sanjay Kumar, Additional Superintendent of Police, Nagar, regarding "the video of a person beating another person with a stick went viral and action" in the Sadar Bazar police station."

Further, Dainik Bhaskar has covered it the incident under the headline, "Police could not reach Dabang who beat up young man: The man who tweeted video of beating in Shahjahanpur, police is seeking information from him".
Conclusion :
Therefore, his fact Check From that the viral Video is old. And, this incident is not of the Rewa district og Madhya Pradesh but of Shahjahanpur, U.P . Hence, the claims of the users is misleading
Claim : Panchayat Shachiv in Rewa got beaten up by BJP MLA
Claimed by: Social Media users
FactCheck : Misleading