Prophet Row: Analysing the Pakistan-Based Disinformation Campaign
The derogatory remark of Ex-BJP member Nupur Sharma on a TV debate was criticised all over the country as well as internationally. After the controversy caught fire, BJP suspended Nupur Sharma and expelled Naveen Jindal. Further, more than nine people were booked in the ongoing Prophet Row controversy. Along with the severe criticism, many imposters on social media running on different agendas got a new topic to work upon.
In this DFRAC Exclusive Report, we have holistically covered some of these fake accounts and trends related to this controversy. We have broadly categorized our report into five sections:
Repercussion on the Prophet Row

Fake News on the Prophet Row

Analysis of Hashtag trends amid Prophet Row

Pakistani Imposters trying to Amplify the Prophet Row

Similarities between the pattern of the boycott of French and Indian products.

Username changing pattern
The Repercussion on the Prophet Row
Several countries including Indonesia, Saudi Arabia, the UAE, Jordan, Bahrain, Maldives, Oman, Afghanistan, Kuwait, Qatar, and Iran have strongly condemned Sharma's remark on Prophet Mohammed.
As of now Iran, as well as Qatar, have released statements that they are satisfied with the Indian government's actions against the leader who made the controversial remark about the Prophet Mohammed. But, hate-mongers like Khaled Beydoun, Moinuddin Ibn Nasrullah, and Ali Sohrab got another opportunity to spread hate and communalism. 
Khaled Beydoun started posting with the hashtag #BoycottIndianProduct and also dragged the issue of Kashmir in between.
Another hate monger, Moinuddin Ibn Nasrullah also shared a lot of hateful tweets. In one of his tweets, he called Polytheists impure and only understand the language of power.
No matter how sensitive the matter is, fake and false news always find their room. In this matter also, There are a lot of baseless and misleading news which are playing with the minds of people. 
Social media users have shared many deceptive images and videos of crowds with the claim that the crowd is gathered as a protest against the derogatory remark on Prophet Mohammed. In one such post a user @Masum_assadi, has tweeted, "Today in Bangladesh After Jumma all Muslims against Modi For our love prophet Muhammad Sallallahu alaihi wa sallam." But, the images shared by him are of 2020. According to a report of OpIndia, these images are of an incident where Fifty thousand Islamists take to streets, threaten to destroy French Embassy in Dhaka if still open after 24-hour ultimatum. Many other old picture and videos were shared with the similar misleading claim.
Many other deceptive images and videos are used with false claim that the false. But, in reality the video is from Yemen showing a sea of crowd gathered to celebrate the birth of Prophet Mohammed.
Similarly, several media houses including Pakistani Ary news had run wrong news that Oman's grand Mufti announced Boycott of Indian Product. Although, he had criticized the remark on Prophet Mohammed and asked all Muslims to unite against it. But, the claim that he started the Boycott India trend is misleading. 
Further, a fake screenshot in the name of English cricketer Moen Ali in which he is talking about boycotting IPL also went viral.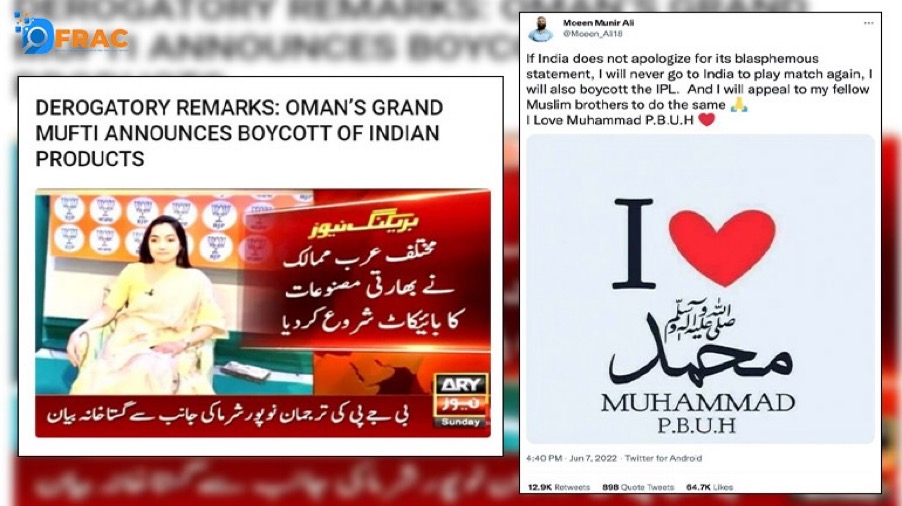 Actress Kangana Ranaut wrote on her Instagram handle against the CEO of Qatar Airways in response to a viral spoof. She later deleted her tweet as the video was fake. But, she gave social media users another chance for trolling. 
Likewise, Pakistan's former ambassador Abdul Basit made a wrong claim that Ex- BJP member Naveen Jindal is the brother of Industrial Jindal.
Analysis of Hashtags trending amid Prophet Row
Hashtags Used
Below are the top hashtags, that were used in this trend. Some of the hashtags that were used mostly includes, #الا_رسول_الله_يا_مودي, #Stopinsulting_ProphetMuhammad, #boycottindianproduct and #arrestnupursharma
Accounts Mostly Tweeted
Below is the graph depicting users who mostly tweeted on the hashtag multiple times. @braa16102 an account who created in January this year has tweeted approx. 370 times on the hashtag of #الا_رسول_الله_يا_مودي. followed by @DrAsifTariq who tweeted nearly 120 times, followed by @Salmaa20221993 with 105 times tweet. @LaylaBe4 an account from Washington, DC has also tweeted more than 100 times on the hashtag.
User Creation Timeline
Below is the user creation timeline where it is seen that on 10th and 12th April around 210 and 215 accounts were created respectively, who all tweeted on the hashtags. Moreover, on 11th May, 65 accounts were created.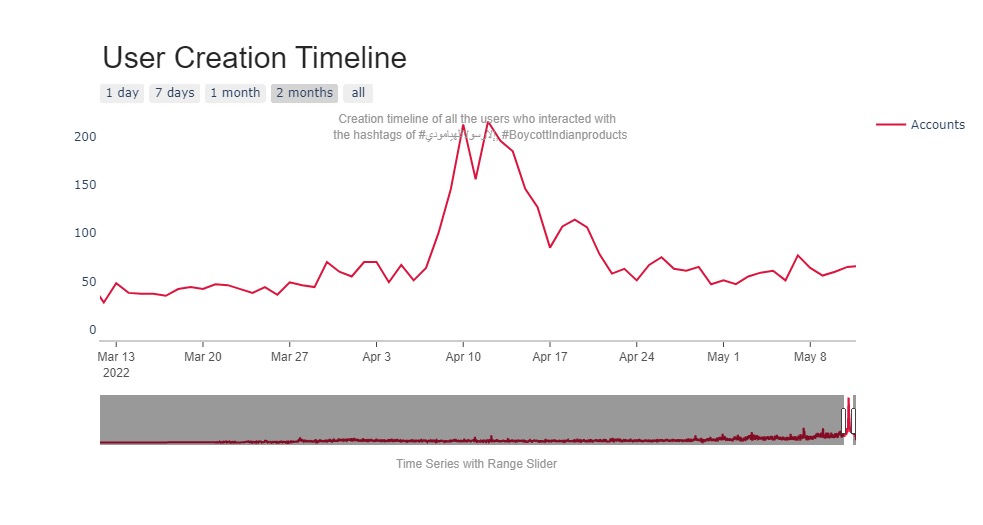 WordCloud
Below is the wordcloud depicting the words that were majorly used in the hashtags. Some of the top words include: "Prophet Muhammad", "Muslim", "BJP", "Modi", "Insult", "Terrorist", etc.
Timeline
Below is the timeline of the hashtags. It is seen that the number of hashtags increased from 4th of June and had a peak at 5th of June with more than 53,000 tweets and 6,500 replies on the hashtags. In the later days, the timeline of the hashtags has decreased.
Accounts Mentioned
Below is the graph depicting the accounts which were majorly mentioned in this trend. Some of the accounts include: @narendramodi was mentioned more than 1,200 times followed by @NupurSharmaBJP and @naveenjindalbjp with 300 and 255 times tagged respectively. @ImranKhanPTI was also tagged in the top 4 in this trend.
Fake sexual accounts amplifying hashtags
There are many fake accounts who have posted explicit content with the hashtags to amplify the hashtag. Some of them are @SuMani31252195, @Massage87085399, @Nana973538712, @Massage16261624 and @581532143Ws96y
Pakistani Imposters trying to Amplify the Prophet Row
After analyzing almost 32,000 users who interacted with the hashtags the most. We came to know that users from many countries interacted on the hashtags as seen on the world map created below.
It came to our notice that where almost 3,000 users interacted from Saudi Arabia, majority of the users who interacted on the hashtag were from Pakistan. More than 7,100 accounts from Pakistan interacted on the hashtags. Making it the top country who tweeted on the hashtags. Around 2,500 accounts also tweeted from India. Around 1,400 accounts tweeted from Egypt whereas more than 1000 accounts tweeted from USA and Kuwait.
Verified Accounts who tweeted
Below is the graph depicting verified Twitter users who interacted on the hashtags. Some users includes: @Dr_alqarnee, @AJArabic, @sabqorg, @AhlamAlShamsi, @AlarabyTV, @HamidMirPAK, @PTIofficial, @Eyaaaad, @AdnanAlarour, @drassagheer, etc.
Non verified Accounts
Below are the non-verified accounts who interacted on the hashtags. @7usaini7, @3ajel_ksa, @abosaef11, @AIanqri_Fahad, @WaleedAlshmmari, @Altabtabie, @Ahlulbayt_says, etc.
Types of Accounts Tweeted
Out of more than 60,000 users analyzed, majority of them were the non-verified users who all interacted with the hashtags. 60,020 were the non-verified accounts from different nations who all interacted on the hashtags whereas around 240 accounts were the verified accounts who interacted with the hashtags.
Similarities between the pattern of boycott of French and Indian products
Many accounts have posted on boycott French products earlier in 2021 and now tweets on the current hashtags. Some of them were PTI account. For example: the handle mentioned in the middle of the collage.
Username Changing Pattern
Accounts who have changed their usernames after posting on the hashtags
Old username: @shaikh_hamid_
New username: @adilanssss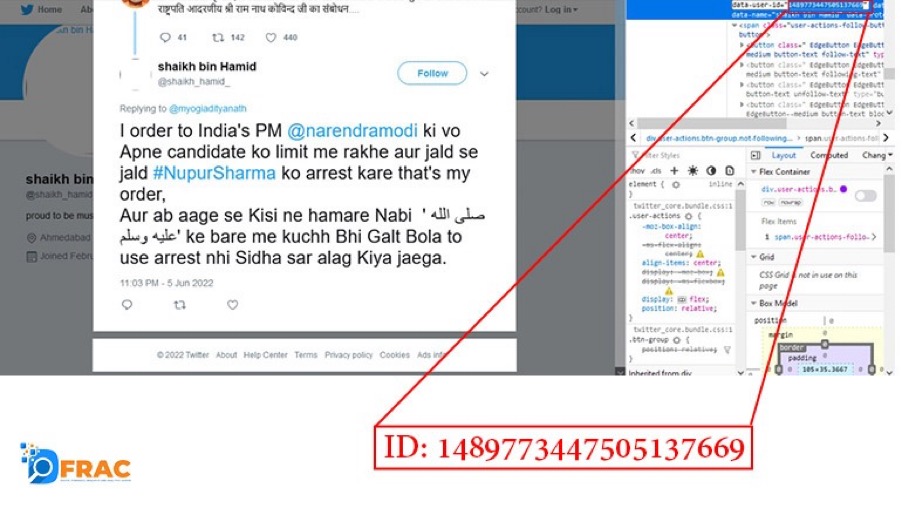 Old username: @qomiyateIslam
New username: @_Spark2000
Old username: @Blank4O8
New username: @Ghazi408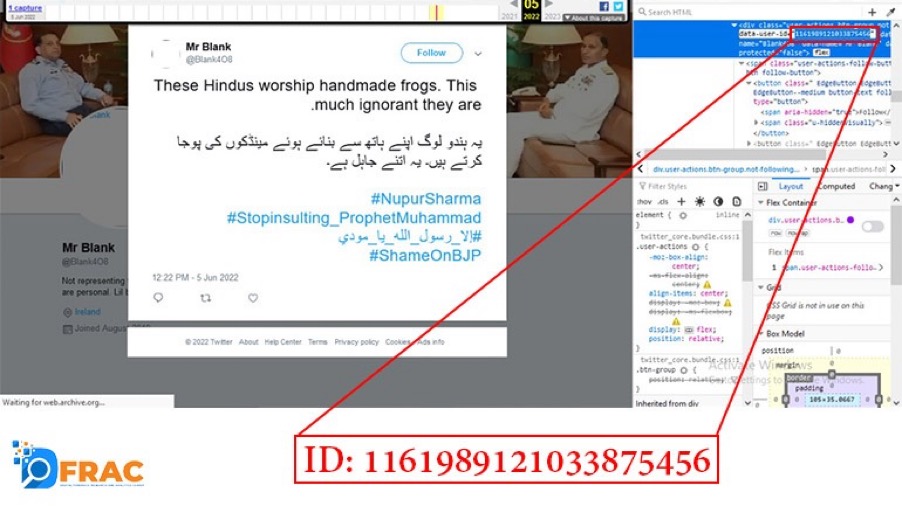 Conclusion
That is say, the finding of our DFRAC exclusive reports majorly include fake and deceptive elements involved in the ongoing Prophet Row Controversy. There are many imposters in Pakistan are trying to amplify this ongoing controversy to fulfil their agenda. 
 Moreover, there are many fake accounts who have changed either their username after or before posting on the hashtags. And, there is a lot of similarity in trend of Boycott of French Product and ongoing Boycott of India Products on social media.
About Author