Violent clashes broke out between two communities in Kanpur on June 3, 2022, after Friday prayers. Incidents of stone-pelting also came to light during this period. Many photos and videos are becoming viral on social media regarding these incidents. There are many videos and photos, which are from old incidents, but these videos are being shared as Kanpur.
Not only social media users are involved in spreading such misleading information, but big channels of mainstream media are also running news by pretending old videos to be from Kanpur. A video has been played live by ABP News on the official Facebook page. It can be seen that the old video from the Facebook page of ABP News has been circulated in the name of Kanpur. At the same time, BJP leaders, who are verified users, are also among those sharing such misleading videos.
Claim-
Has been run live on 4th June 2022 from the official Facebook of ABP News. This live has been titled- "Whose conspiracy behind Kanpur violence?…Watch big news LIVE". In this, a video is being played about the Kanpur riots. It can be seen in this video that some policemen are beating up some people.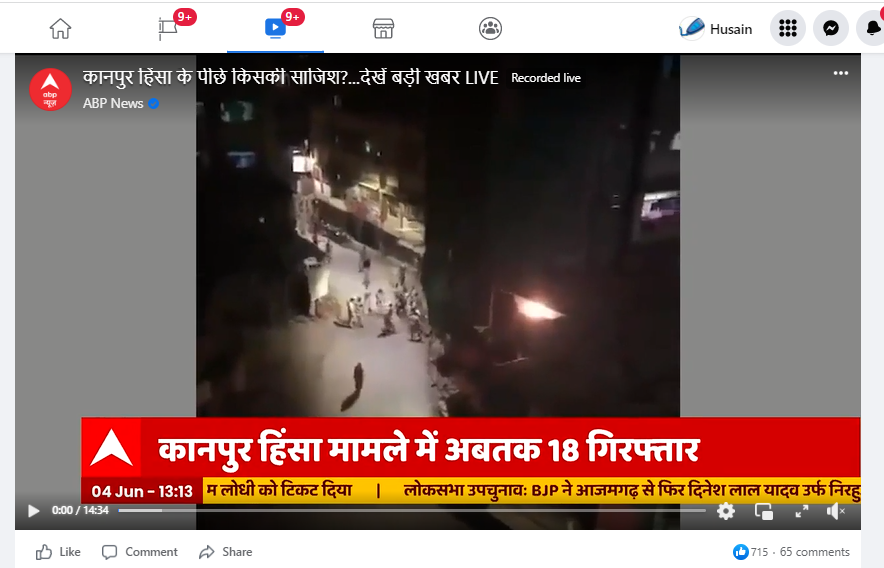 This video is also being shared by many social media users about the Kanpur riots. There is a verified handle of Laxmikant Bhardwaj on Twitter. Sharing this video, he wrote – "Peacedoots were rioting in Kanpur, Yogi Ji continued his treatment all night. "(Translates Hindi) (archive link )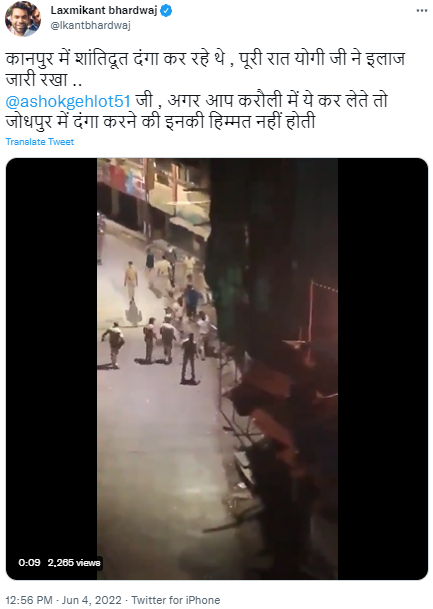 According to Laxmikant Bhardwaj's bio, he has been a former spokesperson of the Rajasthan BJP. Apart from this, he has also held many important posts in BJP.
While sharing this video, a user named 'Aap Banarasi Hain' wrote on Facebook – "After the Friday prayers in Kanpur, the sound of ah-ah kept coming till late last night.
Fact Check:
To check the veracity of the videos shared by social media users including ABP News and BJP leader Laxmikant Bhardwaj, we took screenshots of some frames of the video and reverse searched them. On searching, we found a link to a video posted on Twitter.
This video was posted on Twitter by a user named Shivanshu Bharadwaj on 3 April 2020. He wrote the caption- "The same mohalla of Indore where doctors were stoned. Action is a reaction. For weak-hearted, close your voice and watch the video. (Translates Hindi)
इंदौर का वही मोहल्ला है जहां डॉक्टरों को पत्थर मारे गए थे।
क्रिया की प्रतिक्रिया होती हुई।
कमजोर दिल वाले आवाज बंद कर के वीडियो देखें। pic.twitter.com/tR4sti19o1

— Shivanshu Bhardwaj (@ShivaBhar) April 2, 2020
Conclusion:
After fact-checking this video shared by ABP News and BJP leader Laxmikant Bhardwaj, it is proved that the viral video is of an incident in Indore in 2020. This video has nothing to do with the Kanpur riots. Hence the claim being made by ABP News, BJP leader Laxmikant Bhardwaj and other social media users are misleading. It has nothing to do with reality.
Claim Review- Rioters beaten up by police in Kanpur riots
Claimed by- ABP News and other users including BJP leader
Fact Check – Misleading