148 from Muslim Universities and only 2 from Hindu Universities clear UPSC Exam!, Read Fact-Check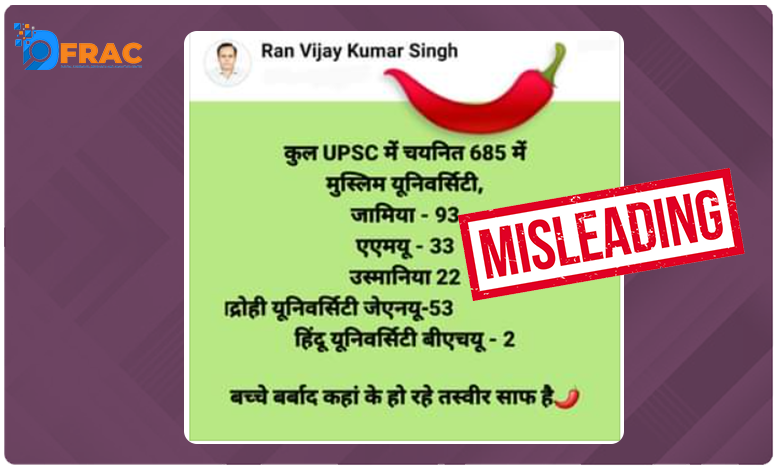 A picture is going viral on social media sites with Red chillies in the  picture. It is also written that only two candidates from Banaras Hindu University (BHU) have succeeded in the Union Public Service Commission (UPSC) while a large number of students from Muslim universities have succeeded.
Ran Vijay Kumar Singh shared a picture on Facebook. The photo reads, "The total 685 selected in upsc include Muslim University, Jamia-93, AMU-33, Osmania-22, Deshdrohi University JNU-53, Hindu University BHU-2… Where are the children getting ruined?"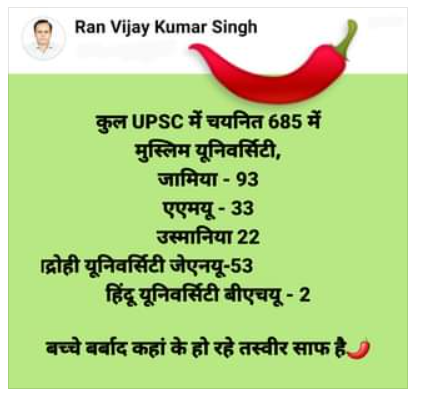 Fact Check:
On the Internet, we searched for some special words from this quote. During this time, we received a tweet from jamia millia islamia's verified twitter account dated May 30, 2022. In this tweet, it has been mentioned that a total of 23 candidates of Jamia have managed the UPSC exam. In the pictures, it can be seen that VC Najma Akhtar, a student of Jamia RCA, is congratulating UPSC 2021 topper Shruti Sharma.
@jmiu_official VC Prof. Najma Akhtar & other officials of the university congratulated RCA, JMI student Shruti Sharma for securing 1st rank in #upsc2021. A total of 23 students from RCA cleared the exam.@rashtrapatibhvn @PMOIndia @dpradhanbjp @EduMinOfIndia @ugc_india pic.twitter.com/gK5Tjjmlzr

— Jamia Millia Islamia (Central University) (@jmiu_official) May 30, 2022
The Indian Express has also covered it with the headline, "UPSC CSE Rrsult 2021: 23 candidates from Jamia RCA managed in civil services exam.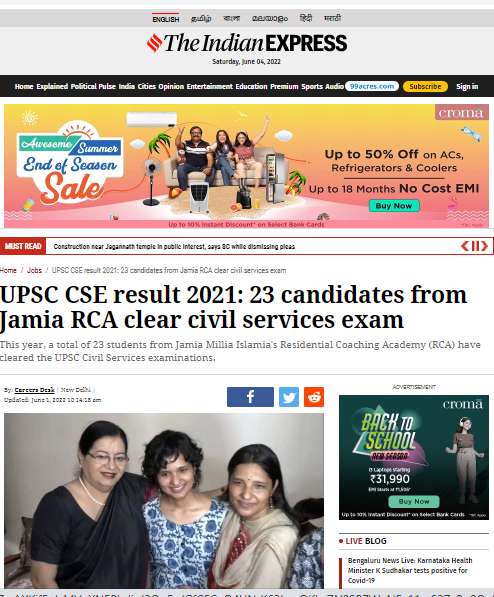 It is to be noted that students of all religions are among those who have succeeded from Jamia RCA.
Three students from Osmania University, Hyderabad have succeeded in UPSC 2021.
#𝐀𝐌𝐔 𝐍𝐞𝐰𝐬 𝐚𝐭 𝐚 𝐆𝐥𝐚𝐧𝐜𝐞:https://t.co/2awoAp0kNohttps://t.co/on2jDfopxqhttps://t.co/r0VU9IsuGwhttps://t.co/5ZwR8i4jsX@PIBHRD @dpradhanbjp @ProfTariqManso1 @PMOIndia @rashtrapatibhvn @EduMinOfIndia @ugc_india @Vineet_K26 @AMUJournal pic.twitter.com/bruNkgYdIl

— Aligarh Muslim University (@AMUofficialPRO) May 31, 2022
The New Indian Express has published a story with headlines, "UPSC CSE 2021 Result: Six candidates from Telangana and Andhra Pradesh in the top 100 -(Hindi translated)", according to which apart from Kiranmayi Koppisetty, two other doctors – Dr Syed Mustafa Hashmi – graduated from Osmania Medical College, Hyderabad in 2018 and Dr Prasannakumar V also succeeded in the exam this year.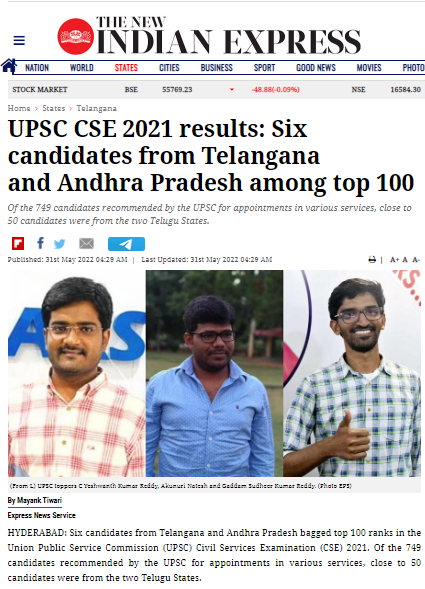 Regarding Banaras Hindu University (BHU), we found a story on the website of the Patrika, titled "Two students from Banaras in UPSC, Devesh, who became ias in the first attempt, succeeded Anand for the second time in a row"(Translates Hindi).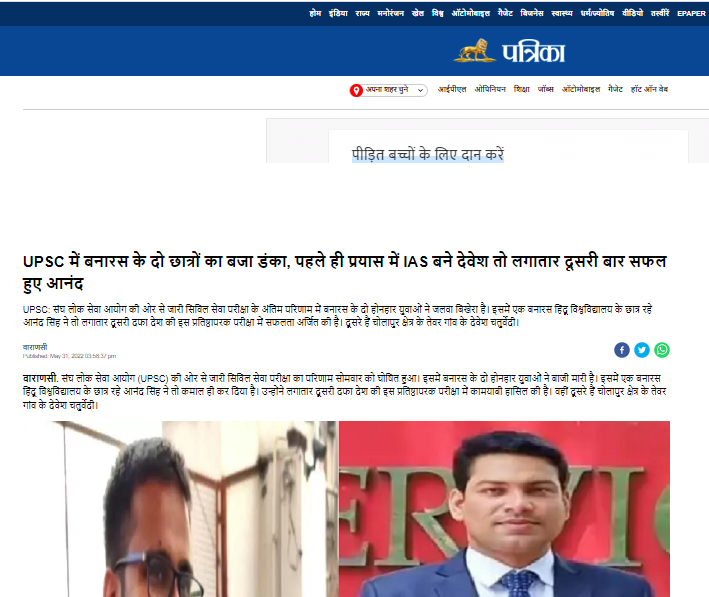 According to the information received from unofficial sources, 17 students of IIT BHU have cleared the UPSC 2021 exam.
Thus, a total of 19 students from BHU have raised the flag of success in upsc exam this time.
Quoting Jawaharlal Nehru University (JNU), we could not get information from any reliable source as to how many students have cleared upsc from here. It is estimated that like every time, this time too a good number of people from JNU will have cleared the UPSC.
Conclusion:
From this fact check of DFRAC, it is clear that the user's claim that 148 students from Jamia, AMU and Osmania have succeeded in UPSC is false and misleading. According to reports, this time, the success rate of Muslim candidates is the worst in the last 10 years.
| | | |
| --- | --- | --- |
| Year | Total Candidates | Muslim Candidates |
| 2020 | 761 | 31 |
| 2019 | 829 | 42 |
| 2018 | 485 | 27 |
| 2017 | 990 | 50 |
| 2016 | 1099 | 52 |
| 2015 | 1,078 | 34 |
| 2014 | 1,236 | 38 |
Claim: 33 candidates from AMU and 2 from BHU have managed in UPSC

Claimed by: Social Media Users

Fact Check: Misleading
(Follow #DFRAC on Twitter, Facebook, and YouTube.)
About Author