A post on social media is becoming very viral where It is claimed that Russian President Vladimir Putin declared Islam the second state religion of Russia.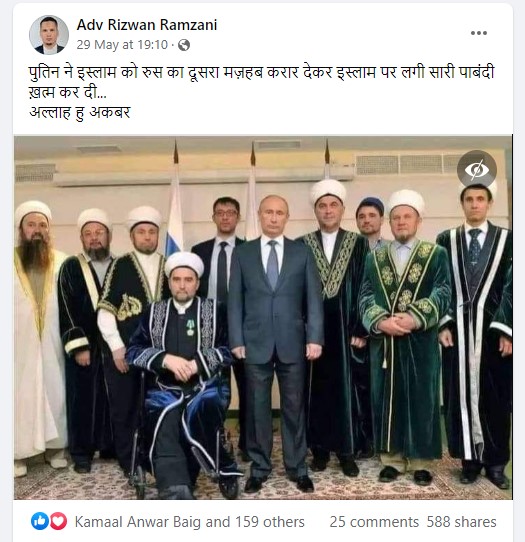 A Facebook user shared a picture in his post and wrote that Putin ended all the restrictions on Islam by calling Islam the second religion of Russia … Allah Hu Akbar.
Fact Check:
To investigate the above claim, we first searched for information about this by searching the keywords Russia, Islam, and Vladimir Putin on Google. But we did not get any such news. If this was the case then some news agency would have reported about it.
Then our team reverse searched the picture shared in the post and found that this picture is from 2012. The photo was taken during a ceremony to honor Mufti IldusFaizov, the region's top religious leader, who was injured in a car bombing on July 19, according to Reuters.
Whereas according to Article 14 of the Constitution of Russia,
The Russian Federation will be a secular state. Where no religion can be established as the state religion or compulsory
The religious union shall be separate from the state and shall be equal before the law.
Conclusion:
Therefore, Putin's claim of having declared Islam as the second state religion of Russia is false.