Fact Check: Old picture of India in the name of Nepal plane crash goes viral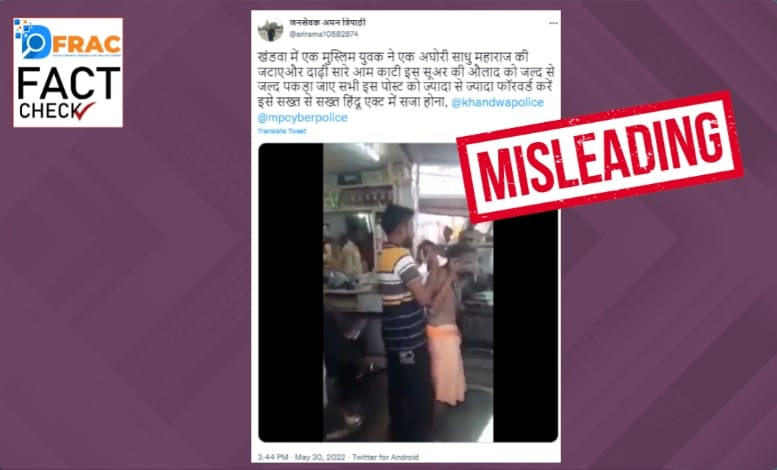 In Nepal, 21 bodies have been recovered from the debris of a Tara Air plane that crashed in the mountainous district of Mustang. On Monday, Tara Air's Turboprop Twin Otter 9N-AET aircraft went missing in the mountainous region of Nepal shortly after taking off from Pokhara on Sunday morning. A total of 22 people, including 4 Indians, 2 Germans, and 13 Nepalese, were on board, none of whom survived.
A picture of this is going viral on social media sites. Users are expressing their condolences by sharing this picture.
A user named Krishna Raj Sigdel has posted a screenshot with the caption "Sad News". In this screenshot, the accident has been reported in the Nepali language with a picture.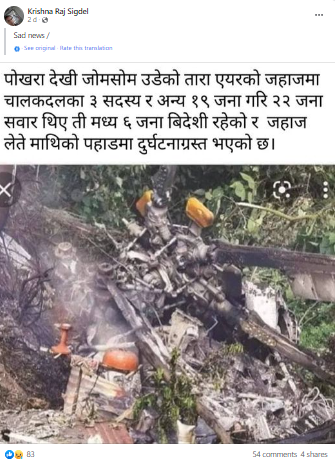 Fact Check:
On doing a reverse image search on the internet, we found that the picture being used by users is from December 2021, which was published by India Today with the headline, "CDS Bipin Rawat died in a helicopter crash: a look at the crash history of IAF's Mi-17".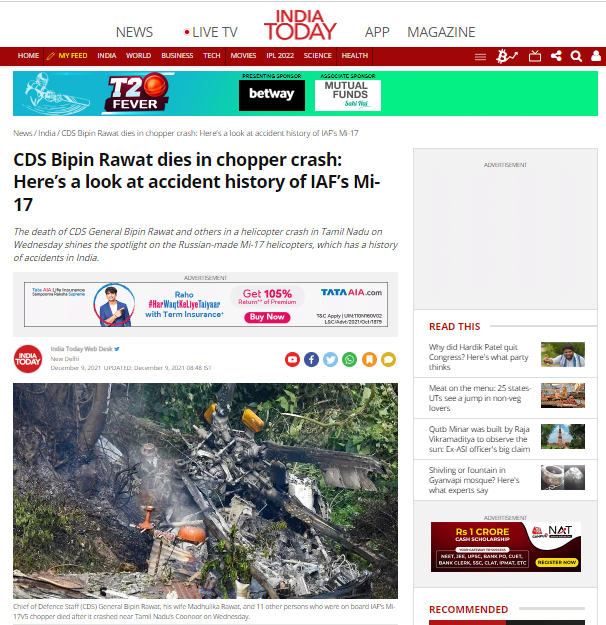 Let us tell you that the helicopter of India's first defence chief or Chief of Defence Staff (CDS) Bipin Rawat had crashed, in which General Rawat died at the age of 63.
According to the Hindustan Times, no one has survived since the Tara Air plane crashed with 22 people on Sunday in the mountainous district of Mustang in Nepal. The aircraft took off from the tourist spot in Pokhara at 9:55 am and had lost contact with air control at 10:07 am about 12 minutes later.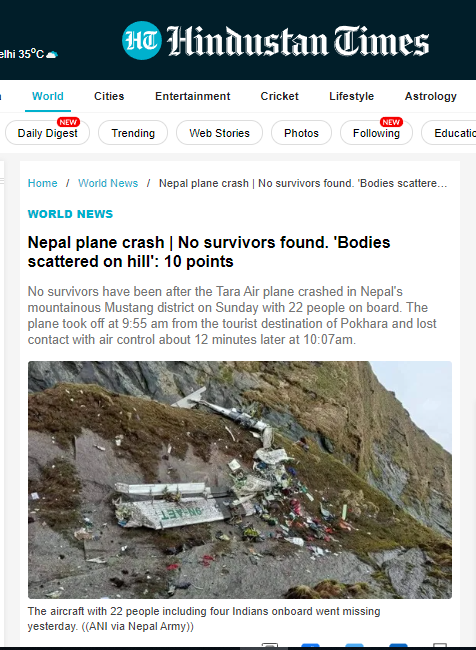 At the same time, a user named Milan Karki also wrote on Facebook in Nepali, "Sad news." Tara, who was flying from Pokhara to Jomsom, met with a plane crash. There were 4 others on boarthe plane with 4 members who crashed on the hill above The Layte. A heartfelt tribute to the deceased.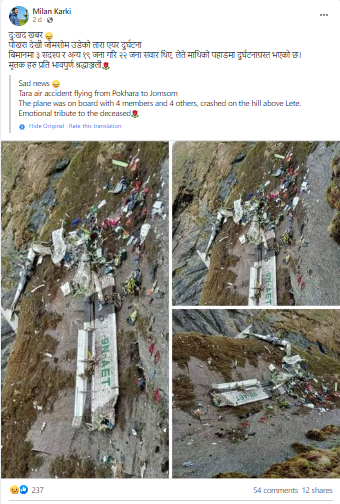 Conclusion:
This fact check by the DFRAC proves that the picture being used by the users for the Nepal plane crash is misleading, as it is of General Rawat's helicopter crash in December 2021.
Claim Review: Old picture of India in the name of the Tara Air accident goes viral

Claimed by: Social Media Users

Fact Check: Confusing
(Follow #DFRAC on Twitter, Facebook, and YouTube.)
About Author